Healthy Seniors Pilot Project: Band-Frail Program
Author: UNB Research
Posted on May 31, 2021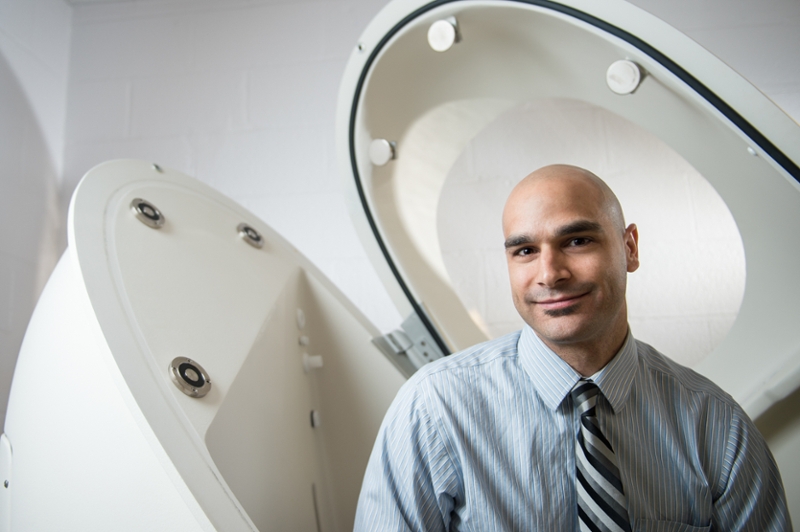 ---
Healthy Seniors Pilot Project: Band-Frail program
In February, we announced the five UNB projects funded by the Healthy Seniors Pilot Project (HSPP). We've been working with the research teams to help tell their stories and share insight into their research.
Today, we feature Dr. Martin Sénéchal, associate professor in the faculty of kinesiology at UNB, whose Band-Frail project was awarded $469,645.
Who are you?
Dr. Martin Sénéchal:
I am an associate professor in the faculty of kinesiology at the University of New Brunswick in Fredericton and a Certified Exercise Physiologist from the Canadian Society for Exercise Physiology. I joined the faculty of kinesiology in July of 2015, where I teach courses on exercise prescription, pediatric exercise science and exercise physiology. I also co-lead the Cardiometabolic Exercise and Lifestyle laboratory (CELLAB). My research focuses on the impact of physical activity and exercise training on cardiometabolic health in people living with obesity and Type 2 diabetes.
More specifically, my research program encompasses three pillars in the treatment and management of individuals living with obesity and Type 2 diabetes.
The first pillar aims to enhance the efficacy of lifestyle interventions that target increased physical activity.
The second pillar aims to understand why individuals living with obesity and Type 2 diabetes may or may not benefit from exercise.
The third pillar aims to identify predictors and understand why some obese individuals remain healthy despite high adiposity levels.
Understanding different obesity make-ups might offer a more comprehensive way to manage cardiometabolic health and design appropriate interventions. I am particularly interested in these pillars of research across the whole continuum of age from children to older adults.
My co-principal investigator on this project is Dr. Danielle Bouchard.
Dr. Danielle Bouchard
I am an associate professor in the faculty of kinesiology at the University of New Brunswick (UNB) in Fredericton, and I founded the CELLAB with Dr. Martin Sénéchal in 2015. My areas of research interests include aging, clinical exercise physiology and chronic conditions and exercise. Specifically, my research relates to clinical physiology to explore the impact of exercise for those living with chronic conditions, with a specialization in gerontology.
What are you working on?
Our Band-Frail program incorporates exercise and education components for older adults living with both frailty and type 2 diabetes. This program is based on evidence from a research trial conducted in Europe that saw improved outcomes for enhanced diabetes management and physical function in a similar population.
The 16-week program is delivered twice a week by a Certified Diabetes Educator and an exercise specialist. Each week, one session will consist of 20 minutes of diabetes management education and 25 minutes of resistance training using resistance bands. The second weekly session will consist only of the resistance training.
Our project is currently recruiting participants to implement this program in the Fredericton area, and we are hoping to expand it to some other areas across the province. This will help increase access to options for treatment and management of diabetes. We are hoping to reach about 900 participants in New Brunswick for the study.
We believe that participants will see improved physical function as well as glycemic (blood sugar) control following the program. In addition, we expect the program to be cost effective and to have a long-term impact on other health outcomes, including on duration of hospitalization and number of hospital admissions. Our results will be merged with NB-IRDT's administrative data in order to investigate long-term outcomes in 5 and 10 years.
We will analyze a number of health outcomes to quantify changes. Some of the health outcomes our group is interested in including physical function, glycemic control, nutrition and quality of life. We will also examine sex and gender to capture any potential differences. In addition, we are performing a cost-benefit analysis of the program, in order to determine possible long-term cost savings for the province. Finally, we will track participants' results after 5 years and 10 years, so we can assess the impact of the program on long-term health outcomes.
Why did you decide to work on this research?
New Brunswick has one of the highest rates of diabetes in the country as well as a very high average age of residents. These two facts mean that we have an aging population with quickly declining health and increased chances of fatal health issues. Additionally, these increased health issue rates exacerbate the health-related costs for the province. Our group is also dedicated to diabetes research and we felt that there was an opportunity to contribute and help to provide better management of diabetes.
When I see the impact of diabetes on the people of New Brunswick and the benefits lifestyle interventions can have on their health (better glycemic control and less chance for adverse complications), I strongly feel the need to help people living with diabetes. We are very invested in creating a sustainable program available for people with diabetes in the province.
We are currently recruiting, so if someone has type 2 diabetes and is interested in participating, they can reach out to our project coordinator Sarah at 506 458-7034 or via cellab@unb.ca.
More information
Dr. Martin Sénéchal (orcid)| Dr. Danielle Bouchard (orcid)| Faculty of Kinesiology| UNB Cardiometabolic Exercise & Lifestyle Laboratory (CELLAB)
Research at UNB | Graduate Studies at UNB | Postdoctoral fellowships
Related Pages: Healthy Seniors Pilot Project: Five UNB projects receive funding