UNB research projects receive funding to support healthy aging for seniors
Author: UNB Newsroom
Posted on Feb 17, 2021
Category: myUNB , UNB Fredericton , UNB Saint John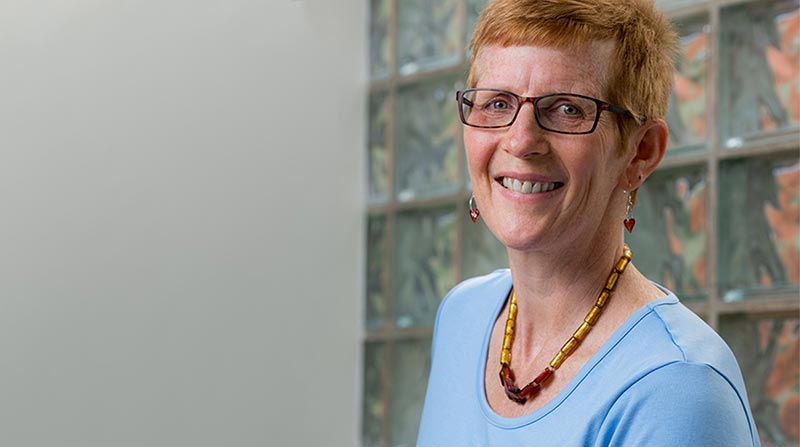 UNB researchers have received nearly $6 million in provincial and federal funding for research to support healthy aging for seniors in their homes, communities and care facilities.
On Feb. 12, the Province of New Brunswick and the Public Health Agency of Canada announced 39 applied research projects that have been approved under the Healthy Seniors Pilot Project.
"Healthy aging remains an important aspiration for the general community and provincial governments across Canada," says Dr. Paul J. Mazerolle, president and vice-chancellor of UNB. "Seniors face many significant challenges, which reinforces the importance of undertaking research to expand knowledge in this area and to ensure research is informing improvements in service delivery and practices on the ground."
"It is so very pleasing to witness the substantial funding being provided by the Canadian and New Brunswick governments through the Healthy Seniors Pilot Project," says Dr. Mazerolle. "The almost $6 million for UNB research projects provides an important opportunity to inform practical solutions for seniors in independent living and in supporting healthy aging. I sincerely look forward to the results of these important research projects."
As primary investigator, Dr. Tracey Rickards, associate professor in the faculty of nursing at UNB, received more than $1.5 million in funding towards the Mobile Seniors' Wellness Network: Reaching Rural New Brunswickers research project.
The COVID-19 pandemic has emphasized and exacerbated the isolation of many New Brunswickers and highlighted the need for remote or at-home service delivery for the most vulnerable population.
This innovative project has the potential to contribute to the ability of seniors to age-in-place. A multidisciplinary team including nurses and social workers will make home visits to monitor the health and safety needs of seniors and assess and augment foot care. This work will contribute enhanced understanding of the needs of older adults and inform the concurrent development and contribution to a resource bank that will provide access to information and services for older adults who are living in their homes.
Along with team members Emily Kitts, manager of the Fredericton Downtown Community Health Centre, and Dr. Karen Cross from St. Michael's Hospital in Toronto, Dr. Rickards will examine a mobile person-centered approach to support safe aging-in-place and quality of life for vulnerable and isolated older adults.
"The Mobile Seniors' Wellness Network pilot project is a collaboration between UNB and Horizon Health Network to better understand the needs of seniors wanting to remain at home as they age," says Dr. Rickards. "With simultaneous goals of improving diabetic foot health among isolated seniors and to decrease the self-reported incidence of loneliness and social isolation, we will increase support and access to services for seniors and caregivers in Fredericton and the surrounding region."
Other UNB researchers and projects in the Healthy Seniors Pilot Project include:
Dr. Chris McGibbon, Institute for Biomedical Engineering, has received $2,697,913 in funding for the project, The New Brunswick Brain Health Initiative: Preventing Alzheimer's by Lessening Modifiable Risk (NB-PALM). This research project will help to identify people at risk of dementia and inform future programming to address modifiable risk factors that may postpone or prevent dementia.
Dr. Danielle Bouchard, faculty of kinesiology, will expand the Zoomers on the Go fall prevention exercise program across the province. Focusing on the improvement of physical function and maintenance of independence for seniors, Zoomers for All received $622, 044 in funding.
Dr. Martin Sénéchal, faculty of kinesiology, will explore how the combination of exercise using elastic bands, diet and education will affect the functionality among adults aged 65 and above living with diabetes and frailty. The Band-Frail Study: A Provincial Intervention to Outweigh Diabetes and Frailty in New Brunswick research project was awarded $469,645.
Dr. Shelley Doucet, department of nursing and health sciences, will examine the improvement of how primary care providers diagnose and support persons with dementia. The research project, Co-designing Dementia Care in New Brunswick: Building the Future Together, received funding of $495,259.
Additional stories profiling these projects and research teams will be published on the UNB Research blog.
About the Healthy Seniors Pilot Project
The Healthy Seniors Pilot Project is a $75-million, three-year agreement between the Government of New Brunswick and the Public Health Agency of Canada jointly led by the Government of New Brunswick's Department of Social Development and the Department of Health through the Aging Secretariat.
The Healthy Seniors Pilot Project will support a range of applied research initiatives to examine how governments, in partnership with the community and private sectors, can better support seniors in their homes, communities and care facilities. This project will help us better understand the gendered impacts of an aging population, improve the quality of life for our senior citizens and help us lay the groundwork for the dissemination of evidenced-based best practices in supporting healthy aging for all Canadians.
Media contact: Kelsey Pye
Photo credit: Joy Cummings/UNB