From West to East
Author: Kyle
Posted on May 7, 2018
Category: News and Events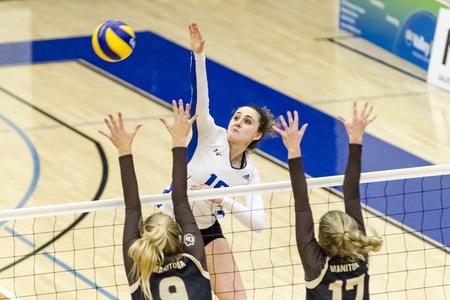 ---
The Psychology Department on the Fredericton campus recently added a top student to their graduate team, but they are not the only roster on campus who will benefit from her presence.
Along with the Psychology graduate program, the University of New Brunswick Varisty Reds will also welcome Siobhan Fitzpatrick with open arms to their women's volleyball program, beginning in the fall.
Siobhan joins the VReds after four successful years of study at the University of British Columbia-Okanagan, in Kelowna, where she excelled not only as an athelete, but as a top student.
Siobhan is looking forward to joining her new teammates and colleagues in the fall, and is ready to put in the work to help her teammates achieve their goals. Her dedication, drive and work ethic that made her a successful student athelete, will also carry her towards her goal of a doctoral degree in Clinical Psychology.
For more information on Siobhan's journey, check out the press release.