Welcoming the Class of 2023 into the #ProudlyUNB alumni family
Author: UNB Alumni
Posted on May 23, 2023
Category: UNB Fredericton , Inspiring Stories , Young Alumni , UNB Saint John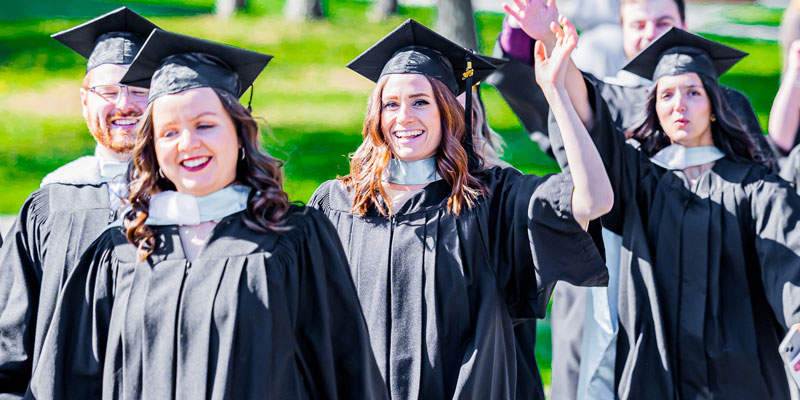 ---
This spring we were thrilled to welcome 1,655 graduates into the #ProudlyUNB alumni family! During graduation ceremonies on the Fredericton and Saint John campuses May 17, 18 and 19, UNB celebrated the remarkable accomplishments of 1,322 graduates receiving bachelor's degrees, 335 receiving master's degrees, and 20 achieving the PhD.  
Among the 2023 graduates are five exceptional valedictorians who addressed their classmates during UNB's encaenia and convocation ceremonies, Kianna Bear-Hetherington (BScENR'23), Amy Thomson (BScKIN'23), Callum Hunter (BPhil'23), Brandon Saulnier (BScME'23) and Clara Kelly (BN'23). 
UNB graduates are students for a short time, but alumni for life. These outstanding individuals have joined a network of inspiring alumni who are making a difference in their communities and in their workplaces. 
The UNB Associated Alumni supports students while they're on campus and long after they leave to pursue their careers, further studies or other exciting adventures. Through alumni programming, new graduates have access to a wide range of career-focused webinars, personal interest webinars and professional development sessions led by other members of the alumni family. Alumni can also explore lifelong learning courses and certificates through the College of Extended Learning.  
When you join the #ProudlyUNB alumni family, you are part of a network of over 97,000 alum with a shared experience of attending UNB. There are a few ways to tap into this community, to connect and network with others. The 'alumni' tool on the University of New Brunswick LinkedIn page is an excellent way to search for alumni based on your career interests and desired locations.  
UNB's exclusive online networking tool, Ten Thousand Coffees, is a similarly valuable place for new graduates to sign up to receive mentorship from alumni professionals, to provide mentorship to current students or to search and chat with alumni working in specific industries. The UNB Alumni Office also hosts gatherings and chapter events across the country and around the world for alumni to connect back with UNB and with one another. View a list of upcoming events on our website.  
As UNB alumni, you have exclusive access to a number of benefits and services including library access, career resources, URec gym access if living in or visiting Fredericton, as well as discounts on home and auto insurance through our affinity partnerships with TD Insurance and Manulife. When you purchase through our affinity partners, you're supporting sponsorships and scholarships for UNB students - our future alumni.  
Stay connected to your classmates,  your faculties and the wider UNB community. Keep your contact information current with us to stay up to date on the latest UNB happenings and news, and to be notified when there are opportunities to connect with your alma mater.