Be bold, be brave, be tenacious: UNB valedictorian Brandon Saulnier says
Author: UNB Newsroom
Posted on May 17, 2023
Category: UNB Fredericton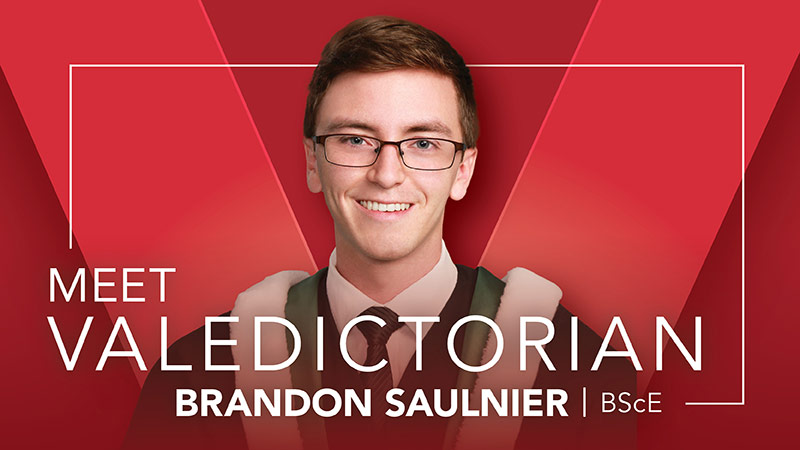 Valedictorian Brandon Saulnier will address spring 2023 graduates in the faculties of computer science and engineering on the Fredericton campus.
"Be bold, be brave, be tenacious and be proud of who you are. Leave UNB a better place than when you found it." Those are the words Saulnier chose to live by throughout his time at the University of New Brunswick (UNB).
A deeply active member of the UNB community with the desire to positively impact those around him, Saulnier takes these words to heart.
Graduating with a bachelor of science in mechanical engineering with minors in psychology and electrical engineering, he also obtained a diploma in the university's technology management and entrepreneurship program.
Throughout his undergraduate years, Saulnier sought to enrich his university experience as well as those around him. He served as resident assistant for UNB Resident Life, VP external for the Engineering Undergraduate Society, VP services for the Atlantic Council of Engineering Students, VP financial for the Canadian Engineering Competition, academic rep for the Student Society of Mechanical Engineers, project manager for CubeSat NB, writer and photographer for the Atlantic Student Research Journal and co-chair of TEDxUNB 2023.
Saulnier will continue his education with a master of science in aerospace engineering. He recently sat down to reflect on his time at UNB and his plans for the future. Here's what he had to say:
What made you decide to pursue your studies in engineering?
My decision to pursue my studies in engineering was not straightforward. In high school, I always believed I would go off and find my niche in a field of science and follow it up with a PhD and then work in academia or a lab somewhere, mad scientist style. Engineering was not on my radar whatsoever.
However, I had no idea what area of science I wanted to pursue. In high school, I took every science class I could to narrow it down. The only issue was, during each class, I found an ever-increasing passion for the materials I learned, be it chemistry, physics, biology or psychology. I found a love for each discipline. It was only when I was applying to university that I found out what engineering as a career path truly involved.
It then occurred to me that everything I loved about each discipline I was learning was the possibility of research and theory. I have always been drawn to the idea of innovating, designing, using and applying theoretical advances to solve real-world problems. At that moment, I was hooked on engineering.
What brought you to UNB for your studies?
I have always been a very ambitious person and applied to many schools for my undergraduate degree. I got into every school to which I applied: the University of Waterloo, early acceptance at McGill University, the University of Ottawa and a few more. I decided on UNB because it had community in a way that felt real, in a place that felt like I was part of a family. UNB felt like home the moment I set foot on campus, more than any other institution I visited. I knew that at UNB I would not feel like just a number, that I would have the freedom to be me and to grow as a person in ways I just could not at other schools. It also has one of the oldest English-accredited engineering programs in Canada, which is pretty cool.
What are your plans after graduation, both immediate and long-term?
My immediate plans are many: I have an internship with the Canadian Space Agency (CSA) lined up for the next four months with the possibility of an extension. Excitingly, I am also continuing to work on my senior design project (Fresh Start Farms) born out of Technology Management and Entrepreneurship 4025. Two of my teammates and I got accepted into the Summer Institute, which is an accelerator program, where we will be continuing to grow Fresh Start Farms and see where it leads us. After my internship at the CSA, I am off to pursue a master of science in aerospace engineering with a focus on either applied aerodynamics or propulsion systems.
My long-term plans involve hopefully continuing to work at the CSA within project management or research and development. I will also likely continue my education with a PhD in engineering and possibly expand into different fields like psychology or immunology.
I have always dreamed of starting a non-profit social enterprise using engineering and related fields to tackle global issues, from clean water access to food scarcity, pollution, environmental issues or disasters and humanitarian relief. I am hoping this might very well even be a path that growing Fresh Start Farms can help lead me into.
I will also be working towards getting my private pilot's license.
What is the most important lesson you are taking away from your time at UNB?
Can I say how to solve the Navier-Stokes equations? Okay, that is most certainly not the most important lesson I am taking away from my time at UNB.
The most important lesson is that you are never alone. At UNB, I was lucky to find so many incredible people to connect with and build relationships and friendships with. I have worked on so many things with so many people as part of so many teams. There is no way I would be able to have completed my degree and grow into the person I am without the help and support of so many people. It took me a long time before I was able to ask for help from others but realizing that there are always going to be people around you who care about you, who want to see you succeed and who will help you when you are down. No matter how lonely things can sometimes feel, learning that others are there to support you, understand you (or at least will try their best to), makes all the difference.
If you were to offer a piece of advice to someone embarking on their university journey, what would it be?
Be true to yourself. For the first time in most of our lives, we have a new level of freedom, and the only thing holding us back can often be ourselves.
Get involved, follow what you feel passionate about and do not be afraid to make mistakes. Failing is just part of the path on your way to finding success and feeling fulfilled. At university, especially at UNB, you can build a community around you with people who truly share the same values, interests and passions as you. The connections and growth you can share with people during your time at university are incredible. It is daunting and scary but get involved when you can with things that speak to your heart. It is not only the knowledge you are getting from your degree that is valuable during your university career (of course, your classes are incredibly important) but it is your whole experience that shapes your time. Enjoy it.