UNB's Saint John valedictorian offers advice to future students
Author: Kathleen McLaughlin
Posted on May 10, 2023
Category: UNB Saint John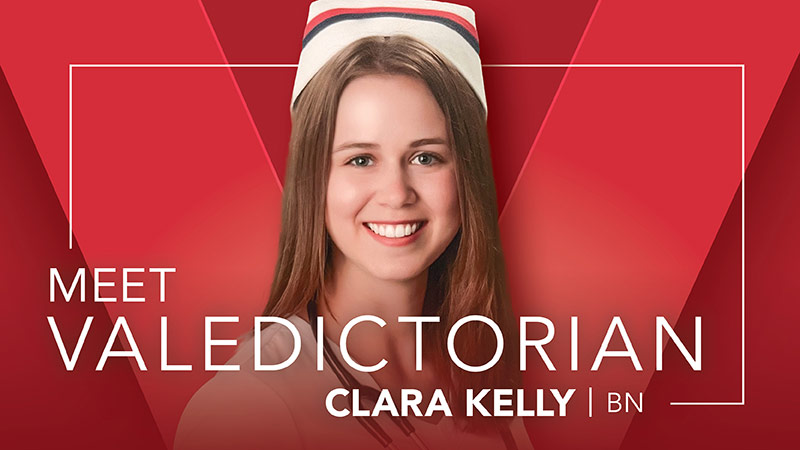 "It's okay to figure things out as you go. As long as you're striving towards your goals and doing things you love, everything will work out."
That is one of the lessons valedictorian Clara Kelly learned during her time at the University of New Brunswick.
Kelly is graduating with a bachelor of nursing degree and addressing the spring 2023 graduates in the faculties of arts; science, applied science and engineering and business on the Saint John campus.
"I'm looking forward to closing off this chapter and starting my career as a nurse," said Kelly. "I can't say this is the end of my education and medical school is still on the table but, for now, I'm enjoying spending the final days of my undergraduate degree with my peers and looking back on all the great memories I've made at UNB."
Kelly recently sat down to reflect on her time at UNB and her plans for the future. Here's what she had to say:
What made you decide to pursue your studies in nursing?
Originally, I thought I wanted to be a surgeon. Throughout high school I was set on graduating and pursing a biology-chemistry degree at UNB's Fredericton campus, then going to medical school.
My plans changed in the Fall of my Grade 12 year when I was chosen to go to Encounters with Canada, which was a weeklong program in Ottawa at the Terry Fox Centre. This program no longer exists.
I went to the medical and health sciences week and, while there, our group got to listen to a panel featuring a medical student, physician and nurse who talked about their schooling and careers. I thought the nursing job sounded really interesting, so when I got home, I applied for the bachelor of nursing program in Saint John and got in.
I've wanted to take care of people my whole life and I thought I would do that by becoming a doctor. Once I got into the program, I fell in love with nursing.
What I like most about nursing is you get to be with a patient throughout their treatment and healing process from start to finish. Whereas a doctor can diagnose and prescribe, the nurse is providing the patient with the consistent care they need to get better. I really enjoy seeing the progression and watching them get better.
What brought you to UNB for your studies?
Both of my parents graduated from UNB's Fredericton campus and some of my aunts and uncles as well, so being a UNB alum is pretty engrained in my family and that made the choice easy for me. I'm also from Grand-Bay and when I decided to study at the Saint John campus, I was able to stay home and save money while I studied.
What are your plans after graduation, both immediate and long-term?
Immediately after graduation, I will start my new job as a nurse at the Saint John Regional Hospital in the general surgery unit. My short-term plan is to work in Saint John for the next three to five years and then become a travelling nurse. Long term is still undecided. I might still go to medical school, but I want to gain some more experience and see what I like to do with nursing first.
What is the most important lesson you are taking away from your time at UNB?
The most important lesson I have learned is that hard work pays off.
In Grade 12, my basketball coach told me that in university you get out what you put in. If you invest your time and take courses you're interested in, you will be successful. I've held onto that advice and it's motivated me throughout my degree.
No matter what you are doing, if you put in the work, you will see results.
If you were to offer a piece of advice to someone embarking on their university journey, what would it be?
It's okay to figure things out as you go. As long as you're striving towards your goals and doing things you love, everything will work out. It's also okay if you fail sometimes or don't know what you're doing. Just keep trying new things and finding things you like. Don't be afraid to change your mind. University is a time when you can figure out what your goals are, find what's interesting to you and just do you.