OCRC innovation director Brandon Searle featured on podcast
Author: UNB Research
Posted on Nov 19, 2020
Category: Innovation & Commercialization , Research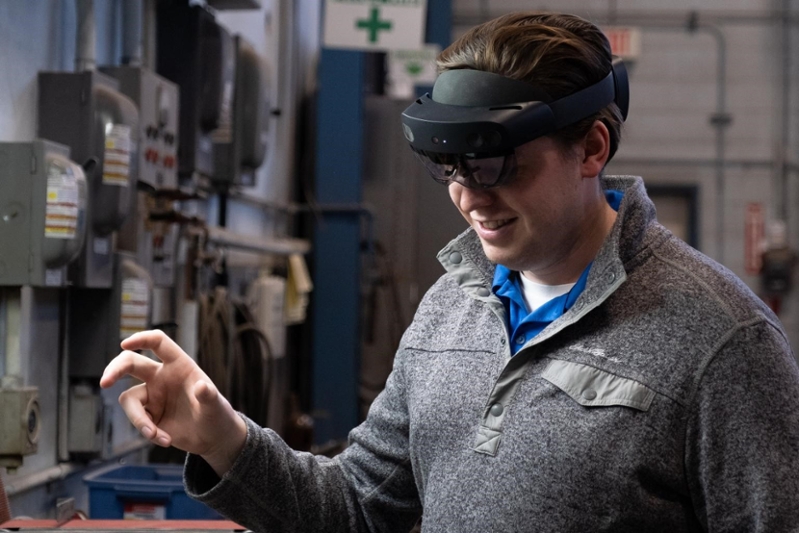 ---
Each episode of Philosophie Group's Fail Faster podcast series features a different leader in innovation technologies from around the world. Recently, our own Off-site Construction Research Centre (OCRC) Innovation Director, Brandon Searle, was invited to join them as an invited guest. In episode 79, "Who Will Build What's Next," Mr. Searle discusses how the OCRC uses new technologies to lead innovation in the construction sector, some of their recent projects and the partnerships the centre has established.
The OCRC works with partners in the construction sector from across Canada to improve productivity, safety and quality, all while reducing waste and implementing a diverse supply chain by using existing innovative technologies.
Some of the new technologies the OCRC has been pioneering are the Microsoft HoloLens 2, using its augmented reality technology to take Building Information Modelling to the next level, and Microsoft Azure with Power BI to provide data analytics and visualization to construction companies. This helps users in the construction industry reduce material waste and costs, minimize their carbon footprint and improve productivity by connecting experts remotely with staff on-site, and providing insights to help organizations make better informed decision.
The OCRC helps to advance the construction sector in conjunction with private industry groups and with departments across UNB.
Mr. Searle notes the importance of looking to the future when thinking about the needs of the construction sector, in order to balance various economic, efficiency and environmental concerns.
"We need to think about the needs of the present and future," he said. "During the design phase, we try to understand society's current needs, and anticipate what we may need in the future. For example, we're currently building healthcare facilities to combat the global pandemic. Should we be thinking of new and innovative ways to reuse and repurpose these buildings post-pandemic?"
For Mr. Searle and his colleagues, part of advancing the construction sector into the future includes working with younger generations to inspire and encourage them to pursue careers in the field.
To hear Mr. Searle talk about all of this and more, you can find the podcast on Spotify and Apple Podcasts.
About the Off-site Construction Research Centre
The Off-site Construction Research Centre at the University of New Brunswick seeks to transform the construction industry by optimizing alternate solutions to conventional, 'stick-built', on-site construction.

The OCRC will transform partner companies, grow the supply chain in the province and make New Brunswick a hub for off-site construction by developing innovative solutions to construction industry problems. Opportunities to participate range from supporting world-class researchers to contracting research to solve specific problems.

Keep up to date with Off-site Construction Research Centre news and events at unb.ca/ocrc, and by following their social media pages.

Have questions about this story or the OCRC?
Contact Morgan Day, marketing and communications coordinator.