Wolastoqey Elder and linguist Dr. Peter Lewis Paul honoured with exhibit
Author: UNB Research
Posted on Dec 1, 2021
Category: Research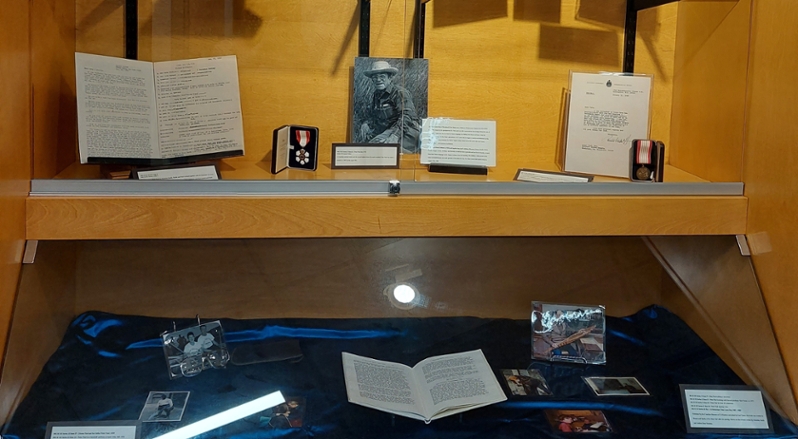 ---
A Wolastoqey Elder and his work are being honoured with a special display in the University of New Brunswick's Harriet Irving Library (HIL) Research Commons. The late Dr. Peter Lewis Paul (1902-1989), an Elder and linguist from Woodstock First Nation, worked with scholars throughout his life to record and preserve elements of the Wolastoqey language.
April Saulis is the UNB student who conceptualized and carried out the project during her summer internship at the HIL's new Research Commons. April is also named Miyahsi Siqon (Early Spring), her spirit name gifted to her by her grandfather. She is a member of the Welamukotuk/Oromocto First Nation and is of Wolastoqey heritage.
Dr. Paul "is not a well-known man, but it is thanks to him that a lot of the Wolastoqey language was preserved," says Saulis.
The idea to create the exhibit emerged while Saulis was reviewing the UNB Archives special collections. Supported by the Future Wabanaki Program, Saulis worked with the Archives and HIL Research Commons staff to organize the exhibit that tells Dr. Paul's story with artifacts housed in the archival collection.
The exhibit includes photographs, items that belonged to Dr. Paul, letters he received and sent, and excerpts from In Memoriam: Peter Lewis Paul, 1902-1989, a book celebrating his life and achievements. In Memoriam was written by Harvard professor Dr. Karl Teeter, who collaborated with Dr. Paul on developing a sound alphabet for the Wolastoqey language.
Dr. Paul worked with Canadian and American linguistic researchers for many years. At the age of 17, he became an informant on the Wolastoqey language for the Canadian-American artist and writer Edwin Tappan Adney. He continued this work for 30 years until Adney's death in 1950.
According to Saulis, Dr. Paul was frequently asked by researchers 'what is the word for…' in the Wolastoqey language. After responding, the researchers would write the words down how they sounded phonetically, contributing to contemporary spellings. The archives contain many of his letters, presenting Dr. Paul as an active correspondent who responded to a great many requests for information on the language.
For his contributions, Dr. Paul was recognized with an Honorary Degree of Doctor of Laws from UNB in 1970. He also received a Centennial Medal in 1967 and in 1987 was inducted into the Order of Canada.
April Saulis is working with the HIL Research Commons through a partnership with the Future Wabanaki program, an experiential learning program created in partnership between New Brunswick Employers, universities, Indigenous students, and the Government of New Brunswick. The program pairs indigenous students with employers to extend academic learning outside of the classroom, allowing students to gain real work experience on and off campus through a program inspired by the ways of the Wabanaki people.
The exhibit will be on display only until the end of term, so if you haven't already been by to visit, make sure to take a look before it goes back into the vault!