The tales bones tell: uncovering lost voices at the Fortress of Louisbourg
Author: UNB Research
Posted on Nov 4, 2021
Category: Partnerships , Research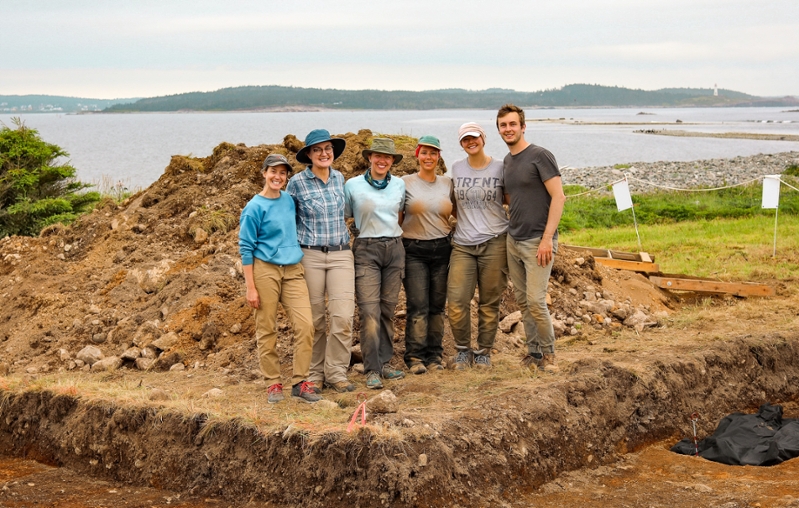 ---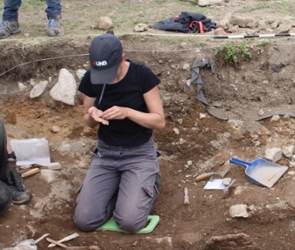 Like so much of settler-colonial history, events at the Fortress of Louisbourg in Cape Breton, Nova Scotia have been documented mainly from the perspective of men in positions of privilege. This means that when we look at the experience of women, especially non-settler women, at Louisbourg, their stories are told through this very particular lens.
Dr. Amy Scott is working to change that, giving a voice to those who have been historically silenced, while also protecting their remains from coastal erosion.
"Much of what we know about past populations is centered around the male perspective, and more specifically the white male perspective," says Dr. Scott. "So many of the other groups are ignored, marginalized, or misrepresented. We hope that by highlighting the female voice at Louisbourg we can better demonstrate the active and important roles that women were playing at the fortress that contributed to its growth and prosperity, and in turn that this will prompt better representations of other groups that have also been consistently left out of, or marginalized by, traditional understandings of early colonial sites like Louisbourg."
Dr. Scott, an associate professor in the department of anthropology at the University of New Brunswick, runs the UNB Bioarchaeology Research and Training (BART) lab and is the director of the UNB Bioarchaeology Field School program at the Fortress of Louisbourg. Dr. Scott and her team have been working with Parks Canada since 2017 to excavate the remains of individuals buried on Rochefort Point, Lousibourg, before they are destroyed by ocean forces.
So far, they've exhumed the remains of 121 individuals, whose bones are analyzed at the BART lab before being reburied in a safe location at the Fortress of Louisbourg National Historic Site. Studying their bones helps us learn more about the unique lives and stories of these individuals that shaped the history of Louisbourg and more broadly 18th century Atlantic Canada.
A long and challenging life
In the 18th century, there were ten times as many men as women living at the Fortress of Louisbourg, and the average lifespan, based on current data was about 29 years for men and 31 for women.
Of the 121 individuals recovered, researchers have been able to determine the sex of 43; of these, only seven have been female.
So, it was pretty significant for Dr. Scott and her team when they discovered the bones of a 60-year-old woman at Louisbourg in 2019. Their analysis revealed that she endured intense pain and suffering during her life, due to extensive arthritic changes throughout her entire skeleton. From their analysis, the researchers also believe that she most likely was a domestic labourer causing her to often be hunched over for extended periods of time.
This finding aligns with what is generally understood about settler life during this time, with women responsible for the domestic sphere – cooking, cleaning and caring for children – while men laboured outside of the house.
But Dr. Scott has a bone to pick with universally accepting this view: "What's really fascinating about the Louisbourg story is while it was a colony of France, the role of women wasn't as tightly regulated as it was in Europe, where woman were limited to domestic tasks," she says. Women at Louisbourg were a vital part of the labour force and economical success of this 18th century colony, so while many still participated in domestic duties, they had greater opportunity for independence and personal success.
Understanding strength and strain
Along with this elderly female, Dr. Scott and her team also analyzed the remains of a 12-year-old girl excavated in 2019. Their analysis revealed that she had had a life of steady labour. Muscle attachment development on her arm bones shows that she participated in repetitive activities that isolated and developed her upper arm muscles, explains Dr. Scott.
(At the moment, it's difficult to pinpoint what kind of labour caused these changes in the young woman's arms, but UNB kinesiologist Dr. Ken Seaman is working with Dr. Scott to identify the specific, daily tasks of life at Louisbourg and their impact on bodies, based on interpreters using traditional methods and tools.)
The young woman also sustained a very specific fracture to her thigh, added Dr. Scott. That kind of injury to the femur isn't typically observed in remains at Louisbourg, unlike the much more common fractures to hands, feet, and ribs. She explains this type of fracture is usually seen today as a result of blunt force trauma, such as being struck by a car. While the cause of injury remains unknown, Dr. Scott says it was a significant event in her life and one that likely contributed to her death.
"Colonial life was much more difficult than living in established cities, and from a skeletal perspective, we find that women were contributing to the fortress in the same way that men were, this may be why we are seeing such extreme fractures in the female population" she explains.
Neither passive nor silent: Women's lives at Louisbourg
The success of women at Lousibourg was directly tied to the success of the colony. According to historical records, the literacy rates were higher for women at Louisbourg, than they were in France. Women at Louisbourg contributed to the economy in many ways as trusted and skilled business women. Some of the most successful individuals were women of colour who had escaped slavery, like Marie Marguerite Rose, who owned a tavern at Louisbourg after her emancipation.
By excavating the graves on Rochefort Point, not only are these individuals being saved from ongoing costal erosion, so are their stories. Dr. Scott hopes this project will help change our understanding of women's roles in colonial Atlantic Canada and shift our historical understanding away from male interpretations of women's work and value in the 18th century. While much of the work to date has centered around settler women, Dr. Scott acknowledges that this work must also highlight and elevate other marginalized groups such as the Indigenous Mi'gmaq and enslaved peoples who were vital to the survival of Louisbourg yet have often been overlooked in the historical record.
More information
Header image: Photo: Emily Madinsky, Parks Canada. Left to right: Dr. Amy Scott, project director; Dr. Mallory Moran, archaeologist; students Marisa Forbes, Nicole Hughes, Nicole Breedon, Chris Burgess.
Dr. Amy Scott (orcid)| Department of Anthropology | Faculty of Arts
UNB Bioarchaeology Field School
Research at UNB | Graduate Studies at UNB | Postdoctoral fellowships