UNB partners with Kognitiv Spark as first university to offer remote research site tours using Microsoft's Hololens technology
Author: UNB Research
Posted on Oct 18, 2021
Category: Research , Partnerships , Innovation & Commercialization , COVID-19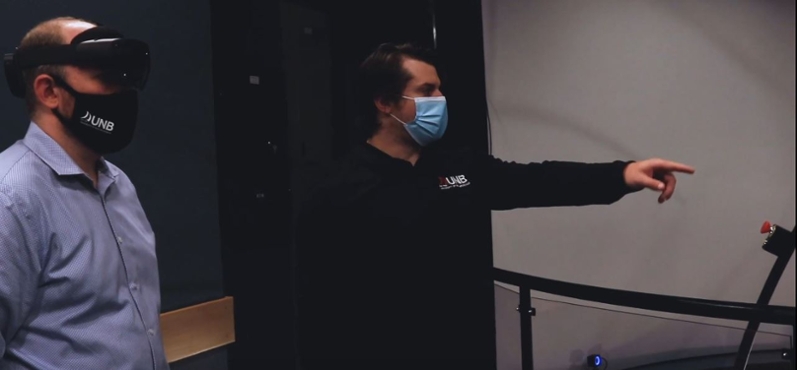 ---
The University of New Brunswick's Research & Innovation Partnerships (R&IP) team is used to seeing and sharing innovative new solutions to major challenges. Today, they're implementing one of their own, offering secure, remote tours of research facilities to support new and existing R&D partnerships. This new offering is the first use of Microsoft's HoloLens 2 and Kognitiv Spark's RemoteSpark technologies for this purpose.
"With the disruptions caused by COVID-19, and increasing recognition of the environmental, time and financial impact of travel, we wanted to find a remote solution that would offer our partners a simple and immersive opportunity to tour our campus and explore our research facilities," said Hart Devitt, Director of UNB's R&IP group. "With an existing long-term research partnership with Kognitiv Spark, their RemoteSpark platform and the Hololens 2 hardware was a natural choice."
Kognitiv Spark has found that companies using their RemoteSpark platform have been able to reduce their service and support travel needs by 60% on average, which has also helped significantly reduce the carbon footprint associated with this travel. For UNB, this technology will allow an increased global reach while also furthering its sustainability efforts.
Microsoft's Hololens 2 is a head-mounted augmented reality device, with a holographic interface anchored to physical space displayed in the wearer's field of view. For remote visits, this will allow the distant party to identify details they would like to explore further, including equipment and facilities.
Kognitiv Spark's RemoteSpark platform provides end-to-end encryption and low-bandwidth connectivity for the device, providing peace of mind for partners, whose work is often confidential.
In addition to individual site visits, UNB is exploring other ways to leverage the platform, including industry partner group tours, conferences, and trade shows, and will continue to identify novel opportunities.
"As we transition back to more in-person opportunities, we will continue to seek out additional occasions to utilize this tool. We also plan to share insight and access to other administrative and research units within UNB to make full use of the capability," added Mr. Devitt.
"This new development demonstrates how our partnerships can lead to unanticipated benefits across our institution, and that an innovative approach to solving challenges is found within the community of dedicated professionals that support our researchers, as well as within the research community itself."
UNB's decision to leverage the Microsoft HoloLens 2 as a remote collaboration tool was in part inspired by a long-standing partnership with Kognitiv Spark, including research collaborations with Dr. Scott Bateman, an associate professor of computer science and director of the Human-Computer Interaction Lab at UNB.
"We're always pleased to support our partners at UNB in their new and interesting applications of the RemoteSpark platform to combat remote challenges. By allowing a HoloLens wearer to connect with a remotely located individual through RemoteSpark, the applications of this technology are truly endless. We look forward to continue working together and to see what UNB achieves with remote collaboration via augmented reality," said Kognitiv Spark CEO Yan Simard.
Funding support for the initiative was provided by Springboard Atlantic, a member-based organization that is made up of industry engagement representatives from 19 Atlantic Canadian postsecondary institutions. Supported by ACOA as well as its members, the network is designed to grow the region's innovation economy through research-based collaborations between academia and industry.
Watch: We bring UNB's experts and facilities to you, wherever you are