Two UNB engineering faculty members receive American Concrete Institute Foundation awards
Author: UNB Research
Posted on Aug 18, 2021
Category: Accolades , Research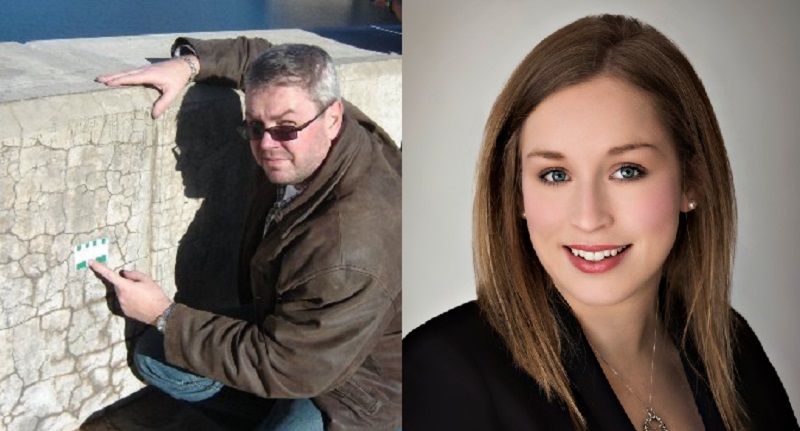 ---
This spring, two University of New Brunswick engineering faculty members were recognized by the American Concrete Institute (ACI) Foundation.
Dr. Michael Thomas, professor of civil engineering, received the Robert E. Philleo Award, and Dr. Ashlee Hossack, adjunct professor at UNB and materials engineer at GEMTEC Consulting Engineers and Scientists Limited, received the Young Member award for Professional Achievement.
Dr. Thomas, a Fellow of the American Concrete Institute, was awarded the Robert E. Philleo Award for his original research on concrete durability and sustainability. His research, which has been incorporated into industry standards and practices, focuses on improving concrete durability relating to freezing and thawing, chemical reactions of aggregates, steel corrosion, and the use of alternative materials.
Dr. Thomas joined UNB's civil engineering department in 2002. Prior to coming to UNB, he taught at the University of Toronto. Dr. Thomas has also worked as a concrete materials engineer with Ontario Hydro, and as a research fellow with the Building Research Establishment in the UK.

Dr. Thomas has been conducting research in cement and concrete since 1983. His current research interests include concrete durability and the use of industrial by-products such as pozzolans and slag. Dr. Thomas' studies have also explored the impact of materials including salts, carbon dioxide, chlorides, and sulfates, which can cause concrete to deteriorate over time, form cracks due to temperature or other destructive chemical reactions. Dr. Thomas is also active in service-life modeling and the repair and maintenance of concrete structures, such as the Mactaquac dam.
Dr. Thomas has authored over 200 technical papers and reports on these topics. His book, Supplementary Cementing Materials in Concrete, was published by CRC Press in 2013. Dr. Thomas is also the co-author of the service-life model Life-365 (Version 1).
Dr. Thomas remains active on technical committees within ACI; American Society for Testing and Materials (ASTM International), The International Union of Laboratories and Experts in Construction Materials, Systems and Structures (RILEM, for its acronym in French) and the Canadian Standards Association, which awarded him their Award of Merit in 2010. He was a recipient of ACI's Wason Medal for Materials Research in 1997, 2009 and 2014. In 2001, Dr. Thomas was presented with the ACI Construction Practice Award.
Dr. Thomas has been a member of ACI since 1991 and a Fellow since 2006; he is also a Fellow of the Institute of Concrete Technology in the UK and a licensed professional engineer in New Brunswick and Ontario. He is currently the president of C&CS Atlantic Inc., which provides consulting services in the areas of concrete materials, durability and rehabilitation.
Dr. Ashlee Hossack completed a BScE. in civil engineering and a diploma in technology management and entrepreneurship at UNB in 2010, and completed her PhD at UNB in 2015, with Dr. Thomas as her supervisor. An active alumna, Dr. Hossack is currently an adjunct professor at UNB, has taught civil engineering classes in reinforced concrete design and concrete technology and is an industry mentor for a senior team design project. Dr. Hossack works as a materials engineer at GEMTEC Consulting Engineers and Scientists Limited and has been with the company since 2014.
Dr. Hossack received the ACI's Young Member award for Professional Achievement, based on her active participation at various levels of the ACI, her service to the advancement of the industry and her work as a mentor for students and young professionals.
About Civil Engineering at UNB
The first Civil Engineering lecture in Canada was held at UNB in 1853.
Civil engineering is a professional engineering discipline that deals with the design, construction and maintenance of the physical and naturally built environment which takes place in the private, municipal and federal sectors.
Civil engineers work on solving many of the largest problems facing the world today. They plan, design and build infrastructure essential to a modern society. From highways and pipelines to water treatment plants and energy-efficient buildings, civil engineers develop sustainable, safe and environmentally appropriate answers to basic human needs.
The Civil Engineering program is available as a major as part of a four-year Bachelor of Science in Engineering degree.