UNB researchers explore augmented reality and high-speed data to support first responders
Author: UNB Research
Posted on Jun 23, 2021
Category: Research , Innovation & Commercialization , Accolades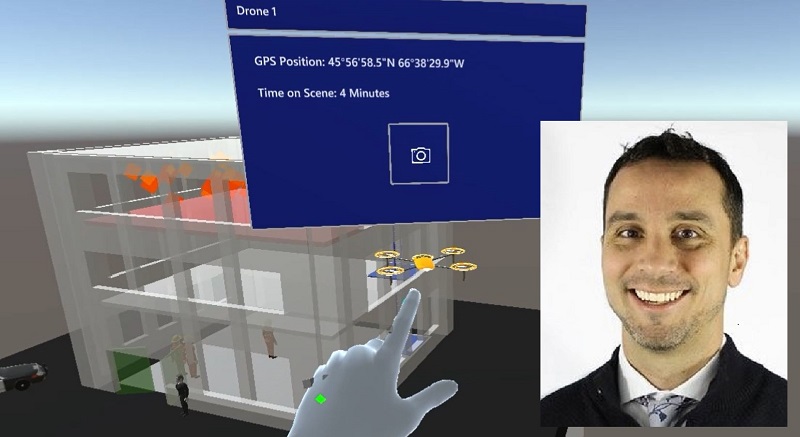 ---
A team of University of New Brunswick-affiliated researchers has recently won a 5G-focused event to develop and implement potential solutions to municipal issues using leading-edge network technology. The Fredericton Innovation Partnership/Rogers 5G BOOST Innovation Camp took place the week of May 31st, with the winning team announced following pitch presentations on Friday, June 4.
Led by Dr. Scott Bateman, an expert in human-computer interaction who specializes in virtual and augmented reality interfaces, the team was awarded first place for their Fog Cutter solution. Team members included master of computer science students Joshua Roberts, Alexander LeBlanc and Samridhi Pargal, as well as Joey Melo.
"The goal of Fog Cutter is to safeguard citizens, property and first responders by facilitating fast and intelligent decision making. Fog Cutter's name comes from its ability to reduce the fog of confusion and uncertainty that first-responders face when they arrive on the scene of an emergency," said Dr. Bateman, associate professor of computer science and co-director of the Human-Computer Interaction Lab at UNB.
The technology allows a command centre to coordinate the distribution of information and facilitate an intelligent response by first responders both before and after they arrive on the scene of an emergency. This is enabled by data provided by Internet-of-Things (IOT) sensors and cameras worn or carried by first responders or mounted on their vehicles. In their solution, IOT sensors measuring location, condition and vital signs data are connected to the ROGERS 5G network enabling a low-latency and reliable data stream; the resulting data is displayed on a Microsoft HoloLens using Kognitiv Spark's Remote Spark System.
Dr. Bateman's lab was able to utilize their pre-existing experience with the HoloLens platform to jumpstart their solution, and they were the only team able to successfully demonstrate a proof-of-concept system over the short timeframe of the competition.
The hackathon was an opportunity Dr. Bateman and his students to put their knowledge to the test and apply them in new ways, providing team members with a new and different educational experience. The team leveraged their lab's ongoing research in remote support, and in their increasing focus on mixed reality to enable people to connect and help each other through technology.
The lab's research is informed by their collaborative relationship with Fredericton's Kognitiv Spark, who have developed an industry leading mixed reality solution for supporting workers in a wide range of scenarios.
"Being able to participate in the BOOST Innovation Camp this year was an incredible learning opportunity and provided unique exposure to 5G technology as well as the opportunity to communicate with experts in the tech industry," said Joshua Roberts.
During the hackathon, teams were able to access experts including Adam Bell, assistant director of corporate services and chief information officer for the City of Fredericton, Tyson Johnson, CEO of CyberNB, and Duncan McSporran, co-founder and COO of Kognitiv Spark.
By applying their academic knowledge to a real-world scenario, team members were also able to see the potential impact of their applied research.
"The experience of working to develop a technology using augmented reality and 5G for an application that could be implemented in a real-world situation and used to save lives was unparalleled," added Alexander LeBlanc.
For Dr. Bateman, the competition also provided insight into new ways to increase the impact of his lab's research in our communities, and new opportunities to leverage it in providing solutions.
"This competition has opened our eyes to the commercialization opportunities for, and interest in, mixed reality technology to address a wide range of real world problems," he said.
The BOOST Innovation Camp was organized by the Fredericton Innovation Partnership, which includes the City of Fredericton, UNB, the New Brunswick Community College, CyberNB and Ignite Fredericton, in collaboration with Rogers, Siemens and Kognitiv Spark.
More information about the event is available in the City's news release.