Meet Bernadette Fernandes, our new advanced manufacturing partnerships lead
Author: UNB Research
Posted on May 20, 2021
Category: Research , Innovation & Commercialization , Research Services , Partnerships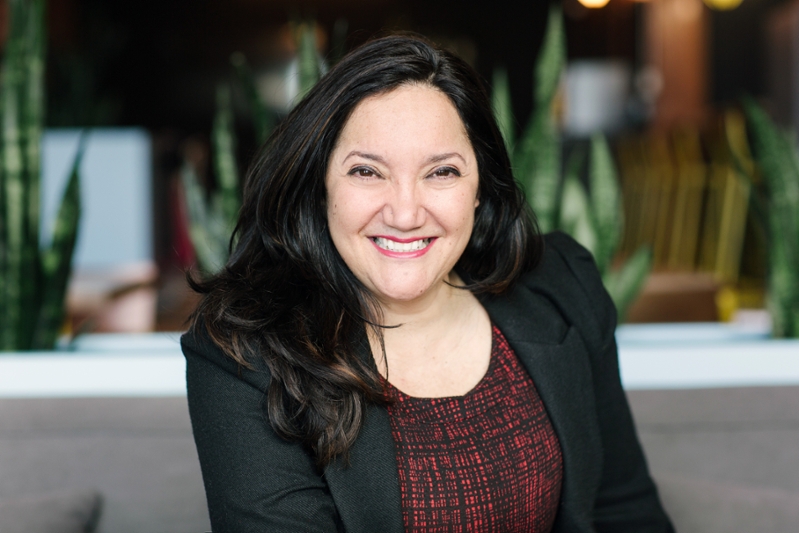 ---
Meet our new advanced manufacturing partnerships lead
Learn about UNB's Advanced Manufacturing Convergence Hub, and how we can support Atlantic Canada's manufacturing industry.
Bernadette Fernandes
Bernadette Fernandes was born in Paris and studied in Portugal, Spain and Canada; as a result, she speaks five languages. Her work and travel have brought her across five continents, where she has developed successful public-private engagements and collaborations across all sectors, igniting and accelerating business and economic growth. Through this, she has built up an impressive and extensive network of trusted contacts all over the world.
Bernadette began her career at NBTel, a company that was known for incubating innovation. For almost two decades, she was part of groundbreaking innovation projects and international collaborations with New Brunswickers who created the LivingLAB innovation hub and founded advanced telecom-based spin-offs that would become so successful they would be acquired by industry giants like Salesforce and IBM.
In 2011, Bernadette founded The Varanda Network, an economic development organization, working primarily with governments for seven years, including the Province of New Brunswick and the Commonwealth of Pennsylvania. Realizing the benefit of collaborating more broadly and integrating the 'triple helix' model of innovation, Bernadette began engaging and bringing together leaders in academia, industry, and government in these efforts.
One of Bernadette's recent projects demonstrates the value of this approach; she led a successful initiative to create an advanced manufacturing collaboration through Springboard Atlantic supporting the Canadian sector as a whole.
In addition to economic development and partnerships, Bernadette also focuses her energy on creating positive social impact: With her ONE WORLD initiative, Bernadette fosters a spirit of global social development through philanthropic initiatives that promote a culture of diversity, inclusion, and equity.
We took a few moments to ask her about her journey so far, her approach to innovation, and her outlook for the future.
How did you end up where you are?
Like many people, opportunity is what initially brought me to New Brunswick: When I was young, Canada, and specifically New Brunswick, was looking for tradespeople, and most of them, like my dad – a skilled mason and bricklayer – were coming from Europe. Since then, I've kept coming back to New Brunswick time and time again, establishing more roots every time, first as a university student, and then marrying here and raising my children here, all providing me with and wonderful network of family & friends.
As for this role specifically, and working in the innovation partnership space generally? I've been involved in New Brunswick's innovation community since my early days at what was then NB Tel.
A decade ago, I founded my own company to help develop and bolster economic development, largely focused on bringing the three arms of the triple helix of innovation together.
Throughout that decade, I've had some wonderful opportunities.
Most recently, one highlight has been the opportunity to get involved with a local municipality hosting their annual sustainability event where, for the first time, they are taking it global. My role was to find and engage international speakersto share their sustainable initiatives. We attracted speakers from 14 countries across 4 continents.
I was also tapped by Springboard Atlantic in 2020 to engage industry with the 19 post-secondary institutions across Atlantic Canada and to help navigate applicants through the Advanced Manufacturer Supercluster and other government programs.
Perhaps my top highlight is a series of moments that took place between 2017 and 2019. It started with a trip of reconciliation to Africa, followed by becoming the official country representative for the Africa Trade & Investment Global Summit, and meeting Siyabulela Mandela, carrying forward the legacy of Nelson Mandela and a social justice leader in his own right, in the process. And then, in 2019, we were able to host Mr. Mandela in New Brunswick, including bringing him here, to UNB.
Tell us about the 'triple helix' model. What is it, and why did you decide to focus on it?
The triple helix of innovation is, essentially, a model for innovation that focuses on interactions between three communities: industry, government and academia.
I've actually been focusing on the triple helix of innovation before I realized it was called the triple helix. I founded my company, The Varanda Network, to focus on economic development with those same elements – government, industry, academia –, as well as with community (the quadruple helix).
Then in 2018, while at a meeting at The World Bank in Washington, DC, I met Dr. Fred Olayele, a research professor at Carleton who explained the triple helix of innovation. From there, I made it my mission to extend my own growth and experience into academia, to complete my own triple helix. Dr. Olayele is now the Chief Economist at New York City Economic Development Corporation and I'm delighted to be collaborating with him in the Fall of 2021 on a Triple Helix Innovation initiative which will include UNB.
What are you looking forward to about working at UNB?
The most important element of my approach to any project is people, and recognizing that nothing transformative, including innovation, can be accomplished alone. And so, my approach to innovation is to connect people: people with challenges, people with ideas and people with the capabilities to solve problems through collaboration and applied research.
In fact, the people are what excite me most about joining the UNB team.
I'm most looking forward to being surrounded by, and getting to know, the people who make up UNB's research community. The perspectives that academics, some of our world's brightest people, bring to the table are ones I'm excited to discover and explore.
And, I'm looking forward to bring those genius perspectives and their knowledge to the table with the bright and innovative minds working on solving industry challenges.
What goals are you hoping to achieve in your role?
For any role I take, my primary goal is to achieve positive change, whether through growth or through pivoting. In this case, I would consider our project successful if I were to see engagement, happiness and collaboration, all while blurring the lines between academia and industry.
As we do that, mutual understanding and strong partnerships are almost certain to follow, in turn leading to more significant applied research impact, and greater and more forward looking innovation across all of New Brunswick and beyond.
More information:
Learn about UNB's Advanced Manufacturing Convergence Hub, and how we can support Atlantic Canada's manufacturing industry.