NSERC Alliance Grant supports UNB industrial research partnership in scaffolding
Author: UNB Research
Posted on Mar 30, 2021
Category: Research , Innovation & Commercialization , Partnerships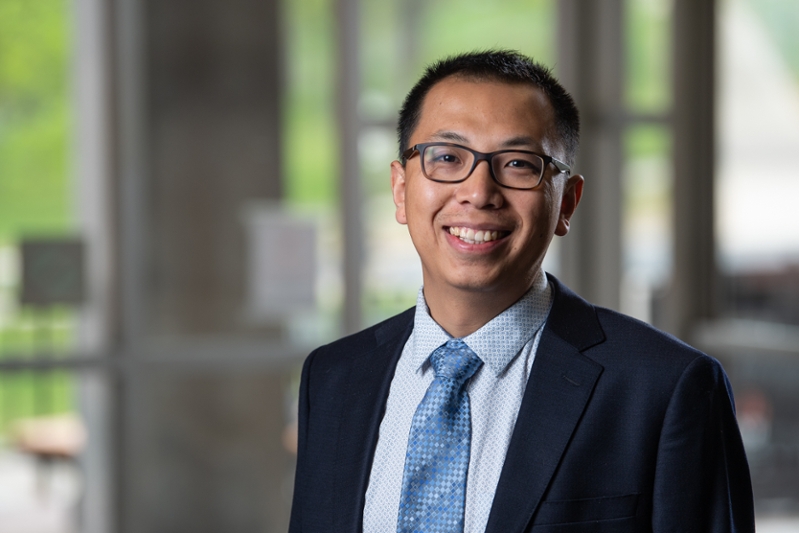 ---
Dr. Zhen Lei, a researcher at the University of New Brunswick, has been awarded $29,700 in funding for a collaborative research and development project to leverage digital technologies to improve construction project management.
Dr. Lei is an assistant professor in the department of civil engineering, the OSCO Research Chair in Off-site Construction and scientific director of the Off-site Construction Research Centre (OCRC) at the University of New Brunswick.
"This project allows us to explore the possibilities of data analytics and emerging Internet-of-things applications for the construction industry, a sector that has been slower to adopt innovative technologies." says Dr. Lei. "We are happy to be working with digital technologies that can empower the construction industry with real-time decision making and predictive analytics and help its transformation toward 'Construction 4.0.' We highly appreciate the support for this project, which will provide immediate results and establish a foundation to further grow in this field of research."
Dr. Lei is working with Hinton Scaffold Solutions and Concordia University researcher Dr. SangHyeok Han to digitize scaffolding management processes in construction projects. In addition to the funding received from NSERC's Alliance Grants program, Hinton will provide $15,000 in financial and additional in-kind support for the project, which will improve the firm's processes.
Dr. Lei's research focuses on creating tools that collect and use data to plan for scaffolding activities, a critical element of a successful project. The data collected in the tools will help to predict project budgets and timelines more accurately. Having a clear, detailed and accurate plan will ensure more efficient use of Hinton's resources, and will help the company improve productivity, energy efficiency and waste reduction.
Once the research project is finished, Hinton Scaffolding Solutions will be able to utilize the tools and the data collected to improve their planning and processes, providing the company with clearer and more accurate expectations that can be passed on to their clients.
"Our goal at Hinton is to create an environment where scaffold construction is the safest and most efficient activity on any construction site. We can do this by leveraging the data analytics the OCRC team has created for us in ways we have never considered before. We expect to reduce major construction scaffolding costs by as much as 15% and eliminate accidents related to planning errors on our projects by 2023," says CEO Brandon Marton.
The company sees the collaboration with OCRC as an essential component in transforming the company's perspective.
"Traditional information systems used in construction projects capture the basics: where things are located, how much they cost, who is working on shift. All critical information, but we created Hinton Software to take data reporting out of the rear-view mirror, enabling us to predict a project's needs and to reduce incidents or accident or injury. Without Dr. Lei and his team, we would still be looking backward instead of forward," adds Peter Goldberg, Hinton's Chief Information Officer.
NSERC's Alliance program supports collaborative research and development partnerships in generating new information and solutions that can be rapidly adopted by the private sector.
"This type of public-private partnership funding closely aligns with the OCRC's goal of propelling the construction industry into the future through relevant and high-quality research," said Dr. David MaGee, UNB's vice-president (research). "It further aligns with our institution's new strategic plan, UNB Toward 2030, which challenges us to intensify our research activity and impact, and which recognizes the tremendous knowledge and innovation UNB's researchers can bring to society's greatest challenges."
Dr. Lei's project started in August of 2020 and is anticipated to be completed in July 2021.
About the Off-site Construction Research Centre
The Off-site Construction Research Centre at the University of New Brunswick seeks to transform the construction industry by optimizing alternate solutions to conventional, 'stick-built,' on-site construction.
The OCRC will transform partner companies, grow the supply chain in the province and make New Brunswick a hub for off-site construction by developing innovative solutions to construction industry problems. Opportunities to participate range from supporting world-class researchers to contracting research to solve specific problems.
Keep up to date with Off-site Construction Research Centre news and events at unb.ca/ocrc and by following their social media pages on LinkedIn and Twitter.
More information:
Dr. Zhen Lei | Department of civil engineering
Research at UNB | Graduate Studies at UNB | Postdoctoral fellowships