UNB's Dr. Rongxing Lu named Fellow of the Institute of Electrical and Electronics Engineers
Author: UNB Research
Posted on Jan 13, 2021
Category: Accolades , Research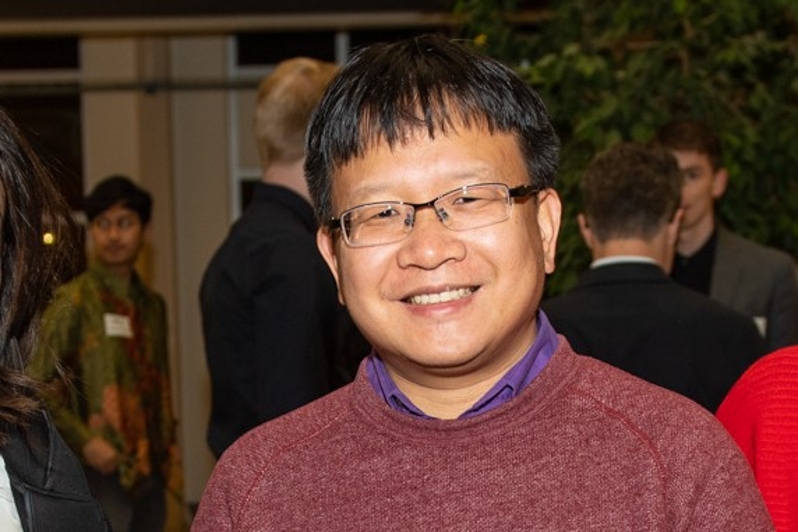 ---
The Institute of Electrical and Electronics Engineers (IEEE) has awarded the IEEE Fellow distinction to Dr. Rongxing Lu, associate professor of computer science at UNB.
IEEE Fellow is the highest grade of membership and is recognized by the technical community as a prestigious honor and a significant achievement. The Fellow designation is conferred by the IEEE Board of Directors upon a person with an outstanding record of accomplishments in any of the IEEE fields of interest. The total number elevated in any one year cannot exceed one-tenth of one- percent of the total voting membership.
"This is an incredible achievement, as fewer than 0.1% of IEEE voting members achieve this recognition each year," said Dr. Luigi Benedicenti, dean of computer science at UNB. "Dr. Lu is an outstanding researcher, among the most prominent in New Brunswick, and an internationally recognized and highly cited author in cybersecurity. It's a pleasure to work with him and I look forward to witnessing the progress of his already stellar career."
Dr. Lu has been a faculty member at UNB since 2016; he was previously an assistant professor at the School of Electrical and Electronic Engineering, Nanyang Technological University, Singapore (2013 to 2016). Dr. Lu worked as a postdoctoral fellow at the University of Waterloo from 2012 to 2013 after finishing his PhD there in 2012, for which he was awarded the prestigious Governor General's Gold Medal. This was Dr. Lu's second PhD, having previously received is first from the Shanghai Jiao Tong University, China, in 2006. Among other accolades, Dr. Lu won the 8th IEEE Communications Society Asia Pacific Outstanding Young Researcher Award in 2013.
Dr. Lu's research interests include applied cryptography, privacy-enhancing technologies, and IoT-Big Data security and privacy. He is known for his early contribution to secure vehicular ad hoc networks, where he introduced the concept of efficient privacy preservation protocols in vehicular communications, enabling quick and efficient safety message authentication that protects the driver's identity and location from the public, but still allows certain trusted authorities to trace the real identities of message senders in the event of disputes. Conditional privacy has since become a key design objective for secure and privacy-preserving protocols for vehicular communication. Dr. Lu has also contributed distinctively to the advancement of privacy-enhancing techniques in Internet of Things and Big Data, including in the areas of smart grid, eHealthcare, and cloud computing infrastructure.
The IEEE is the world's leading professional association for advancing technology for humanity. Through its 400,000 plus members in 160 countries, the association is a leading authority on a wide variety of areas ranging from aerospace systems, computers and telecommunications to biomedical engineering, electric power and consumer electronics.
Dedicated to the advancement of technology, the IEEE publishes 30 percent of the world's literature in the electrical and electronics engineering and computer science fields, and has developed more than 1300 active industry standards. The association also sponsors or co-sponsors nearly 1700 international technical conferences each year. If you would like to learn more about IEEE or the IEEE Fellow Program, please visit www.ieee.org.
Dr. Lu has published extensively, with over 300 publications, more than 21,000 citations, has a Google Scholar H-index of 72, and was the recipient of 9 best (student) paper awards from journals and conferences. Guide2Research puts him among the Top 1,000 Scientists in the field of Computer Science and Electronics globally and 33rd in Canada. Currently, Dr. Lu serves as the Vice-Chair (Conferences) of IEEE ComSoc CIS-TC (Communications and Information Security Technical Committee).
The IEEE Fellows will be elevated as of January 2021.
More information:
Dr. Rongxing Lu | Faculty of Computer Science (Fredericton) | Research at UNB | Graduate Studies at UNB