VeroSource hires UNB computer science grads because they are 'world-class talent'
Author: UNB Newsroom
Posted on Dec 5, 2022
Category: UNB Fredericton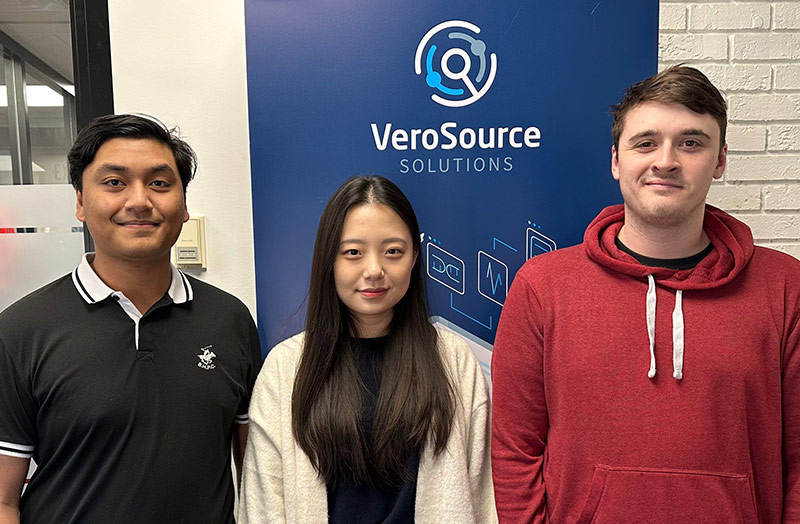 Thanks to a pipeline of talent coming from the University of New Brunswick's (UNB) computer science faculty, digital healthcare company VeroSource Solutions Inc. continues to be an agent of change for the way Canadians access their healthcare information.
"VeroSource has been fortunate to attract top tier people, with a mix of up-and-coming talent and experienced professionals, enabling us to build innovative software and deliver better value to our clients," said co-founder and CEO Mark McAllister. "That's why we continue to hire UNB grads, because they are well-rounded, eager, and keen to contribute to the real-world solutions we are working on."
VeroSource was founded in 2014 with the aim of providing easy and secure digital access to healthcare information. Thanks partly to early support from the Atlantic Canada Opportunities Agency (ACOA) and other key partners, including UNB, VeroSource has been able to mature and grow as a company while headquartered in the heart of New Brunswick.
McAllister reliably finds great talent through the UNB computer science co-op program.
"UNB co-op students are invaluable to our company. We know we can place anyone who comes through the UNB co-op program into any project to help solve real problems in bringing our product to market. It's a game-changing partnership. Young graduates gain access to mentorship, learning experiences and other opportunities provided by working closely with the seasoned professionals in our organization, who are often UNB alumni themselves. UNB co-op students bring fresh perspectives and new ideas to the work we are doing. We have had incredible success hiring students who come through the UNB computer science co-op program after their placement."
With a team of 40 employees across Atlantic Canada, Manitoba and Ontario, the Fredericton-based company has doubled its staff in the past year alone. Like McAllister himself, more than 60 per cent of the VeroSource team are UNB alumni and 75 per cent of the students who have participated in the UNB computer science co-op program with the company are now employed by VeroSource.
Sonya Hull, managing director of strategic industry and community partnerships for the faculty of computer science at UNB, believes that VeroSource is building something special.
"This is a success story made in New Brunswick. VeroSource is a key player in the province's economic growth and societal prosperity. This is the sweet spot of what we want to achieve. Computer science and digital transformation are pathways to solving real social challenges like those in healthcare."
UNB's computer science co-op program offers about 300 student placements at approximately 75 companies in the region per year. The connection to businesses and the hands-on experience the co-op program offers attract students from around the globe to study and work in New Brunswick.
"I chose to transfer to UNB's software engineering program because of its focus on experiential learning through the co-op program," UNB computer science graduate Michelle Suk explained. "I was attracted to VeroSource to gain experience as a software developer in a healthcare-related field. The co-op program connected me with an incredible employer and now I am working for VeroSource as a full-time team member."
The experiential learning opportunities through UNB's faculty of computer science are helping employers and workers achieve their full potential. Employers have access to a work-ready workforce that can apply knowledge and specialized skills, while most students gain employment immediately upon graduation. Everybody wins.
Related
Meet the Workforce of the Future: Michelle Suk (BSSWE'22) (unb.ca)
Meet the Workforce of the Future: Ryan DeLong, CS student (unb.ca)
Meet the Workforce of the Future: Sean Lalla (BCSc'22, current MSc candidate) (unb.ca)
PITCH healthcare platform offers lifesaving preventative possibilities for NB seniors
About UNB Computer Science Co-op Program
The UNB Computer Science Co-Op Program celebrates 40 years of connecting students with businesses to offer hands-on work experience while attaining their degree. Offering about 300 computer science student placements at approximately 75 companies in the region per year is just one of many ways UNB is attracting students from around the globe to study and work in New Brunswick.
About VeroSource Solutions Inc.
VeroSource Solutions Inc. has been empowering people and unlocking the potential in digital healthcare since 2014. With extensive experience in the full lifecycle of IT solutions, we offer healthcare providers the technology and support to go digital. VeroSource's cloud-first multi-channel software securely connects people, data and systems to drive digital healthcare transformation.