PITCH healthcare platform offers lifesaving preventative possibilities for NB seniors
Author: UNB Newsroom
Posted on Nov 14, 2022
Category: UNB Fredericton , UNB Saint John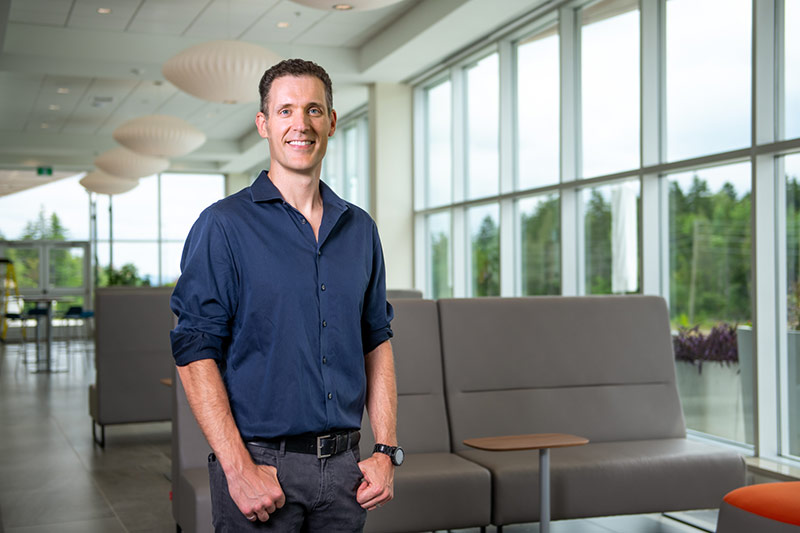 What if there were a tool that tracked your aging loved one's health and the data could show you when they were in decline – could you prevent a health emergency or an ambulance ride to the hospital?
The University of New Brunswick's Dr. Erik Scheme recognized the need for a fully proactive solution to senior healthcare. He set about finding the solution with fellow researchers and collaborators. With the goal of keeping more New Brunswick seniors independent and healthy while avoiding frequent doctor's visits and emergency room waits, PITCH was created.
Proactive, Integrated, Technology-enabled, patient-Centric, Home support (PITCH) is a data gathering and analysis platform that predicts negative health outcomes before they happen through machine learning. PITCH-enabled tools and assessments could reduce the stress on seniors and their families.
"The goal for PITCH is to not only track health outcomes in the seniors' communities but also schedule specific caregivers to do regular check-ins," Scheme explained. "This is a system where a caregiver will conduct weekly assessments using the platform to ensure the correct health information is recorded and to prevent emergencies before they happen."
Seniors often live isolated and alone, and their mental health can decline from the absence of meaningful human contact. PITCH is designed to help this too. Scheme elegantly sees the challenges of keeping seniors healthy at home from a holistic perspective.
"Having a caregiver coming to seniors to check on them and ensure we're tracking their health with validated technology makes a big difference in the lives of the seniors and helps to ease the burden on the healthcare system. The caregiver doesn't need to be a nurse or a doctor. We can train the care support person with the various toolkits of the PITCH platform, such as blood pressure cuffs, smart scales, balance apps, and the like. We hope to partner with local community colleges to lead workforce development and training for personal support workers."
To help store and keep their data secure, PITCH is working with VeroSource Solutions Inc., a Fredericton-based tech company with a cloud-first multi-channel software platform that securely connects people, data and systems to drive digital healthcare transformation.
"PITCH is truly aligned with VeroSource's values and our vision statement, 'we will empower people and unlock the potential in digital healthcare,'" CEO Mark McAllister said. "VeroSource aims to empower citizens and healthcare workers by giving them better and easier access to their healthcare information. PITCH's proactive approach to healthcare is a game changer in a system that traditionally works reactively to a patient's health status."
Scheme brought in VeroSource as a technology partner for PITCH because their software can move data securely, which is critical for personal health information. VeroSource worked with Dr. Scheme's team to build the front-end application for PITCH and the back-end analytics.
When the Healthy Seniors Pilot Project was launched in 2018, caregivers used PITCH to monitor the healthcare metrics of their home care patients. In the time span of the multi-year project that PITCH was implemented, personal support workers found the solution to be helpful while also acting as a great engagement tool.
PITCH and VeroSource are continuing to work together to better the lives of New Brunswickers.
About UNB
The University of New Brunswick (UNB) is Canada's oldest English-language university, and New Brunswick's only national comprehensive university. Founded in 1785, the multi-campus institution has a rich history as well as a dynamic focus on innovation, experiential learning and entrepreneurship. UNB has more than 9,500 students from nearly 75 countries while several thousand more take UNB courses online and at partner institutions around the world.
About VeroSource Solutions Inc.
VeroSource Solutions Inc. has been empowering people and unlocking the potential in digital healthcare since 2014. With extensive experience in the full lifecycle of IT solutions, we offer healthcare providers the technology and support to go digital. VeroSource's cloud-first multi-channel software securely connects people, data and systems to drive digital healthcare transformation.
Media contacts