Mobile x-ray service, piloted by UNB professor, reduces hospital transfers in NB
Author: UNB Newsroom
Posted on Oct 31, 2022
Category: UNB Saint John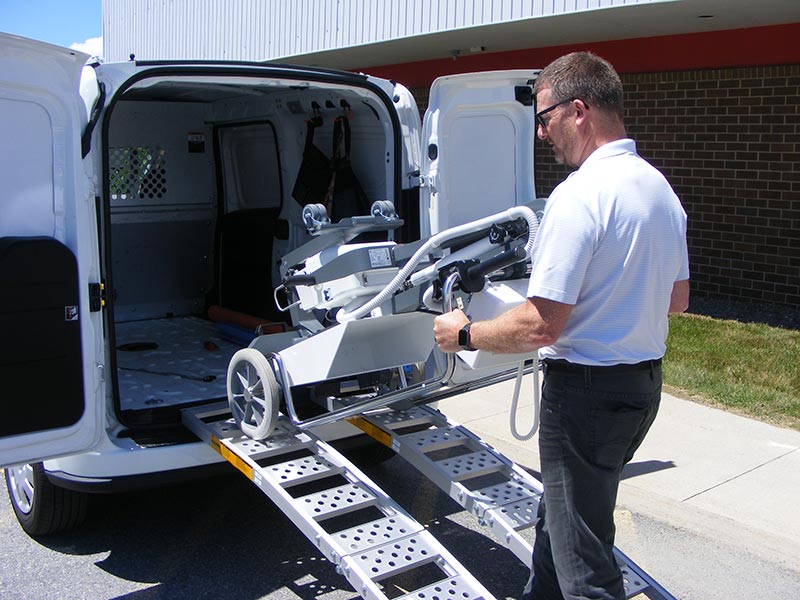 Dr. Rose McCloskey, a University of New Brunswick (UNB) nursing and health sciences professor, and her research team are piloting a mobile x-ray service to help reduce nursing home-to-hospital transfers in the Saint John region.
Transferring long-term care residents to the hospital for x-rays is common and often requires an ambulance for transport. In Saint John alone, nursing home residents receive up to 1000 x-rays each year, most of which are performed in an emergency department. Most residents transferred to the hospital for x-rays return to the nursing home after the x-ray is performed. Hospital transfers are not only resource-intensive but can be highly stressful for residents and their families.
The research project, funded by the NB Healthy Seniors Project, allows a certified radiological technologist to bring a portable x-ray machine into nursing homes, lessening the need for hospital visits.
"Identifying ways to improve efficiencies within the health care system is more important than ever," said McCloskey. "A mobile x-ray service not only eliminates the need for many residents to be transferred to hospital, but it decreases reliance on emergency services and facilitates timely diagnosis and treatments."
Data from the project, which began in mid-May, shows that McCloskey and her team prevented over 130 hospital transfers to date with the mobile x-ray machine, using a van donated by Dobson Chrysler in Saint John.
Their preliminary cost-benefit analysis also showed the mobile x-ray service is a third of the cost per x-ray than the typical process of transporting residents to hospital.
"A mobile service offers a person-centred approach to care," said McCloskey. "By allowing residents to obtain diagnostic services in a familiar environment, we are also helping them in a space where they feel safe and can be comforted by staff with whom they are familiar."
Mobile radiography services have been adopted in several countries to improve access to quality care, avert the need to transport residents to hospitals unnecessarily, and decrease demand on hospital services.
The mobile x-ray machine is the recipient of the 2022 Innovation in Person-Centered Care Award by Planetree International in Baltimore, Maryland.
Read more about Dr. McCloskey and her work at UNB:
Media contact: Kathleen McLaughlin