UNB long-term care simulation lab officially opens, ready to help NB residents and workers stay safe
Author: UNB Newsroom
Posted on Jul 5, 2021
Category: UNB Saint John , myUNB , UNB Fredericton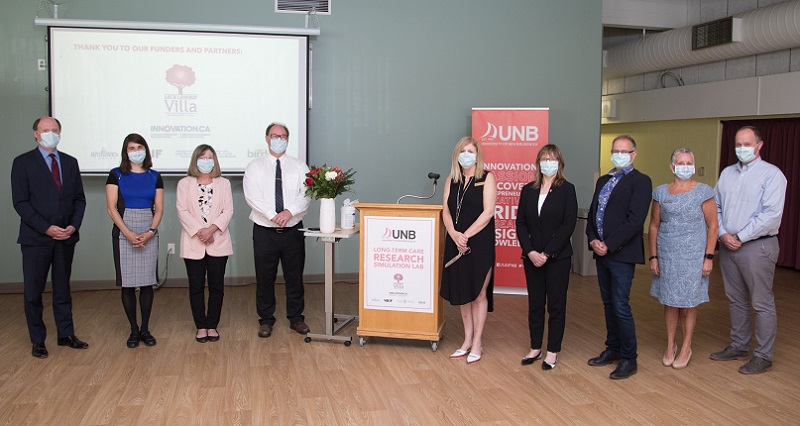 The University of New Brunswick and its partners held an event at Loch Lomond Villa to officially open the UNB Long-Term Care Simulation Lab, a newly renovated and constructed research space. The UNB project, led by Dr. Rose McCloskey of the university's Saint John campus, will give researchers a better understanding of how to prevent the spread of illnesses like COVID-19 among long-term care residents.
"The COVID-19 response highlights the fact that evidence on best practices and infection prevention and control measures often do not reflect the realities of long-term care, which include cultural factors, shared spaces and equipment use and individual behaviours related to cognitive impairments," said Dr. McCloskey. "Although we are on the path to green, the knowledge generated will be key in preventing, preparing for, and responding to COVID-19 and other infectious diseases in long-term care facilities, and better ensuring the safety of residents and staff in New Brunswick and beyond."
The laboratory replicates a long-term care setting, enabling researchers to better understand how to prevent the spread of diseases like COVID-19 in real-world settings, without compromising the safety of residents or staff. From this understanding, researchers will be able to develop, test and implement medical and social countermeasures to communicable disease, contributing to this crucial body of knowledge.
The creation of the lab was supported by $200,000 in funding from the Government of Canada through the Canada Foundation for Innovation, $50,000 from the New Brunswick Department of Post-Secondary Education, Training and Labour; $68,565 from the New Brunswick Innovation Foundation, $50,000 from the New Brunswick Health Research Foundation, and $50,000 from Bird Construction, Ltd.
"This lab exemplifies the commitment, the partnership, the expertise and the drive that we find within our community, and the positive impact this has on the world around us," said Dr. David MaGee, UNB vice-president (research). "In this project, we see researchers responding to a present, critical need for new knowledge to help our communities, as well as the support of partners to bring their vision to life. Perhaps most of all, we see the creation of something that will help propel our institution, our province and our world forward toward a healthier, safer, sustainable tomorrow. Congratulations to all involved."
The research simulation lab will be used by Dr. McCloskey and co-investigators Dr. Karen Furlong and Dr. Isdore Chola Shamputa, all faculty members in the department of nursing and health sciences in Saint John, and Dr. Lynn Nagle, director of digital health and virtual learning in UNB Fredericton's faculty of nursing.
The simulation lab builds on an existing long-term partnership with Loch Lomond Villa, and will enable new partnerships between UNB researchers, industry leaders, policy makers and clinicians that will have benefits beyond COVID-19. It will support research innovation as well as knowledge sharing and training to front-line staff, particularly those for whom training and education may otherwise be inaccessible through the use of videoconferencing and an integrated suite of cameras.
"This exciting project builds on our long-standing relationship with UNB in Saint John conducting valuable research," said Cindy Donovan, CEO of Loch Lomond Villa. "We are proud to be the community partner in the development of New Brunswick's only long-term care COVID-19 simulation lab. Loch Lomond Villa is a leader in providing person-centred care and we look forward to seeing the results of this important research partnership with UNB."
Media contact: Jeremy Elder-Jubelin
Additional quotes:
"Canadian researchers and scientists are helping to protect our health and safety and are key to finding our way out of the COVID-19 pandemic. With this funding through the Exceptional Opportunities Fund, the Government of Canada is ensuring these talented Canadians have the equipment and tools to support them in their very important work." - Wayne Long, Member of Parliament for Saint John – Rothesay 
"Canadian researchers responded immediately to the pandemic and demonstrated their dedication, expertise and flexibility. They have worked to find vaccines, mitigate Covid-19's affects on the human body and resolve the impacts of the pandemic on every aspect of our lives. These researchers deserve a place center stage as our guides and our source of hope.  The CFI is proud to support their efforts by equipping them with the necessary research infrastructure." - Dr. Roseann O'Reilly Runte, President and CEO, Canada Foundation for Innovation
"New Brunswick's post-secondary institutions play an integral role in shaping our province's society and preparing us for the future. Research and Innovation is just one of many contributions they make, and we're pleased to partner with UNB on this project. As we approach the finish line of the COVID-19 pandemic we are proud to support this initiative which will better prepare us for something similar in the future." - The Honourable Trevor Holder, Minister of Post-Secondary Education, Training and Labour
"NBIF is proud to support Dr. Rose McCloskey and her team in the creation of the Long-term Care Simulation Lab. This lab will offer an opportunity to trial approaches for handling COVID-19 in a long-term care setting and create a unique testbed for industry to develop products for the health market. Local companies are already involved, and we're excited to see the impactful innovations that Rose's work will enable." - Laura Richard, Director of Research, New Brunswick Innovation Foundation
"NBHRF is proud to support Dr. McCloskey's work in seniors' health, a very relevant issue in New Brunswick, which has the fastest growing population over the age of 65 in the country. The ability to reproduce real life situations that arise in long term care facilities in their fight against COVID-19 will not only save lives but also provide the foundation for dealing with future pandemics." - Leah Carr, Acting Co-CEO, New Brunswick Health Research Foundation
"Bird Construction's Atlantic team would like to congratulate both a UNB and Loch Lomond Villa on the official opening of the UNB Long-term Care Simulation Lab. Bird is pleased to be a funding partner in support of Dr. McCloskey's project. Both UNB and Loch Lomond Villa have been longstanding partners of Bird, and we are pleased to have assisted in this important research and education initiative. Along with the financial support, Bird was able to provide technical expertise gained through our previous simulation lab projects to share lessons learned and best practices associated with these technically complex facilities." - Ian Randall, Operations Manager (New Brunswick), Bird Construction