UNB students visiting the Canadian Space Agency to gain hands-on experience in satellite design and construction
Author: UNB Newsroom
Posted on May 6, 2019
Category: UNB Fredericton , UNB Saint John , myUNB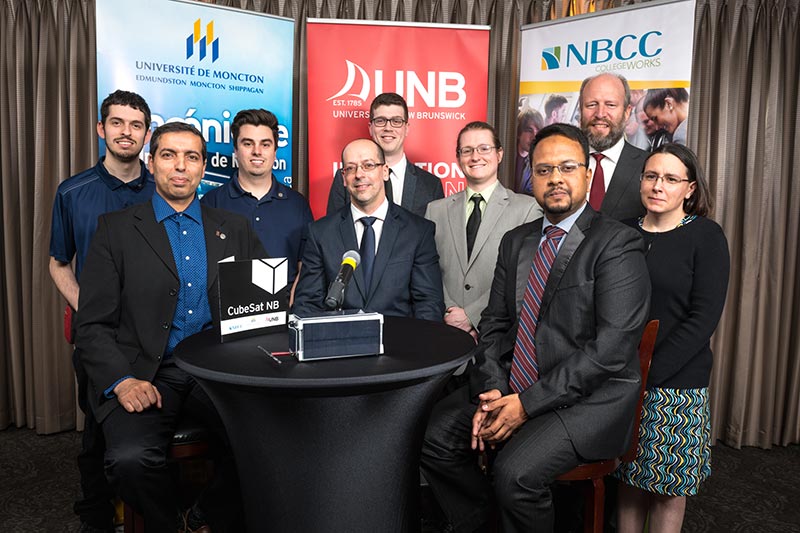 As part of the Canadian CubeSat Project, students from UNB and NBCC are visiting the Canadian Space Agency (CSA) from May 6 to 10 to take part in training workshops. For the entire week, CSA experts will provide them with tools to help them design their own miniature satellite, called a CubeSat.
Alex DiTommaso and Sarah Siddiqua, graduate students from the University of New Brunswick, and Chris Toews, a student from NBCC Saint John, are representing the New Brunswick CubeSat team at CSA.
Announced in 2017, the Canadian CubeSat Project is providing students with an opportunity to acquire expertise in a wide variety of areas, ranging from science and technology to communicating their work to the public. A team from the University of New Brunswick, Université de Moncton and New Brunswick Community College is one of the 15 teams selected by the CSA to design a satellite that will be put into orbit in 2021.
UNB media contact: Kelsey Pye
Photo: Members of the New Brunswick CubeSat team at a 2018 announcement. Credit: Joy Cummings/UNB