Three NB institutions selected to work on Canadian Space Agency's Canadian CubeSat Project
Author: UNB Newsroom
Posted on May 4, 2018
Category: myUNB , UNB Fredericton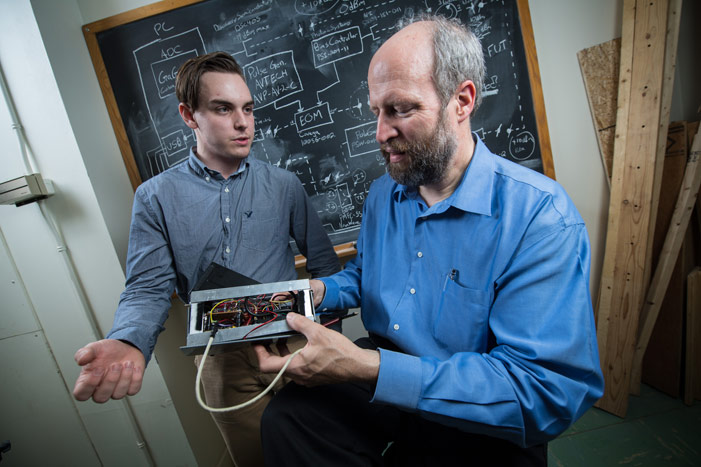 Three New Brunswick post-secondary education institutions are partnering to create and send the province's first cube satellite to space, as part of the Canadian Space Agency's Canadian CubeSat Project.
The University of New Brunswick (UNB), Université de Moncton and New Brunswick Community College (NBCC), in a collaborative project referred to as CubeSat NB, aim to launch the cube satellite or cubesat, from the International Space Station in 2021.
As one of 15 teams participating, the CubeSat NB project will provide new insights into the behaviour of Earth's ionosphere, part of the upper atmosphere.
"We're excited to be working in cooperation with New Brunswick institutes for the development of a cube satellite," says UNB's project engineer Troy Lavigne. "It's necessary that we work closely with each other and leverage the strongest attributes of each institute to make this mission a reality."
CubeSat NB will receive signals transmitted by global navigation satellite systems, such as GPS, as they travel through the ionosphere and are affected by it. Researchers will be able to use the data to further study how the ionosphere changes from place to place over time as well as how it responds to space weather. Significant space weather events can interfere with communications systems and electrical grids.
"This is a wonderful opportunity for our students in New Brunswick to take part in a real space mission by creating the software that will manage everything on the satellite," says Yassine Bouslimani, Université de Moncton professor of Electrical Engineering and principal investigator.
Custom robust mission software and hardware will be developed which will enable the cube satellite to transmit mission data, manage power consumption and solar battery charging, temperature sensing and thermal management, antenna and solar panel deployment, timekeeping, security, file management and fault protection.
CubeSat NB will also carry three cameras. Two cameras will allow the team of researchers to study the distribution of oxygen in the upper atmosphere, capturing images of the red and green light oxygen atoms give off during aurora and airglow events. The images from these spectral cameras will be used to examine the varying composition of the atmosphere. The third camera will be used to take images of the Earth's surface for earth science and meteorology applications.
"NBCC is excited to be involved in the applied research and innovation CubeSat NB project in collaboration with our partners at UNB and Université de Moncton," says Saadmaan Rahman, NBCC Electronics Engineering Technology Instructor and co-principal investigator on the project. "Inspiring learners to discover the benefits of engineering and technology education is the primary goal of our efforts in this project."
Building and operating CubeSat NB will require the involvement of a large number of engineering, science and technology students in New Brunswick. Students will play a lead role in the development of the physical design and in the fabrication and programming of the sophisticated computers that will be needed to successfully launch and operate the satellite.
About the University of New Brunswick
The University of New Brunswick (UNB) is Canada's oldest English-language university. Founded in 1785, the multi-campus institution has a rich history and a dynamic focus on innovation, experiential learning and entrepreneurship. UNB has more than 10,500 students from nearly 100 countries while several thousand more take UNB courses online and at partner institutions around the world.
About the Université de Moncton
The Université de Moncton is Canada's largest French-language university outside Québec. With more than 5000 students, Université de Moncton offers 165 study programs, including 38 at the master's degree level and 7 at the doctorate level. Since its creation in 1963, the Université de Moncton has awarded more than 52,000 degrees and has become the single most important centre for the social, cultural and economic development of New Brunswick's Acadian population.
About NBCC
With six campuses across the province, New Brunswick Community College (NBCC) is a provincially-recognized, public post-secondary education institution that produces skilled, knowledgeable graduates who are contributing to the Province's socio-economic prosperity.
Media contacts
Sonya Gilks, Director of Communications, University of New Brunswick, 506-453-4546, sonya.gilks@unb.ca
Nathalie Hache, Associate Director, Department of communications, public affairs and marketing, Université de Moncton, 506-858-4129, servcomm@umoncton.ca
Heather Allaby, Director of Communications and Stakeholder Engagement, New Brunswick Community College, 506-444-3320, heather.allaby@nbcc.ca
Photo: Electrical engineering student Atlin Anderson and Associate Professor Dr. Brent Petersen examine a prototype cube satellite, also known as a CubeSat. Credit: Cameron Fitch / Photo UNB.