The COVID-19 Student Relief Fund
Author: Development and Donor Relations
Posted on Apr 8, 2020
Category: News and Events , Creating Opportunities for Students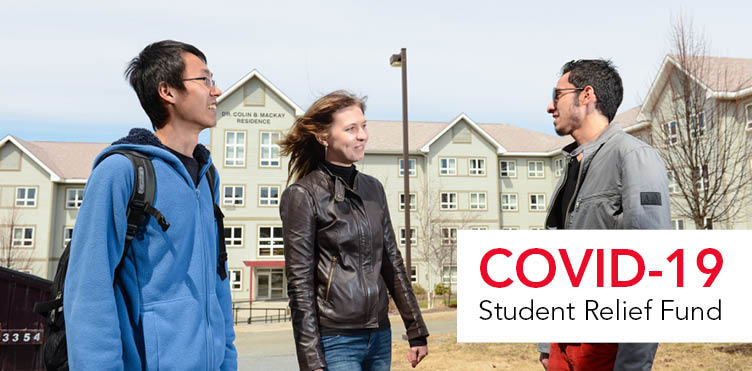 ---
Support the COVID-19 Student Relief Fund today.
The COVID-19 pandemic has created an unprecedented situation of urgent financial need among UNB's students. In response to this crisis, President Paul Mazerolle has created the COVID-19 Student Relief Fund to help support UNB students who have been directly impacted, particularly those far from home and in isolation on campus.
Students have already begun to benefit from the emergency fund. While individual students' circumstances vary, there is a shared sense of anxiety and uncertainty for all who have received the bursary. Many have lost their part-time employment and are ineligible for the assistance offered thus far from the federal and provincial governments. UNB's Financial Aid officers report that they have heard from students who are living far from their families, suddenly unemployed and unsure how they will make rent; students living in large urban centres who are striving to complete UNB co-op programs with drastically reduced hours and income; and students who can no longer pay their bills, with young children at home.
UNB students who might ordinarily receive some support from home to help make ends meet can no longer count on that support, because unemployment is an issue for many families, too.
"COVID-19 has presented major challenges to all of us in the UNB community," said Dr. Mazerolle, "and for many students that includes tremendous financial strain. It is my hope that the COVID-19 Student Relief Fund will help ease the burden for as many students as possible, so they can focus their energy and attention on their studies and their loved ones. I could not be more proud of how our community is rising to the challenge of supporting these students in need."
The COVID-19 Student Relief Fund offers a one-time bursary of up to $1,000 to assist UNB students with travel and living costs related to the COVID-19 crisis. Any UNB student registered for the Winter 2020 semester may apply. The number and value of the bursaries granted will vary according the available funds and students' demonstrated financial need.
Please consider making a gift in support of the COVID-19 Student Relief Fund. Your gift will directly help a UNB student in navigating these extraordinary times.
Support the COVID-19 Student Relief Fund today.
Your gift to the relief fund will be matched.