UNB alumni match COVID-19 Student Relief Fund donations
Author: Development and Donor Relations
Posted on Apr 17, 2020
Category: Alumni Annual Giving , Donor Stories , News and Events , Creating Opportunities for Students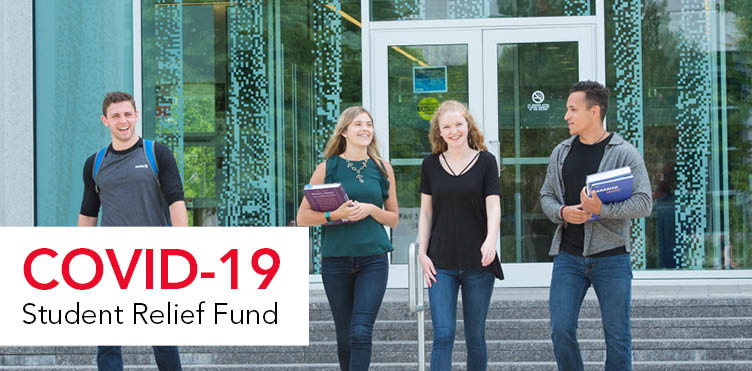 ---
In these uncertain times, I hope that you and your loved ones are healthy and safe.
As you may be aware, last month UNB's president Paul Mazerolle created a special COVID-19 Student Relief Fund to support students who have been directly impacted by the coronavirus crisis. The response from students has been overwhelming. The need for these funds to help ease the hardships many now confront is real and urgent.
We at the UNB Associated Alumni have been touched and concerned by the stories of students who are affected by this global pandemic. "Due to COVID-19 related business closures," one third-year student writes, "I lost my part-time job. Without it, I cannot make ends meet." 
UNB's alumni have always supported the current generation of students, and this fund is a way we can help those who need it most, when they need it most.  The fund is making an immediate and important difference to our students, but there are still many more who need our help.
We understand that these are challenging times for many, and that you yourself might be facing personal adversity right now. However, if you feel you're able to make a contribution, no matter how small, we are pleased to share with you an opportunity to help.
Our Alumni Council recently offered a $15,000 donation toward UNB's COVID-19 Student Relief Fund. Distinguished alumnus W. Anderson Devereaux (BScEE'71, BA'73, DLitt'98) has also offered to match all donations from you, our alumni, to a maximum of $15,000. We are extremely grateful to Andy for this generosity which, when paired with the funds from the Associated Alumni, will provide a total of $30,000 in matching funds for alumni donations to the COVID-19 Student Relief Fund.
Thank you for your past support of our alma mater. If your circumstances allow, I hope you will consider making a donation.
Peter Syroid (BScME'98, D-TME'98, MBA'03)
President, Associated Alumni
"Since the government made it mandatory that all non-essential stores be shut down until further notice, I have found myself becoming more anxious and uncertain than ever before. Although I am a full-time student at UNB, I am also a self-employed clothing designer who works with a small, local business downtown. Thank you on behalf of every student who is able to find some comfort in these times of uncertainty and crisis. Your kindness and generosity goes so much further than just covering monthly living expenses, it provides a profound sense of security and emotional relief." - UNB Student
Read more about the COVID-19 Student Relief Fund.
Support the COVID-19 Student Relief Fund now.