Athletes find academic success, made possible by donors
Author: Development and Donor Relations, UNB
Posted on Dec 2, 2018
Category: Creating Opportunities for Students , Scholarships and Bursaries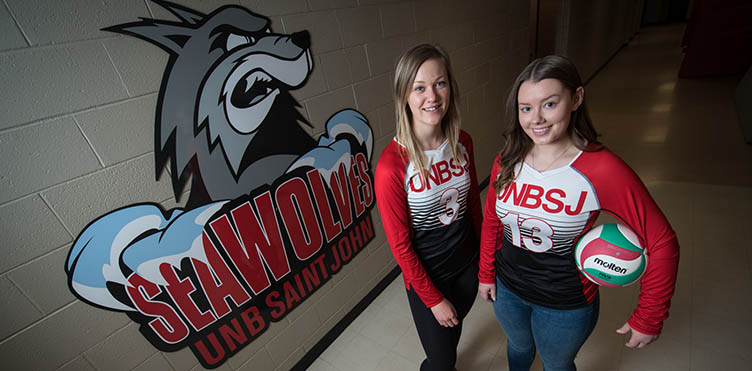 ---
Photo: Taylor McGrattan, 4th year Bachelor of Science, Fredericton, NB and Jenna Degooyer, 4th year Bachelor of Business Administration, New Denmark, NB
Taylor McGrattan and Jenna DeGooyer took a chance when they decided to come to the University of New Brunswick in Saint John. As volleyball stars at their respective high schools, both knew dedication to time management was required if they were to successfully combine their pursuit of a degree with their love for sport at the university level.
Attracted by a campus in their own province, small class sizes and a welcoming environment, they became integral to the UNB Saint John volleyball program. This spring, they were named Atlantic Colleges Athletic Association All-Stars.
"It just felt like all of those hours spent in the gym were paying off," said Taylor, who was also named UNB Saint John female athlete of the year.
Taylor was recruited to the volleyball program from Leo Hayes High School and was delighted UNB Saint John met her academic interests with the combined biology/psychology program in science and an English minor.
"My love of science and English came from great teachers who pushed me to do better," she said.
Jenna, a fourth-year business major from New Denmark, participated in university work programs, which allowed her to explore specific career interests.
"When I started, I wasn't sure what I wanted to do with so many choices out there but the co-op program at UNB has allowed me to try things out," said Jenna, a graduate of John Caldwell High School in Grand Falls.
Donor support of scholarships and programs lay a path to success for students at UNB. Learn more about supporting UNB students.