Scholarships help set the stage for success
Author: Development and Donor Relations, UNB
Posted on Nov 1, 2018
Category: News and Events , Scholarships and Bursaries , Creating Opportunities for Students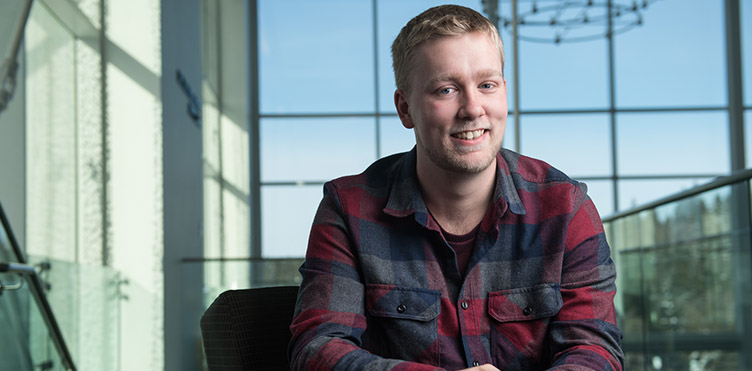 ---
Photo: Nick McCullum, Bachelor of Science in Mathematics and Statistics 2018, Apohaqui, NB
As Nick McCullum reflects on the steps he took toward becoming president of Houston-based Sure Dividend, he credits those who helped him make important decisions and gain critical experience during his four years at the University of New Brunswick in Saint John.
Engaging professors were open to his questions, offering advice and supporting his early transition from biology to math and statistics. Fellow students, some he met during freshman rugby games and others in various leadership roles and extracurricular activities, encouraged him to apply for the vice president, finance position with the Students' Representative Council.
Mentors and colleagues he encountered during his 2016 internship with TD Asset Management provided sage advice and their assistance was immeasurable. "I would not have been able to take this job if I had not participated in the internship with TD," said Nick, an Apohaqui, NB native. "That was the most fulfilling summer job I ever had."
Earning a TD Scholarship for Community Leadership provided university funding, career mentoring and network opportunities, setting the stage for his role with Sure Dividend, an investment research firm focused on dividend-paying stocks.
Scholarships, bursaries, awards and prizes play integral roles for students, allowing them to enjoy a complete university experience with reduced financial pressures.
Nick, for one, appreciated the support.
"When you get funding from someone else and they think you are going to do something great, it is hugely impactful," he said.