Matching Gift Program for Beaverbrook Scholars Award
Author: Development and Donor Relations, UNB
Posted on Oct 31, 2018
Category: Scholarships and Bursaries , News and Events , Creating Opportunities for Students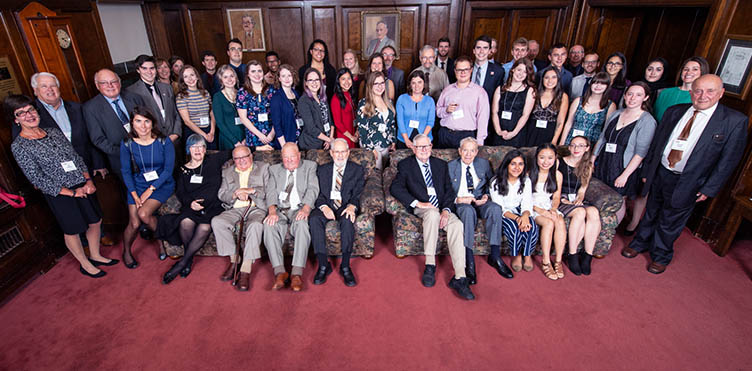 ---
The Beaverbrook Canadian Foundation announced a $300,000 commitment, and potentially $500,000, to match donations to the Beaverbrook Scholars Award, which supports outstanding graduates of New Brunswick High Schools beginning an undergraduate degree at UNB."The continued support from the Beaverbrook Canadian Foundation helps to level the financial playing field for our top students," says UNB President Eddy Campbell. "We are so thankful and proud for the Foundation's contribution that honours Lord Beaverbrook's exceptionally strong connection to our university."
In 1979, former Beaverbrook Scholarship recipients established the Beaverbrook Scholars Award to pay tribute to Lord Beaverbrook and continue the tradition of helping shape future leaders the same way that he did, when he started the Beaverbrook Scholarship programs in 1920. Since inception, this group has awarded $2.5 million to 84 students.
"As president of the foundation that bears my great-grandfather's name, it's important to us that we do everything we can to support the Beaverbrook Scholars and the next generation of provincial and national leaders," says the Hon. Max Aitken. "Our mission is to continue to support the philanthropic activities Lord Beaverbrook cared deeply about."
The Beaverbrook Canadian Foundation was created by Lord Beaverbrook in 1960 to continue the impact of his philanthropic work to the causes he had championed during his lifetime, including those he was so passionate for at UNB. The foundation funds organizations seeking to improve the quality of life for the next generation, through activities in the fields of education, health, social welfare, and culture.
"Supporting others as we were once supported."
Our goal is to raise $125,000 this year. Any amount you give before May 1 will be matched dollar-for-dollar, doubling the impact on students – and tapping into the full value of the Beaverbrook Canadian Foundation's offer could unlock additional funds in the future.
More information
For information on giving to the Beaverbrook Scholars Award contact us or make a contribution online, through mail or in-person.
Apply for UNB Scholarships, including the Beaverbrook Scholars Award.
It's easy to establish a scholarship for students at UNB. To learn more about establishing a scholarship, you can view information online or contact us to walk you through it. You can also make a contribution to existing scholarships and bursaries at UNB by donating online, by mail or in person.