UNB Alumni Holiday Gift Guide 2022
Author: UNB Alumni
Posted on Nov 22, 2022
Category: UNB Saint John , UNB Fredericton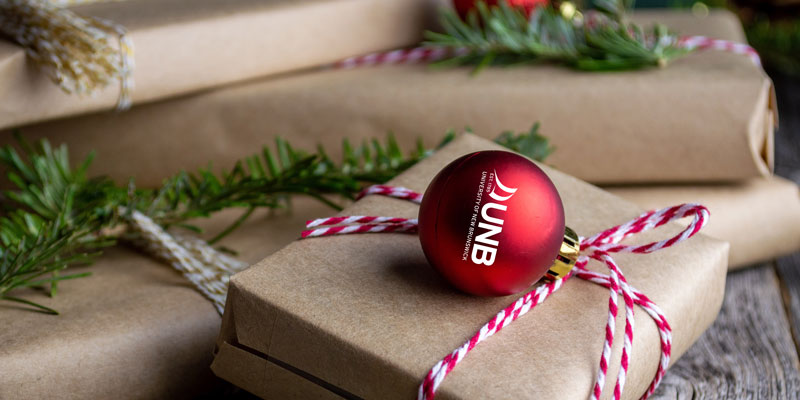 ---
Share your UNB alumni pride this holiday season!
In the spirit of the upcoming holidays and supporting 'local,' we've created a gift guide to help you find unique gifts for the special people in your life. This list highlights exciting products and businesses by our very own #ProudlyUNB alumni. Around the world, UNB alumni are creating, innovating and contributing exciting things to their communities. Get your holiday shopping done from the comfort of your home, while discovering the cool items produced, owned or run by talented UNB graduates, like you.

Loop Lifestyle
Loop Lifestyle was founded by UNB alumna Amanda (BBA'15) and her BFF Trisha. They are moms on a mission to stay cool and relevant by keeping their customers fashion forward and in the loop with all the latest trends. Loop Lifestyle offers a large collection of fashion-forward scrunchies, claw clips, and other apparel and accessories.
They have recently launched Loop Littles featuring littles bows and other accessories so mamma's can match their littles! Shop Loop Lifestyle.
---

Kaima Designs
Kaima Designs, founded by UNB alum Christine Eruokwu (MBA'15), was born in 2017 as an online clothing brand that brought the beautiful details of African designs to life. Its flagship product, the Cheta hoodie, will warm your heart even more when you learn the story behind the sweater. This custom fleece hoodie takes you from home, to work, to the gym and wherever else you need to be, keeping you branded in Kaima Designs' personalized apparel. This holiday season will be complete with your cozy Cheta Hoodie. Shop Kaima Designs.
---

UNB Leisure Learning has something for everyone
Looking for the perfect gift for that special someone? Consider the Gift of Learning! Choose one of the many exciting online or in-person adult or youth Leisure Learning courses or a fun and educational Design Works Camp for children (ages 6-12).
Two gift options are available: Enroll your gift recipient in a specific course or camp; or purchase a gift amount ($25 to $200) and let your gift recipient choose. Give the gift of learning!
---

Snak
Snack foods love to tell us what they don't contain- but why aren't we asking what they do contain? Why are snack foods still loaded with ingredients, hidden sugars, and so called "superfoods". Through frustration, Hannah Watson and Alex Mollegaard (BBA'11) founded Snak, real food made locally, from real ingredients. With the mindset that all food is super, they're putting snack foods on the market that do what they were supposed to do-and you've got yourself an epically clean label, delicious, sustaining snack.
Whether you're whipping up wholefood peanut butter cup cocoa, or having choco-bited for xmas breakfast- you can guarantee these will be a winter winner. Buy a Snak for your holiday stockings.
---

Mayberry Farm Fine Art
Sarah Murch (BSc'10, MEM'12) is a self-taught artist from the small community of Durham Bridge, New Brunswick. The inspiration for her art comes from being surrounded by her family, beautiful scenery, nature, and her farm full of critters. Her specialty is pastels; however, she works in all mediums and has a unique way of transforming a blank canvas into a realistic interpretation of her subjects. This holiday season, gift a piece of locally made fine art or send one of her fine art greeting cards to someone special. Shop Mayberry Farm Fine Art.
---

Alumni books
Are you shopping for a book lover this holiday season? Gift them a book by one of our talented UNB alumni authors! From cookbooks to novels, there's something for every book worm on your list.
Shop our UNB alumni bookshelves. Summer 2022 alumni bookshelf |Fall/Winter 2021 alumni bookshelf | Summer 2021 alumni bookshelf
---
 Saltwinds Coffee Company
Coffee used to arrive in Canada on wooden sailing ships, with the beans becoming infused with the flavours of the fresh ocean air during the long voyage. Saltwinds Coffee Company, and its founder Laura Richards (BSc'06), have brought those flavours back with its' Ocean Fresh coffee beans.
Saltwinds also offers unique tropical flavoured coffees and blends. Shop now.
---

ProudlyUNB Merchandise
This holiday be #ProudlyUNB and fashionably warm with a selection of UNB alumni swag from toques, socks, scarves, buffs and more! These make perfect gifts for any fellow UNBers in your life who love sporting their red and black, and keeping warm this winter season. 
Show your UNB pride and shop now.
---
 BONUS listing: The Maid
The Maid: A Novel by Nita Prose is the January book selection for our UNB alumni book club. As the new year approaches many people will be looking at their upcoming resolutions. If your loved ones' resolution is to read more books, this is the perfect opportunity to gift them this book and encourage them to join our alumni book club! 
Reading, reaching your goals and connceting with fellow alumni - it's the perfect mix! 
---
Explore our 2020 and 2021 UNB alumni holiday gift guides for more #ProudlyUNB gift-giving inspiration!
Do you have a business or product of your own, or know a fellow UNB graduate who we should know about? We'd love to hear from you! As we continue to build an inventory of alumni-owned businesses and share their wonderful stories, we invite you to reach out to submit your business or product. Reach us at alumni@unb.ca