2021 Alumni Holiday Gift Guide
Author: UNB Alumni
Posted on Nov 17, 2021
Category: Insights , UNB Fredericton , UNB Saint John
---
Share your UNB alumni pride this holiday season!
In the spirit of the upcoming holidays and supporting 'local,' we've created a gift guide to help you find unique gifts for the special people in your life. Along with UNB merchandise, this list highlights exciting products and businesses by our very own #ProudlyUNB alumni. Around the world, UNB alumni are creating, innovating and contributing exciting things to their communities. Get your holiday shopping done from the comfort of your home, while discovering the cool items produced, owned or run by talented UNB graduates, like you.
Do you have a business or product of your own, or know a fellow UNB graduate who we should know about? We'd love to hear from you! As we continue to build an inventory of alumni-owned businesses and share their wonderful stories, we invite you to reach out to submit your business or product.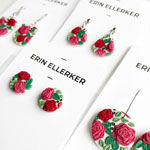 Erin Ellerker: Polymer clay earrings and accessories
Founded by alumna Erin Jeffrey (BBA'09) and based in Saint John, NB, Erin Ellerker creates wearable art jewelry. The earring collections are handcrafted using polymer clay with imaginatively expressive colours and floral details. Gift a pair to your jewelry-loving bestie or purchase a piece that is uniquely yours! Shop now.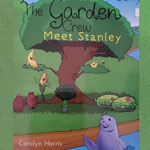 The Garden Crew: Children's books by Carolyn Harris
Join this adorable group of friends on their latest adventures in a series of illustrated children's books written by UNB alumna Carolyn Harris (BT'74). Inspire your children to read with The Garden Crew, The Garden Crew Go to the Farmers Market, The Garden Crew Meet Stanley and The Garden Crew Go to School. Shop on Amazon or Indigo.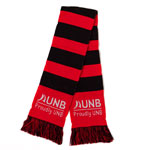 ProudlyUNB Merchandise
This holiday be #ProudlyUNB and fashionably warm with a selection of UNB alumni swag from toques, socks, scarves, buffs and more! These make perfect gifts for any fellow UNBers in your life who love sporting their red and black, and keeping warm this winter season. Shop now.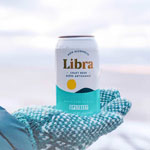 Libra: Upstreet Brewing non-alcoholic craft beer 
Libra is non-alcoholic craft beer by Charlottetown, PEI-based Upstreet Brewing founder  Mitch Cobb (BA'02). The brand is driven by a mission to normalize and re-imagine what being social means to you and help find a balance that works with your health and lifestyle goals. It's light, fresh and tastes like the real thing! Shop now.
iPhone Photography for Dummies & Android Photography for Dummies: Books by Mark Hemmings
A must-have for the aspiring photographer on your list! Written by UNB alumnus Mark Hemmings (BA'96) of Mark Hemmings Photography Inc., these books are the perfect gift to begin mastering the basics of phone photography. Shop iPhone. Shop Android.
UNB Alumni licence plates
Be #ProudlyUNB wherever the road takes you over the holidays and throughout the year. With the purchase of a #ProudlyUNB licence plate for $25, you will support UNB students through the UNB Alumni Legacy Award. Recipients of the award exemplify the #ProudlyUNB spirit on campus and in their communities. Shop now.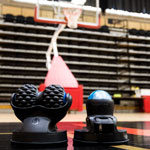 Symbodi Vertiball: Precision back massager
Featured on Dragon's Den and created by UNBers Curtis Kennedy (BScME, DTME) and Aaron Turner (BScME'17, MScCHE'20). Symbodi has reinvented the way they treat muscle and back pain. Its mounted, interchangeable, handsfree system allows for self-administration and complete relief of any muscle group/area, conveniently and effectively. A perfect self-care gift! Shop now.
Wasted Fashion: Clothing boutique
A carefully curated boutique of all things pretty for your everyday lifestyle; clothing, footwear, accessories and so much more. Owned by Christin A Fowler (BBA'12) Wasted Fashion is maritime-based and born in 2015 as a series of pop-up shops which quickly evolved into a permanent location in the heart of downtown Fredericton. Shop now.

Ganong Chocolatier: Specialty chocolates and candy
Did you know Canada's first and longest standing chocolate company is family-owned by some proud UNB alumni? Ganong's delicious artisan-crafted, specialty chocolates and candy make the perfect gift for those with a sweet tooth. Explore their New Brunswick inspired truffles, holiday favourites and more. Use promocode UNBAlumni and save 15% when you spend $99+ expires, Dec 18, 2021. Shop now.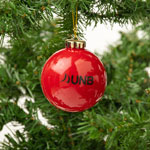 UNB Tree Ornament
Deck the halls with your favourite university and add a touch of red to your holiday decor! Give the gift of a tree ornament to a fellow alum or future UNB grad. Shop now.

For more unique, alumni-owned gift ideas: