Julia Hurst: Navigating a seller's real estate market
Author: Julia Hurst (BBA'11)
Posted on Sep 27, 2021
Category: Young Alumni , UNB Saint John , UNB Fredericton , Insights , Management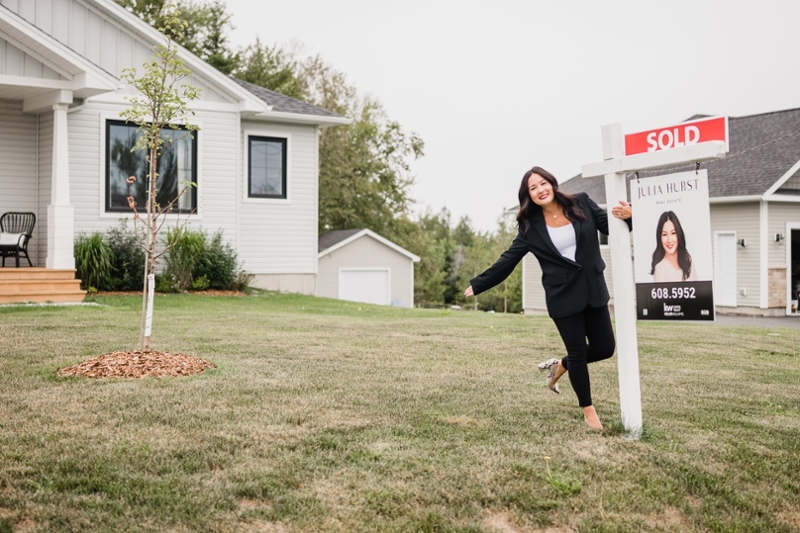 ---
At the height of the pandemic, young alumna and Saint John REALTOR® Julia Hurst (BBA'11) shared her insights and advice with us on buying or selling a home during COVID-19. Now over a year later, she provides her updated tips for buying and selling during a fast-paced seller's market and what you can do to best prepare.


What should sellers think about when considering listing their home in today's high-priced seller's market?
Sellers have a few things to consider when listing their home in today's market. Most importantly, a game plan. Because it's a seller's market, and homes are not only selling quickly but  for top dollar as well, often times sellers are left without a place to go after accepting an offer on their home. Selling your home is the easy part, but finding a new home in this highly competitive market can be much more difficult. This is especially true when multiple offers are involved. I think it's good to have a plan in place before committing to listing your home; whether that be choosing a longer closing date, renting if needed in between homes, or even staying with friends and family. The last thing you want to do is have to settle for a home that you don't love because you are desperately trying to work within in a restricted time frame.
What are your top tips for buyers who are struggling with finding a home amidst competitive bidding and short listing times?
Buyers should definitely have a REALTOR® represent them when buying a property – and why not, as it's free for buyers. Having a go-to resource will help them stay on top of the market and any new listings that come on. Furthermore, a REALTOR® will help ensure that their offer is best positioned to be competitive. Being pre-approved is also critical, because it gives you a better picture of what you'd be most comfortable spending. This is more important than ever because homes sold in multiple offers are going well over their asking price, and what you may have been able to afford two years ago is going to look much different now. My final tip: don't give up hope! It's a challenging market for buyers for sure, but the right home will come along with perseverance and of course, patience!
With the rise in vaccinations and loosening of COVID-19 restrictions across the country, do you think any of the virtual showings, physical distancing or other safety measures put in place at the height of the pandemic will continue to be in effect moving forward?
I think that many of the practices put in place at the height of the pandemic will continue on as we navigate our 'new normal' and the fourth wave. Most REALTORS® have moved their business online and will continue to send and sign documents electronically, which can be so much more efficient than meeting face to face for each and every initial and signature. Technology such as virtual tours, drone video, and 3D Tours will continue in marketing homes, while giving buyers as much information possible. In my brokerage, social distancing and mask wearing are still encouraged when entering homes. We want to keep our buyers, sellers and everyone involved in the transaction as safe as possible. That being said, I am thrilled we are able to have in-person showings in New Brunswick right now and I love meeting with my clients face to face.