Julia Hurst: Buying or selling a home in today's market
Author: UNB Alumni
Posted on Jun 30, 2020
Category: Insights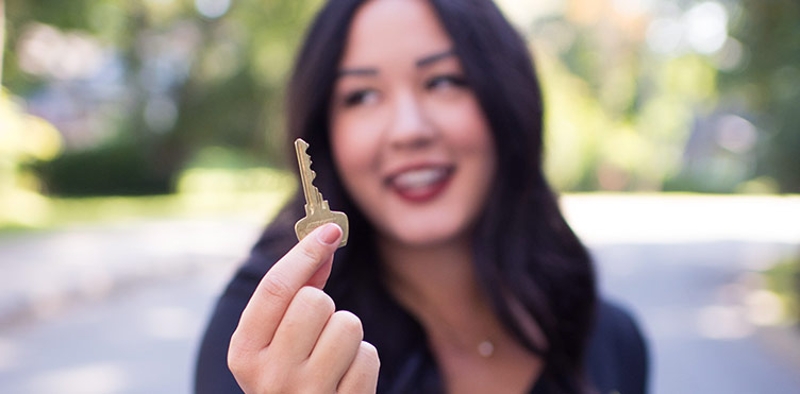 ---
Since graduating from UNB with honours in marketing, young alumna Julia Hurst (BBA'11) discovered her passion for real estate and has been working as a Realtor ® in Saint John, New Brunswick for six years. Named the 2018 Faces of Fusion Business Entrepreneur Of The Year, Julia brings creativity, innovative strategies and an eye for detail to a career she loves. Here she shares valuable tips for home buyers and sellers in the new world of physical distancing, as well as insights into today's real estate market in Saint John.
What new processes should sellers and buyers expect when listing their home during a pandemic?
In New Brunswick, sellers and buyers are required to answer a COVID related questionnaire to ensure they have not been exposed to the virus. Sellers should ensure that their home is fully sanitized and ready for any potential buyers and realtors to enter. Having all possible doors open and lights on to minimize the amount of touching is a big help. Buyers are encouraged to wear a mask and gloves while entering homes and to touch as little as possible. After the showing is done, all surfaces (lock box, door handle, light switches etc.) are to be wiped down with a disinfecting wipe by the realtor. A few extra steps, but we are being as careful as possible and making it work!
Are physical distancing measures being put in place to reduce the amount of foot traffic on a property during viewings or inspections?
Physical distancing measures are being put in place to ensure that everyone is as safe as possible. During showings, agents practice social distancing measures while touring the property and always maintain 6 feet. Depending on the situation, sometimes agents will open the door, tour the home, and then let the buyers tour the home separately. We have been as creative as possible! Inspectors have been meeting with clients virtually to go over the inspection results and open houses are not permitted right now. Agents are encouraged to use photos, videos and virtual meetings as much as possible to give buyers as much information as possible without entering the property.
How has the market changed in the province as a result of the pandemic?
The pandemic has had a significant effect on the real estate market in Saint John and I'm sure most other cities and provinces are feeling the same effects. For example, residential sales activity reported through the MLS® System of the Saint John Real Estate Board numbered 128 units in April 2020. This was down 29.3% from April 2019.
"Home sales dropped to the lowest April level in more than 15 years as this was the first full month to feel the effects of social distancing measures and uncertainty arising from COVID-19," said Corey Breau, President of the Saint John Real Estate Board. "New Brunswick is in the incredibly fortunate position of currently having a low number of COVID-19 cases. While April was certainly a month on pause, we are already seeing signs of increased activity in May."
The good thing is, on a year-to-date basis, home sales totalled 602 units over the first four months of the year. This was up 7.5% from 2019. We are anxiously awaiting the stats for May, and hopefully we can keep up this momentum despite the unforeseen hurdles of COVID 19.
How can sellers prepare to host virtual open houses?
Sellers can work with their listing agent to prepare for virtual open houses. Much like normal open houses, a major de-clutter and clear surfaces go a long way. The pandemic has allowed many homeowners some extra time to work on projects around the house! This is a great way to show off all of those small projects you've been wanting to do for years. Virtual tours and 3D tours are becoming more prominent, which allows buyers the luxury of house shopping from home.
What do you recommend for someone who is selling/buying a property located in another city/province/country from where they are currently isolating?
Thankfully the majority of real estate transactions can be done virtually. Buying agents have been conducting virtual tours for buyers, and using electronic signatures to make selling simpler. If you are thinking of buying or selling in another province, then it is important that you connect with your local government to ensure that you have all required documentation to move between provinces after the sale is complete.
Are e-signatures accepted or do purchase agreements require in-person signatures?
Yes! E-signatures are accepted and the majority of agents use them already. With the pandemic, they are more important than ever.
Should people wait until the pandemic is over to buy or sell a home?
At the first of the pandemic, when we were under the "Red" phase in New Brunswick, there were strict guidelines about what was considered an essential real estate transaction. Housing is considered essential, so agents were still able to work with clients who fell under certain categories. Now that we are in the "yellow" phase, these guidelines are more lenient and the market has been busy. As realtors, we are doing everything we can to keep our clients safe and our transactions as smooth as possible. Although this differs from province and country, there is no need to wait to buy or sell a home. Plus there are some really great mortgage rates to take advantage of.
Shopping for home insurance? As a UNB alum you are eligible for preferred rates with TD Insurance.