From UNB to Dragon's Den and beyond
Author: UNB Alumni
Posted on Jan 20, 2021
Category: Engineering , Inspiring Stories , UNB Fredericton , Young Alumni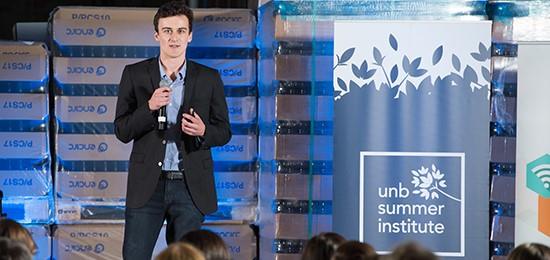 ---
Curtis Kennedy (BScME, DTME) has been busy in the last few years. He recently pitched his product, Vertiball, on CBC's Dragon's Den and accepted a deal from dragon Arlene Dickinson. But there's been a lot more going on behind the scenes.
Curtis has been working since 2017 to develop and pitch his simple idea to ease chronic pain. "It's been a lot of work and long hours but I hope that it's helping people. It's been a really exciting time."
Growing up in Saint John, Curtis was influenced by his grandfather, a mechanical engineer who would let his grandson work on inventions in his workshop. "My grandfather's philosophy was to come up with your own best solution to a problem without considering the limitations of technology. We were always playing around with stuff – he never made me feel as though anything was impossible."
It was natural, then, for Curtis to enroll in mechanical engineering at UNB in Fredericton. But he struggled in the beginning. "I'm a slow, methodical thinker and it took me a while to learn how I needed to learn. I failed a core course and realized early on that my degree would go from a four to a five-year plan," he laughs. "Fortunately it was right around that time that I learned about this magical TME (Technology Management Entrepreneurship) program at UNB. Here was this community with expertise in entrepreneurship to leverage and to give me support. I knew I wanted to take a crack at being an entrepreneur, so I figured now was the time – when I was a student and wasn't expected to hold a full-time job.
Curtis started taking TME courses along with his mechanical engineering classes, and the timing was perfect. "That was the year the Makerspace lab opened at UNB and on the first day, I had a file ready to 3D print and was completely blown away. I knew I needed to come up with an idea and start my own venture."
Curtis has had sore muscles since he was a child – and went through four years of being in the hospital or bedridden because of a rare form of cancer – and he was frustrated with relieving pain by lying on a golf ball and rolling out tense areas. "It was uncomfortable and there wasn't enough control. I figured there has to be a better way."
During a summer job installing windows, he was struck by the strength of the industrial-grade suction cups. "The problem was they would only stick to an ultrasmooth surface like glass – not to drywall. That's when the idea for Vertiball came together."
"In UNB's Makerspace I designed a rugged prototype. I pitched it to the TME department even though one of my biggest fears was public speaking. Fortunately, they loved the idea and accepted me for their RBC Technology Commercialization Program where I got access to $1000 to fund further development of the prototype. In 2017 I was accepted to their Summer Institute accelerator program and actually got paid a wage while working on my dream. It was amazing."
It was that summer when things really took off for Curtis. "I worked with designers, artists and marketing pros, as well as a mentor, to help me get to a viable product and brand and get it off the ground. I went through 25 rounds of prototypes that summer. And the big takeaway was that I realized there's so much I didn't know about the process, particularly about how much money I would need."
So, he faced his fear of public speaking and started doing pitch competitions. He won the NBEx Innovation Hall Competition, UNB Faculty of Management's APEX competition, and Canada's Business Model Competition. He was even a semi-finalist in the International Business Model Competition. All in all, he gathered $40,000. He laughs now thinking about it. "I thought that would be enough to get me started. And then I began working with Stiletto Consulting and Laura O'Blenis and she helped me understand the true costs to scale to profitability. Together we figured I needed $400,000."
The early-stage financing journey began in earnest. Curtis knocked on doors, pitched to ACOA, ONB and BDC. With persistence, he leveraged his pitch winnings to find enough capital to invest in plastic injection moulds. He ran a Kickstarter program to validate the product and price point. "Then it was full steam ahead on getting the product made. I went to Dhirendra Shukla at TME and he helped me figure out a list of 20 factories to check out in China. I was able to qualify for the Merit Travel Support Fund through TME so I could make the trips I needed to make. It was a lifesaver. I wouldn't be where I am now without this support from alumni Michael Merrithew & Louise de Grandpré. It gave me the confidence and ability to forge ahead."
Curtis is now 14 months into selling the product and has already made almost $2.4 million in sales. Vertiball is sold through an ecommerce website, Amazon, and Target and the plan is to continue scaling it. His pitch on Dragon's Den was to do just that, and he and "right-hand man" Aaron Turner (BScME'17, MScCHE'20) were able to snag a sweet deal with Arlene Dickinson for a $420,000 investment at17% of the company.
"Aaron and I were friends growing up and he tutored me in my mechanical engineering classes. He's the missing part of my brain. Two other UNB'ers are also part of the company: Julian Bernstein (BA'18) leads the creative direction and Ryan Colpitts (BScCE'18, DTME'18) has been doing our marketing. We're a small crew but have so many great people helping us externally. That's the cool thing about the entrepreneurship community in Fredericton. Everyone's so willing to help each other out. When one succeeds, we all succeed. The true strength of New Brunswick is how much everyone pitches in."
Curtis says that although he's tired and his days are filled with problem-solving, he's excited to wake up on Monday mornings and get to work. He has big plans to expand the company into other products as well. "For the first time, it feels like we have our feet underneath us. It's really exciting and makes life and work enjoyable."