COVID-19 research: NB-IRDT
Author: UNB Research
Posted on Aug 27, 2020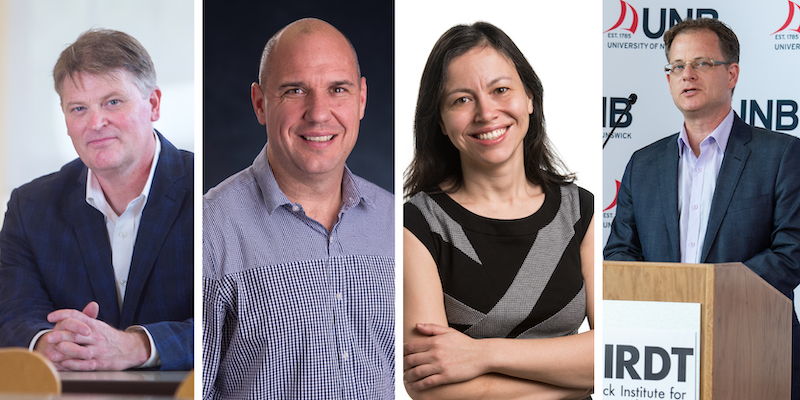 ---
Around the world, researchers across all fields and disciplines are working to address the challenges, issues and implications of the 2019 novel coronavirus pandemic. Here at UNB, our own research community is part of that global movement.

Last month, we announced 13 new, funded COVID-19 research projects; here's a little more about the expertise, the passion and the capacity behind one of them. Want to read the others? Find the full list of stories here.
New Brunswick Institute for Research, Data and Training
Dr. Herb Emery (Economics, Fredericton and NB-IRDT), Dr. Philip Leonard (NB-IRDT and Economics, Fredericton), Dr. Ted McDonald (NB-IRDT and Economics, Fredericton) and Dr. Sandra Magalhaes (NB-IRDT and Sociology, Fredericton) are researching the economics of post-COVID-19 New Brunswick.
Who are you?
Dr. Herb Emery
I am the Vaughan Chair in Regional Economics and my research has focused on developing strategies and policies to grow the New Brunswick economy. I began my research career as a Canadian economic historian studying the long run development of the Canadian economy and the disparities across its regions. I also have published work on topics in labour economics and demographics, the economics of health care, and food insecurity. The pandemic has not altered what I normally research and represents an unfortunate opportunity to learn about how the province's economy adjusts and recovers to an unforeseen global health crisis that has also disrupted the global economy.
Dr. Ted McDonald
I have a PhD in economics from the University of Melbourne. I'm currently a professor of economics at UNB in Fredericton and I also have a number of administrative roles. I am the Director of the New Brunswick Institute for Research, Data and Training (NB-IRDT), the Chair of the Academic Council of the Canadian Research Data Centre Network, on the Executive Committee of Health Data Research Network Canada, and the NB lead for the Maritime SPOR SUPPORT Unit. I do research mainly on the social determinants of health, especially cancer, and I also do a lot of work on issues related to immigration and population mobility.

Dr. Philip Leonard
I am a Research Associate in the Department of Economics at UNB and an Economist at NB-IRDT. In 2014, I moved to Fredericton from Ontario, where I had received my PhD in economics from McMaster University. My research interests include labour economics, education and health economics, as well as program evaluation. One of my best-known research interests in my work measuring the effects of banning junk food in New Brunswick schools.

Dr. Sandra Magalhaes
I am a Research Associate in the Department of Sociology in Fredericton, and part of the research team at NB-IRDT. I am an epidemiologist by training – perhaps a more familiar term these days than it has been in the past. My main research area is chronic disease epidemiology, which is similar to, but different from, infectious disease epidemiology. I am interested in understanding what increases or decreases people's risks of certain chronic diseases, in particular those that impact the brain and spinal cord.
What are you working on?
The pandemic has not created new vulnerabilities or challenges for the economy, but it has eliminated whatever cushion of time we had to deal with our slow growth, growing public debt and aging population. To that end, we will study what the immediate impacts and disruptions of the pandemic have been for the economy and where we see a lack of disruption.
We want to understand what impacts of the pandemic on businesses and households are transitory and which are permanent. We want to know what are the emerging opportunities for the province to rebuild its exports and grow its population, and what public policies will be necessary to take advantage of those opportunities.
New Brunswick's economy has not grown since 2010 and COVID-19 now creates the real possibility that our economy could contract with accelerated de-industrialization. With this research we want to understand what the impacts of COVID-19 are for the competitiveness of our exporters and what public policy can do to ensure that New Brunswick is a profitable place to produce.
Why did you decide to work on this research?
We are experiencing the biggest potential economic crisis since Great Depression. The global financial crisis of 2008 also carried the Depression risk, but shows us how academics and policy makers across countries found policy solutions to avert that crisis. With the pandemic, the economic disruption is global, but recovery will be much more dependent on local factors and policy responses. Our interest in doing our research is to provide the knowledge base to support New Brunswickers and public decision makers to get through this crisis and thrive after it.
More information:
New Brunswick Institute for Research, Data and Training | Dr. Herb Emery | Dr. Ted McDonald | Dr. Philip Leonard | Dr. Sandra Magalhaes | Department of Economics | Department of Sociology
Research at UNB | Graduate Studies at UNB | Postdoctoral fellowships
Related Pages: COVID19 Research Stories