COVID-19 research: Dr. Rob Moir
Author: UNB Research
Posted on Aug 25, 2020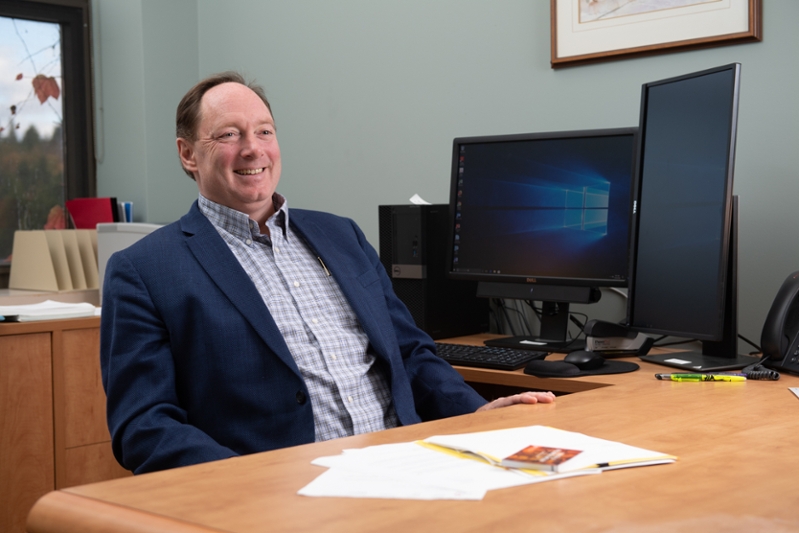 ---
Around the world, researchers across all fields and disciplines are working to address the challenges, issues and implications of the 2019 novel coronavirus pandemic. Here at UNB, our own research community is part of that global movement.

Last month, we announced 13 new, funded COVID-19 research projects; here's a little more about the expertise, the passion and the capacity behind one of them. Want to read the others? Find the full list of stories here.
Dr. Rob Moir (Business, Saint John)
Dr. Rob Moir is researching the use, challenges, and benefits of computers to facilitate remote learning in marginalized communities, building on a device access project by Mr. Dan Doiron.
Who are you?
Dr. Rob Moir:
My name is Rob Moir, and I teach and research economics in the Faculty of Business in Saint John. My normal areas of research are behavioural economics, experimental economics, and community economic development, especially in marginalized communities. I'm particularly interested in the role of cooperation in the economy. I also currently serve as the associate dean (research and special projects) in the Faculty of Business.
I completed my PhD at McMaster University, and have been a visiting research scholar at the University of Arizona in Tucson, and the Cognitive and Experimental Economics Laboratory at the University of Trento in Trento, Italy.
Brilliant Labs:
Brilliant Labs is a not-for-profit, hands-on technology and experiential learning platform based in Atlantic Canada. We support the integration of creativity, innovation, coding, and an entrepreneurial spirit within classrooms and educational curricula. We want to provide every child in Atlantic Canada with the opportunity to have access to new technologies and programming to create, innovate and inspire a future that offers sustainable growth in community and social/environmental entrepreneurialism.
Teen Resource Centre:
The Teen Resource Centre provides a safe and encouraging environment for youth to explore their full potential. We offer services and programs for youth between the ages of 12-24, designed to foster in them the creativity, energy and leadership our community needs to grow and thrive.
The work we do focuses on providing services and programs that assist youth with their physical and mental health; providing on-site services to assist youth who are homeless or living in vulnerable situations; facilitating career path and mentoring to help youth build life skills; creating opportunities for community volunteerism and leadership training; and encouraging youth to explore and discover their interests and passions. We also host a Pathways to Education program that provides high school students with academic, financial and social supports.
Our programs empower youth to set and achieve higher goals for themselves through a culture of expectation. We are investing in these youth, and the benefits will carry on for generations to come.
Other partners:
We are also working with CyberNB, who are providing access to their cybersecurity curriculum materials to computer recipients, and with UNB's Office of Experiential Education to provide meaningful learning opportunities for students to participate in this research project.
What are you working on?
Through an unrelated grant, a number of laptops were delivered to grade 11 and 12 students in priority neighbourhoods in Saint John. This project was led by my colleague, Mr. Daniel Doiron, and distribution was managed through the Teen Resource Centre.
Unlike laptops often issued by schools, these laptops are donated to the students, who can continue using them after they finish school. So, these laptops will facilitate online learning in both high school and post-secondary environments and will help decrease the income-caused digital divide. (The digital divide is the term used to describe the gaps in access to technology and infrastructure that prevent people from fully participating in the digital sphere; these gaps generally mirror broader socioeconomic divides.)
The NBIF funding I have received will be used to partner with Brilliant Labs to engage with recipients to make available computer productivity-enhancing skills training, to familiarize recipients with the use of key video-conferencing software, to increase their social networks, and to study computer usage and skills. Some of our funding will also be used to assist families in obtaining an internet connection, an important aspect of the income-caused digital divide.
In these COVID-19 times, teaching delivery has necessarily adopted a computer-mediated model, with the student learning taking place in the home in order to maintain physical-distancing. For those with income shortages, this serves only to increase the digital divide. This is especially problematic in a province that seeks to develop and leverage knowledge economy skills, and to develop itself as a research and entrepreneurial hub for cybersecurity. We expect to present our early results to the Department of Education, Opportunities New Brunswick, and ACOA, and also plan to share our findings and knowledge with the Teen Resource Centre, to support their own expertise and program development.
Why did you decide to work on this research?
COVID-19 has taken cracks and exposed them as fractures in our society. It affects us all, but it has an especially damaging effect upon people who can least afford disruption. So, from a moral aspect this type of research is important.
But COVID-19 only made this digital divide issue more apparent; it was, and will continue to be, a problem, but maybe right now we can get some useful information on what works well, and use that to improve our actions in the future. This provides us with a strong economic efficiency argument for the research we are doing: A more highly-educated citizenry with knowledge economy skills will contribute to our province's success, as well as to individual success.
More information:
Dr. Rob Moir | Faculty of Business (Saint John) | Office of Experiential Education | Brilliant Labs (external site) | Teen Resource Centre (external site) | CyberNB (external site)
Research at UNB | Graduate Studies at UNB | Postdoctoral fellowships
Related Pages: COVID19 Research Stories