UNB program will allow nursing students to graduate in three years
Author: UNB Newsroom
Posted on Sep 1, 2023
Category: UNB Fredericton , UNB Saint John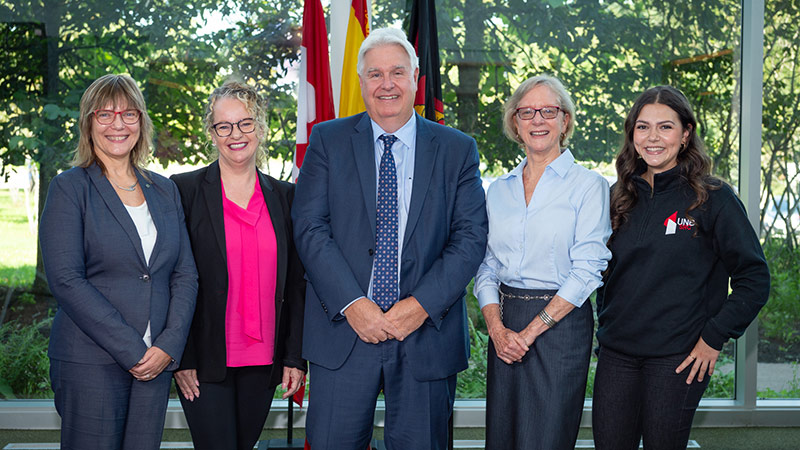 The University of New Brunswick (UNB) and the provincial government have announced funding for a three-year delivery of its bachelor of nursing program in Saint John as part of a package of initiatives to address the shortage of nurses in the province.
The program, set to launch in September of next year, will complement the university's regular four-year program, "by offering a different delivery timeline for our bachelor of nursing program, through a three terms per year approach of study, the program can be completed in three years instead of four. With this, we are creating new opportunities for living and working in New Brunswick." said Dr. Petra Hauf, UNB's vice-president Saint John.
"UNB and the Government of New Brunswick have a shared commitment and a shared vision for solving the challenges facing our province's health-care system, which includes addressing the nursing shortage," said Dr. Paul Mazerolle, president and vice-chancellor of UNB at an event on Sept. 1, 2023, announcing the new program. "These students will now be able to access a three-year delivery of our bachelor of nursing degree that provides the same great quality curriculum as our four-year delivery and allows students to enter the workforce sooner."
The provincial government is providing $412,000 to help the university get the program off the ground. It will provide up to $1,237,500 over a three-year period based on the evaluation of early success and results.
Arlene Dunn, the Post-Secondary Education, Training and Labour Minister, said the government and university are creating programs like this to accommodate students and create more pathways for them to become nurses.
"This program will offer students more flexibility and choice when it comes to nursing education – while making it easier for more students to complete their degrees," said Dunn. "Our continued focus on this issue, alongside our various partners like UNB, is laying the foundation that will help us meet the labour force needs of our healthcare system."
With the addition of the three-year delivery option, UNB's Saint John campus will offer 21 additional seats for the bachelor of nursing program.
"UNB is dedicated to improving the lives of people throughout the province," said Mazerolle. "Together with the Government of New Brunswick, we continue to find exciting and innovative ways to address health-care staffing gaps around the province."
The new three-year program is one of several new initiatives between the government and UNB that will expand opportunities for nursing education: