UNB brings virtual nursing education to Miramichi and Moncton
Author: Hilary Creamer Robinson
Posted on Aug 31, 2023
Category: UNB Fredericton , UNB Saint John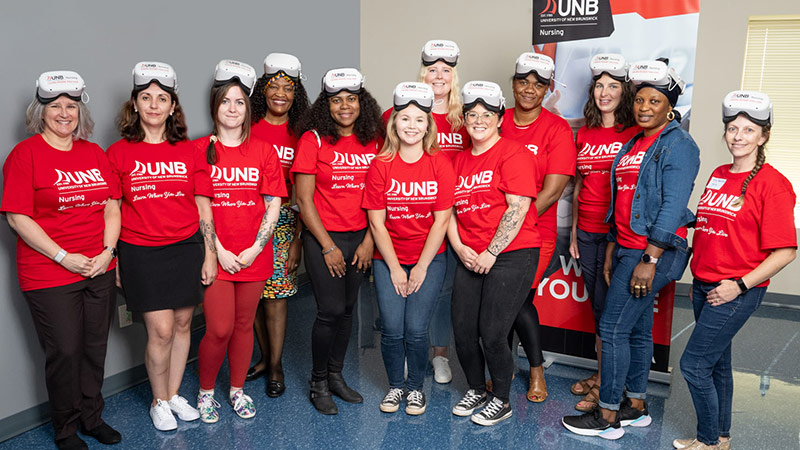 New Brunswick needs nurses.
That's why licensed practical nurses (LPNs) working in the Miramichi and Moncton regions now have the option to obtain their registered nursing (RN) certification virtually through the University of New Brunswick's (UNB) Learn Where You Live program.
"UNB's faculty of nursing is making healthcare education more accessible by using technology to meet the needs of students where they live and work," said UNB president and vice-chancellor Dr. Paul Mazerolle at an event Tuesday announcing the program.
"Our goal is to further expand this opportunity to more rural areas of the province to address the shortage of nurses in New Brunswick."
With support from Horizon Health Network and the New Brunswick Community College (NBCC), Learn Where You Live will allow LPNs to Bachelor of Nursing (BN) Pathway students who live in the Miramichi or Moncton regions to study and work in those areas instead of travelling to Fredericton to complete years three and four of their studies.
"At UNB, we are on the move," said Dr. Lorna Butler, dean of the faculty of nursing on the Fredericton campus of UNB.
"What can be accomplished here at UNB, in Moncton and Miramichi, can be used globally. We can become Canada's contribution to the world of nursing education."
The program offers online seats in Miramichi and Moncton. The province of New Brunswick is providing UNB with up to $487,000 toward the launch and delivery of the program, which is seen as a solution for addressing the province's shortage of registered nurses.
Students will receive clinical education onsite at Horizon Health and NBCC, with ongoing support from SPECTRAL, UNB's applied research lab on spatial computing.
"We continue to do everything we can to encourage more people to choose nursing education, and we are proud to partner with UNB on their latest program," said Minister of Post-Secondary Education, Training and Labour Arlene Dunn, in a release.
"Flexibility while studying is important to many students, and we are confident by expanding local possibilities, more will be able to choose a career in nursing."