Fostering an environment for start-up success in Atlantic Canada
Author: UNB Newsroom
Posted on Nov 3, 2022
Category: UNB Saint John , UNB Fredericton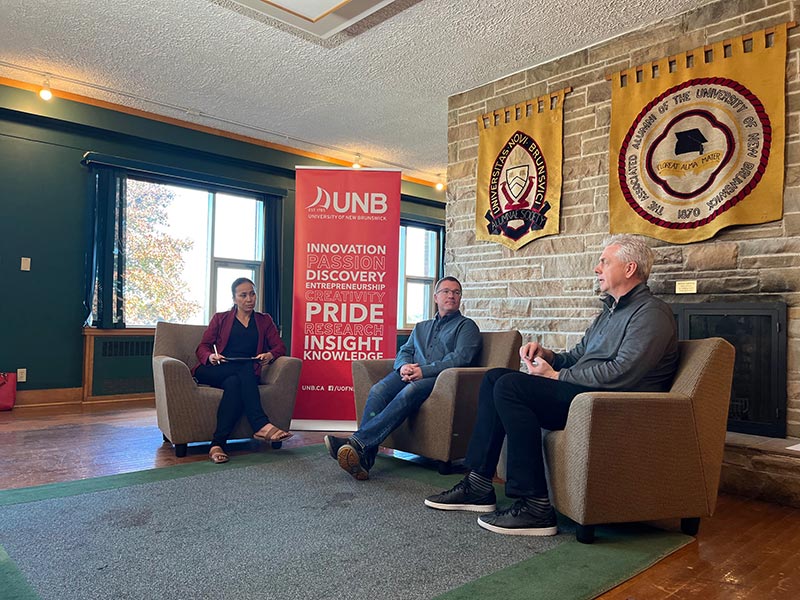 In an event dedicated to showcasing success stories among Atlantic Canadian start-ups, the University of New Brunswick (UNB) brought forward an impressive line-up of leaders in the entrepreneurship ecosystem.
Committed to economic growth and social progress by advancing digital technologies and empowering entrepreneurs to meet today's challenges with innovation, UNB was a proud sponsor of Entrevestor Live, held on Oct. 20 in Halifax and live-streamed across the Maritimes.
UNB hosted a 30-minute fireside chat with Sandy Bird, co-founder and CTO of Sonrai Security and Jeff White, CEO of New Brunswick Innovation Foundation. The session was moderated by Sally Ng, the new CEO of Wallace McCain Institute.
"We have very few entrepreneurs in Atlantic Canada who have raised over $85M USD; not only has Sandy done this for Sonrai, but he's also done it with Q1 Labs," said Ng. "Learning from his experiences and building a global company here in Atlantic Canada is a story that we should be sharing and learning from."
Bird, UNB class of '03, provides security for enterprise clients using cloud technology. He shared his views on this entrepreneurial space and how to get best set for the future.
"It is all about having those early customers, early success stories, and early values," explained Bird. "When you are designing those earlier parts, you need to have people touching and feeling whatever you are building and saying yes, they can see themselves using it."
Appearing with Bird, Jeff White shared his experience in building and managing finance teams. White helps in the early days of the start-up journey and works to build them up financially before entering the market.
"We work to support entrepreneurs," said White. "They build the company and do the hard work, then we try to create relationships with those outside who are available to write bigger checks when they start to hit that scaling phase."
White also points out that "capital and customers are starting to look globally coming out of the pandemic, quicker than they did before."
"Talent acquisition is going to be critical; the demand is still going up." Bird adds that world-class solutions are needed and can be found in Atlantic Canada to meet today's challenges of talent, increasing wages, and cost.
"I believe in this community. I want to have success in this community, so it important to me to have local venture here," said Bird.
Learn more about the range of entrepreneurship programs on-campus and off-campus at UNB.