UNB student attends North America's largest innovation hub
Author: UNB Newsroom
Posted on Dec 5, 2019
Category: UNB Fredericton , myUNB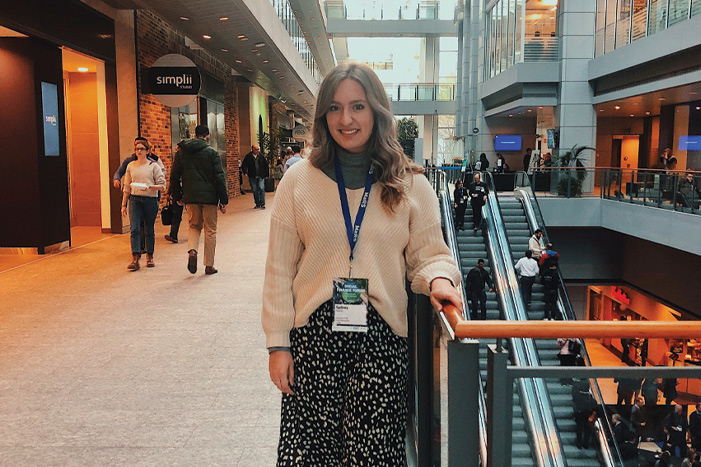 A fourth-year bachelor of business administration student from the University of New Brunswick recently attended the 12th Annual MaRS Social Finance Forum, Canada's leading conference on impact investing and social enterprise.
Sydney Rankin is completing an independent study at UNB and concentrating her coursework in entrepreneurship and minoring in chemistry. Last year, she served as the vice-president of communications for the UNB Student Union and is currently the BE FOR CHANGE Ventures (B4C) coordinator at the Pond-Deshpande Centre at UNB Fredericton.
The Social Finance Forum, which took place in Toronto from Nov. 6 to 8, included more than 600 attendees and 80 speakers. During the forum, high-profile thought leaders and entrepreneurs delivered talks under four major streams: social finance at the grassroots, social finance at scale, measuring impact and tech for good.
Ms. Rankin was drawn to the forum because of her belief in the power of change. Between her work at the Pond-Deshpande Centre and her studies at UNB, Ms. Rankin realized that she had a passion for building sustainable futures within her community. It was then that she decided to take part in an independent study.
"As a student studying entrepreneurship at UNB, I noticed that new students were often exposed to teaching models that used high-growth tech start-ups as examples," says Ms. Rankin. "While these types of businesses are wonderful examples to learn by, it's important to note that social enterprise can have the same potential."
Ms. Rankin believes that the support she's received at UNB has been invaluable.
"Having the ability to create an in-depth opportunity for learning outside of the classroom is something that I hope every student on our campus has the chance to embrace in their time here," she says.
"Student Services has a limited pool of funds to support undergraduate student activities that enhance student life on campus, complement a student's academic experience, or enhance a student's leadership potential," says Sara Rothman, senior director of academic success, student services, UNB Fredericton.
"We were happy to offer some support to Sydney so that she could participate in this forum and her enthusiasm for what she learned while there is palpable," she adds. "It's always exciting to watch students engage fully in their studies."
Media contact: Angie Deveau
Photo credit: MaRS