UNB Fredericton to host 2020 Home Hardware Canada Cup
Author: UNB Newsroom
Posted on Dec 11, 2019
Category: myUNB , UNB Fredericton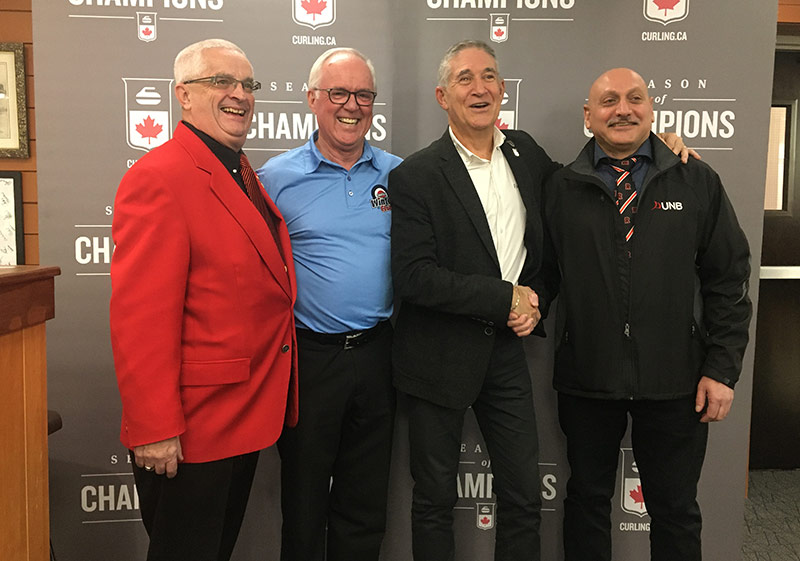 The Aitken University Centre on the University of New Brunswick's Fredericton campus will be the location of the 2020 Home Hardware Canada Cup, one of curling's biggest events, from Nov. 25 – 29, 2020.
This marks the first time the Canada Cup will be played in Atlantic Canada. The announcement was made on Dec. 11 at the Capital Winter Club in Fredericton by New Brunswick Deputy Premier Robert Gauvin, Fredericton Mayor Mike O'Brien, Capital Winter Club president Wayne Tallon and New Brunswick Curling Association president Dmitri Makrides. UNB representative David Saad, director of kinesiology facilities operations including the Aitken University Centre, joined the announcement.
"The Home Hardware Canada Cup has produced some of the best and most intense curling you'll ever see anywhere in the world, and we couldn't be happier to see this event played in Atlantic Canada for the first time," said John Shea, chair of Curling Canada's Board of Governors. "The Home Hardware Canada Cup is one of the toughest tests in our sport, and the fans in Fredericton will be treated to a wonderful event next year."
The Canada Cup winners will take home a cash prize in addition to securing a spot in the 2021 Tim Horton's Roar of the Rings, the tournament that will decide Canada's four-player curling teams for the 2022 Winter Olympics in Beijing.
Information regarding tickets and volunteer opportunities will be released in early 2020.
Media contact: Kelsey Pye
Photo: Curling Canada Hall of Famer Ron Hutton, Capital Winter Club president Wayne Tallon, Fredericton Mayor Mike O'Brien and UNB's David Saad at the 2020 Home Hardware Canada Cup announcement. Credit: UNB