Outstanding collaborations that include UNB researchers recognized by NBHRF
Author: UNB Newsroom
Posted on Dec 23, 2019
Category: UNB Saint John , myUNB , UNB Fredericton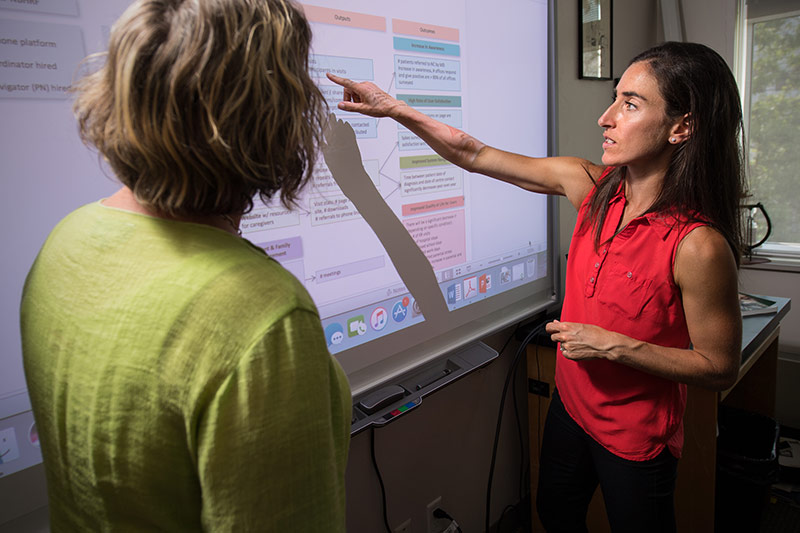 As a leader in discovery and innovation in Atlantic Canada, UNB researchers collaborate with healthcare professionals to positively impact the lives of people from local and regional communities. With funding from the New Brunswick Health Research Foundation (NBHRF), research teams from across the province tackle emerging health issues by creating strategic solutions and health-related research.
The NBHRF showcases monthly research team winners in Huddle articles, on the NBHRF website and in the monthly NBHRF eNewsletter from January 2019 to October 2019. Four of the ten accolades were awarded to collaborations that include UNB researchers.
The New Brunswick Health Research Foundation 2019 Research Team of the Year is a multidisciplinary team of healthcare professionals and researchers from UNB, Horizon Health, Reseau de Sante Vitalite and New Brunswick Trauma Program, who are working together to better understand best practices and optimize a uniformed approach for treating hip fractures in New Brunswick.
Comprised of orthopedics, trauma, geriatrics and research professionals, the research team is conducting a comprehensive, data-driven quantitative study with help from Dr. Chris McGibbon, professor in faculty of kinesiology and the Institute of Biomedical Engineering, and Dr. Dan Crouse, research associate in the department of sociology and the NB Institute for Research, Data and Training at UNB.
Dr. Jason Hickey, associate professor in nursing, is the project lead of Sokomolsuwaken: Atlantic Urban Indigenous Health Research Network. The community-driven research will integrate Indigenous cultural teachings and promote strengths and resources within the communities.
The Atlantic Canada-Wide network is changing the way health research is being conducted in Indigenous communities and shifting the balance of power to communities by placing control of the funding and access to the data directly in the hands of the Indigenous communities.
Under the leadership of Dr. Shelley Doucet, the Centre for Research in Integrated Care (CRIC) housed at UNB Saint John supports patients with complex care needs and their families navigate the complex network of healthcare providers by improving the coordination of services and removing barriers to quality care.
Patients with complex healthcare needs are most vulnerable to gaps in care during transitions of stages of illness and between healthcare providers. The living lab team approach of CRIC maximizes province-wide resources with the aim to reduce inappropriate usage of the healthcare system and improve healthcare outcomes.
Mr. Jiachen (James) Tang, an undergraduate science student from UNB Fredericton, collaborated with a team of researchers from the Dr. Everett Chalmers Hospital and Dalhousie University that conducted the largest study to date evaluating the benefits of delayed cord clamping in newborns.
The Dr. Everett Chalmers Hospital will be the first hospital in Atlantic Canada to implement delayed cord clamping as standard practice.
Media contact: Paisley Sibbald