Scale Up Atlantic Canada graduates first official cohort
Author: UNB Newsroom
Posted on Sep 6, 2019
Category: UNB Fredericton , myUNB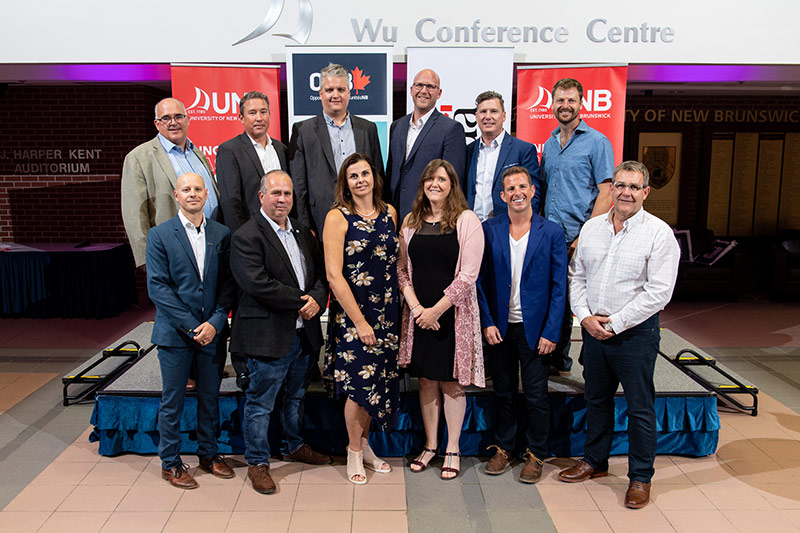 On September 5, 2019, 13 companies from across the Atlantic region celebrated their graduation from the University of New Brunswick's J. Herbert Smith Centre for Technology Management and Entrepreneurship (TME) Scale Up Atlantic Canada Program. These companies were the first cohort to participate in the new program.
The program is designed to help local firms scale up, with a focus on the three Cs of growth—customers, capacity and cash. The program is globally renowned for helping businesses achieve growth and has had tremendous success in many countries, including the United States, Columbia, Denmark, Panama, Brazil and Scotland. The Scale Up Atlantic Canada program was hosted at UNB Fredericton and led by Dr. Daniel Isenberg and his team of professionals from Babson College in Wellesley, Massachusetts.
The cohort members held meetings seven times over the last six months and came from a wide range of industries and sectors across the Atlantic region:
Auto City
B4Checkin
Blacks Transfer
Gemba
iSpire
Kelson and Kelson Ltd.
Kogntiv Spark
Magnetic Hill Winery
Measurand
Missing Link Technologies (MLT)
Mrs. Dunster's
The GAP Group
Velsoft
The program, which mixed peer-to-peer support with classroom-based learning opportunities, included workshops in sales and marketing, finance and organizational development. By participating in the Scale Up Atlantic Canada program, total revenues for the entire cohort increased by approximately 26 percent. Additionally, over 60 new employees were hired.
The overall aim of Scale Up Atlantic Canada is to infuse greater ambition and capacity for economic growth in our region by working directly with ambitious business leaders. For small and medium-sized businesses, scaling up can translate into new contracts, an increase in exports, job creation, and an increase in revenues, all of which contribute directly to economic development in their communities and throughout the region.
Quotes
"Over the last six months we have witnessed each of the 13 companies within Scale Up Atlantic Canada collaborate, begin to do business with one another and scale at unimaginable rates, while building a culture of scaling."
- Dr. Dhirendra Shukla, ACOA Chair, J Herbert Smith Centre for Technology Management and Entrepreneurship, UNB Fredericton.
"Our team was excited and honoured to partner with UNB and bring the Scale Up program to the Atlantic region. It's the first program of its kind in Canada. It's inspiring to witness all of the new growth in the 13 companies, which we think bodes extremely well for future economic growth in the area."
- Dr. Daniel Isenberg, professor, Babson College, creator of Scale Up
"Our government is pleased to provide Atlantic Canadian businesses with the support they need to continue their growth as they play a key role driving our economic growth and creating tomorrow's good jobs. We remain committed to supporting programs like Scale Up Atlantic Canada that are providing innovators and business leaders the chance to grow, strengthen their footing at home and compete in global markets."
- Matt DeCourcey, Parliamentary Secretary to the Minister of Immigration, Refugees and Citizenship and Member of Parliament for Fredericton
"Our government is pleased to congratulate the first cohort of the Scale Up Atlantic Canada Program. This is a significant milestone that will help generate growth for both your business and our province. Creating the conditions our businesses need to grow and succeed is an important part of our government's priority to energize the private sector. The Scale Up Atlantic Canada Program is an excellent example of how we can support our entrepreneurs and businesses to drive real economic growth. It's an initiative that we are proud to support."
- Honourable Mary Wilson, Minister of Economic Development and Small Business and Minister responsible for Opportunities NB.
Media contacts
Angie Deveau, Communications Officer, Communications Office, UNB Fredericton, 506-458-7925
Mary-Anne Hurley-Corbyn, Director, Communications, Executive Council Office, 506-429-2624
Jennifer Houle, Senior Communications Officer, Atlantic Canada Opportunities Agency (ACOA), 506-261-5534
Photo: Front row L-R: Charles Gervais, Doug Jenkins, Lisa Robichaud, Rosalyn Hyslop, Saar Fabrikant, Terry Kelson. Back row L-R: Blair Hyslop, Kevin Stover, Yan Simmard, Bruce Gourley, Jim Fitt, Zach Everett.