UNB unveils newly renovated Tibbits Hall
Author: UNB Newsroom
Posted on Aug 16, 2019
Category: myUNB , UNB Fredericton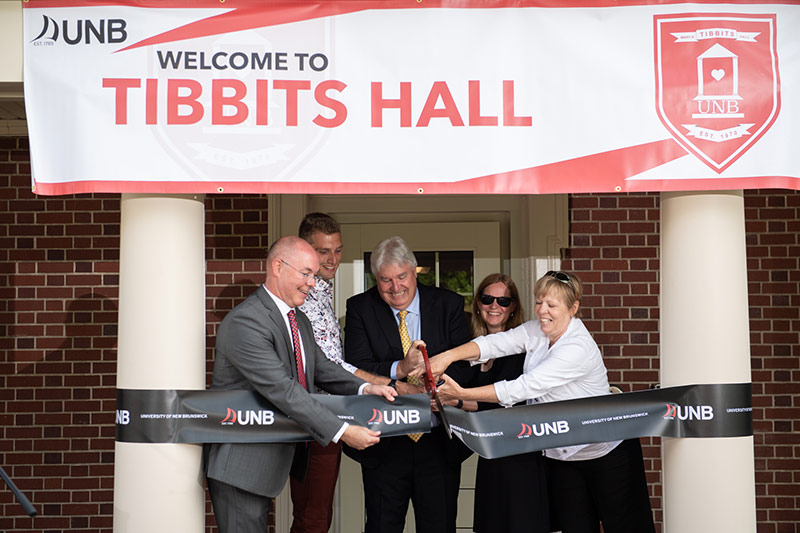 The University of New Brunswick has unveiled the newly renovated Tibbits Hall residence. The renovation is part of the university's Residence Renewal Plan: by 2021, a number of residences on campus – including Tibbits Hall, Lady Dunn and Joy Kidd – will offer students more accessibility, modern infrastructure and improved privacy.
"Such signs of progress routinely warm the hearts of university leaders because these achievements demonstrate real progress toward creating first class environments for our students to learn, live and thrive as part of a university community," said UNB President and Vice-Chancellor Dr. Paul Mazerolle at a ribbon cutting event.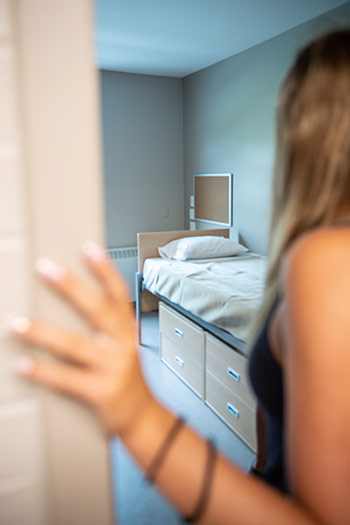 Tibbits Hall has been extensively updated: 30 new single bedrooms have been constructed, each with either a semi-private or private washroom; the public washroom and showers have been completely re-designed with increased privacy in mind; and the three lounge areas have been renovated and updated and now include full kitchen facilities.
The building has received all new flooring, ceilings, paint, interior doors and furniture. All plumbing, heating and electrical systems have been upgraded, including new energy efficient LED lighting in all areas and students can also now control the temperature in their individual rooms.
Most importantly are updates that will positively impact students living with physical limitations. All levels of Tibbits Hall are now accessible via elevator, and three new and fully accessible rooms – each with a private washroom – have been constructed.
The inclusion of accessibility suites and elevators is an important step toward ensuring that all students on campus enjoy the same safe and modern living environments.
"For students living with physical limitations, these renovations are essential to their success at UNB," said Dr. Mazerolle. "We are incredibly pleased that Tibbits Hall now offers all students comfortable and inclusive living arrangements."
Lady Dunn Residence has now been closed and will receive similar renovation over the next year. Updates to Joy Kidd will follow, with completion slated for 2021.
Media contact: Hilary Creamer Robinson
Photo 1: Left to right: Mark Walma, Assistant Vice President, UNB Student Services, Brandan Archibald, UNB student, Dr. Paul Mazerolle, UNB President and Vice-Chancellor, Angela Garnett, Senior Director, UNB Residence and Ruth Buckingham, Senior Director UNB Finance and Operations. Credit: Jeff Crawford / Photo UNB
Photo 2: All levels of Tibbits Hall are now accessible via elevator, and three new and fully accessible rooms – each with a private washroom – have been constructed. Credit: Jeff Crawford / Photo UNB