UNB selected to participate in national pilot program in support of equity, diversity and inclusion on campus
Author: UNB Newsroom
Posted on Aug 22, 2019
Category: myUNB , UNB Saint John , UNB Fredericton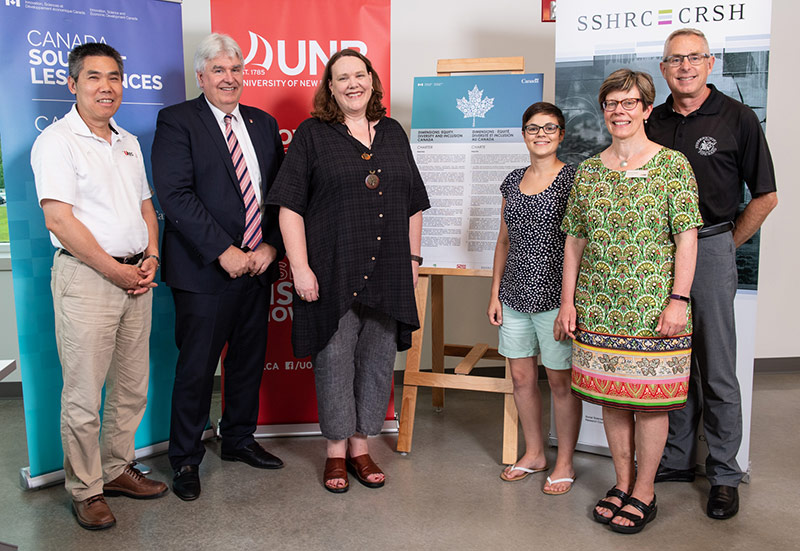 UNB has been selected as one of 17 universities across the country to participate in the Natural Sciences and Engineering Research Council of Canada's Dimensions: equity, diversity and inclusion Canada pilot program.
The Dimensions: EDI pilot program aims to foster transformational change within the research community and the entire research landscape at Canadian post-secondary institutions through eliminating obstacles and inequities, including access, admissions, career development and working and learning conditions.
"Participating in the Dimensions pilot is an excellent opportunity for UNB," says Sula Levesque, human rights officer with UNB's human rights and positive environment office.
"This project is a national alliance with other institutions looking to advance EDI goals. It will provide an opportunity for sharing information, developing tools and resources alongside our colleagues, learning from and inspiring each other and for showcasing our own considerable accomplishments."
The Dimensions program and charter are initiatives of the three federal granting agencies. The Honourable Kirsty Duncan, Minister of Science and Sport, and the Honourable Bill Morneau, Minister of Finance, announced which universities were selected for participation on Aug. 15 at Ryerson University in Toronto.
"That UNB has been chosen to participate in the Dimensions: EDI pilot program is significant as it recognizes the vigilance and persistence of Sula Levesque and her team in making UNB a more equitable and diverse post-secondary institution," says Dr. Paul Mazerolle, president and vice-chancellor of UNB. "This work has and will have a major positive impact on our community and on our country as a whole."
Starting in September, the 17 universities selected to participate in the program will lead the way in increasing diversity at Canadian post-secondary institutions.
"We are bringing wholesale culture change to Canadian science and research while incorporating the Canadian values of equity, diversity and inclusion so that our researchers better reflect the Canada we live in," said Minister Duncan.
In July, Dr. Mazerolle and Minister Duncan co-signed a copy of the Dimensions Charter, which demonstrates UNB's commitment to incorporating the principals of equity, diversity and inclusion in its policies, practices, action plans and culture.
"I can't wait for our whole community to be involved in this pilot, and I can't wait to see where this takes us," says Ms. Levesque.
Media contact: Hilary Creamer Robinson
Photo: Members of the Bi-Campus Presidential Standing Committee on Equity, Diversity, Inclusion and Human Rights and associated working groups pose with UNB President and Vice-Chancellor Dr. Paul Mazerolle and the newly signed Dimensions Charter. Left to right: Ganshen Xu, Director, Recreation Services, Dr. Paul Mazerolle, UNB President and Vice-Chancellor, Sula Levesque, Human Rights Officer, Human Rights and Positive Environment Office, Sara Connell, HR Assistant, Human Resources, Joanne Wright, Dean of Arts and Peter McDougall, Associate Vice President, Human Resources. Credit: Rob Blanchard/UNB.