UNB lab receives federal funding for clean transportation research
Author: UNB Newsroom
Posted on May 27, 2019
Category: myUNB , UNB Fredericton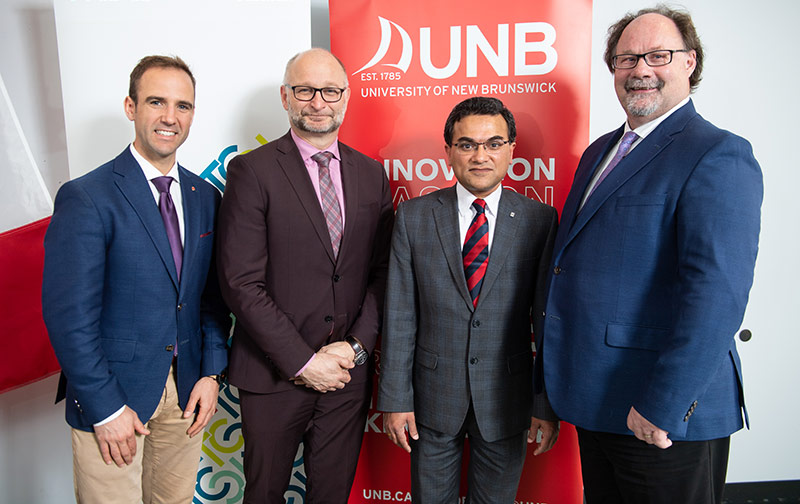 The Nanocomposites and Mechanics Lab at the University of New Brunswick has received federal funding up to $87,380 for their research under Transport Canada's Clean Transportation System Research and Development Program.
The funding was announced on May 24 at UNB by Minister of Justice and Attorney General the Honorable David Lametti, on behalf of the Honorable Marc Garneau, Minister of Transport.
The Nanocomposites and Mechanics Lab, led by Dr. Gobinda Saha, directly responds to industry needs. With this project, it's researching the impact of a high-pressure spray to coat carbon fibre-reinforced polymer composites and aluminum parts, and observe if reducing the weight of targeted components used on boats and trains would increase fuel efficiency and reduce greenhouse gases emissions.
"This investment will accelerate the development and applications of functionally graduated 3D lightweight composite structures capable of reducing emissions in rail cars, aerospace, and ship building infrastructures," says Dr. Saha. "We're working towards advancing materials and manufacturing technologies that will extend the lifetime of industrial substrates by three to four times for a greener manufacturing future."
The performance assessment of the technologies developed by the lab will be achieved through a partnership with Imperial Oil.
"Through smart investments in clean transportation solutions, we are building a sustainable transport infrastructure that benefits all Canadians," says Minister Garneau. "Technology has an important role to play in reducing the emissions from transportation, and helping Canada meet its greenhouse gas reduction commitments under the Paris Agreement on Climate Change, and in the Pan-Canadian Framework on Clean Growth and Climate Change. The Clean Transportation System Research and Development Program advances new technologies to reduce carbon pollution, and protect the environment and well-being of our communities."
"Under Dr. Saha's leadership, the Nanocomposites and Mechanics Lab is working towards a greener future for transportation industries, which will greatly contribute to our combined efforts in curbing waste and emissions," says Dr. David MaGee, UNB vice-president (research).
The project will be completed by March 2021, with results published in a peer-reviewed journal.
Media contacts
Photo: Fredericton MP Matt DeCourcey, Minister of Justice and Attorney General David Lametti, Dr. Gobinda Saha and Dr. David MaGee. Credit: Rob Blanchard/UNB