Housing and mental health lab launched
Author: UNB Newsroom
Posted on May 17, 2019
Category: UNB Saint John , myUNB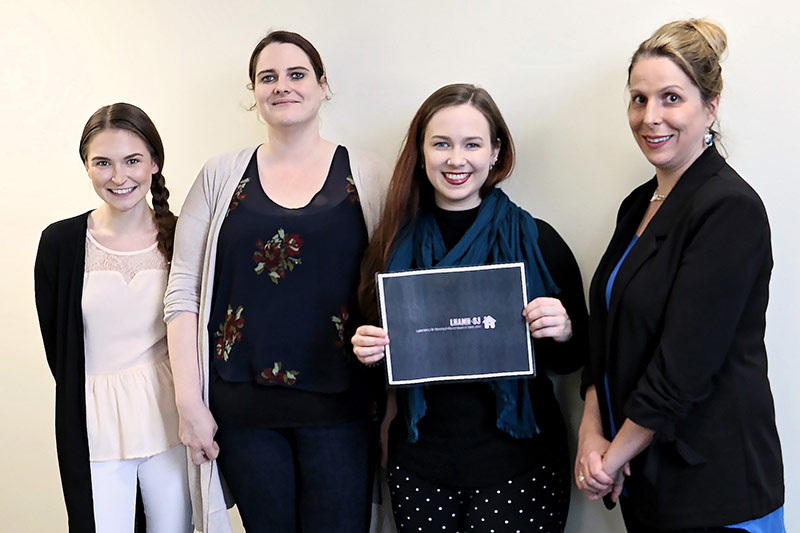 The University of New Brunswick has launched a laboratory to create solutions for that will help those who experience poverty and health disparities.
The Laboratory for Housing and Mental Health in Saint John (LHAMH-SJ) was opened on May 1, 2019, and will be housed in the department of social sciences in UNB Saint John's faculty of arts. Researchers will investigate the relationship between mental health and housing while providing training opportunities for students.
LHAMH-SJ was created by principal investigator Dr. Julia Woodhall-Melnik, an assistant professor in the department of social sciences. Funding for the lab was provided by the New Brunswick Health Research Foundation's Establishment Grant. Dr. Woodhall-Melnik and the students are also members of the Urban and Community Studies Institute.
Caitlin Grogan, a fourth-year sociology student who is completing her honours in environmental justice and mental health with Dr. Woodhall-Melnik, will be working in the lab this summer.
"I had the opportunity to complete my honours thesis last semester, investigating the mental health impacts of the 2018 spring flood," she said. "It was an incredible opportunity and helped me gain hands-on experience in research."
LHAMH-SJ is laying the groundwork for a large study focused on the impact that social housing has on mental health. Dr. Woodhall-Melnik and her team have partnered with the Government of New Brunswick's department of social development in order to gain access to study participants.
"We are truly excited and honoured to be conducting this important work at UNB's Saint John campus," said Dr. Woodhall-Melnik. "Housing is a huge determinant of mental and physical health. We hope that our research contributes to improved health outcomes for individuals and families across New Brunswick."
Media contact: Angie Deveau
Photo: L to R: Caitlin Grogan, Dr. Julia Woodhall-Melnik, Emily Fox, and Emily Forte. Credit: Dr. Eric Weissman