UNB BBA co-op students achieving success in the workplace
Author: UNB Newsroom
Posted on Apr 16, 2019
Category: myUNB , UNB Fredericton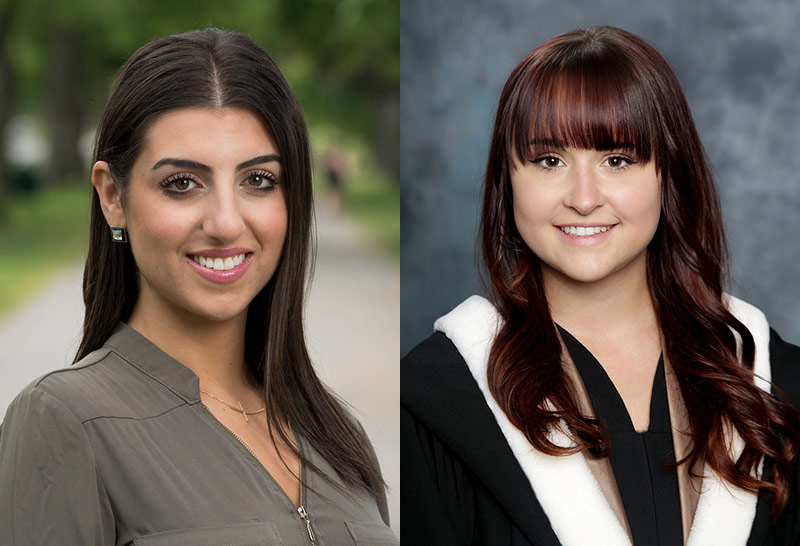 Two students from the University of New Brunswick's faculty of business administration co-op program are putting their skills to work.
The UNB business administration co-op program in Fredericton, which provides co-op education placements to its students in a variety of organizations, allows students to work and make money while earning their degree. The benefits of the program can include networking opportunities, increased wages upon graduation, work skills that stand out on a resume and experience living in a different city.
Dominique Soffee, who works in marketing and administration at the New Brunswick Innovation Foundation, participated in the BBA co-op program. She received her bachelor's degree in business administration in 2018.
"My co-op experience was hands-down the best work experience and prepared me for the real world," she said. "These opportunities really solidified my interests, which allowed me to hone my skills and define my future career path. This would not have happened without the support that I received from the program."
Rachael Gauthier works in human resources at AV Group Inc. in Nackawic, N.B. Ms. Gauthier, who will be graduating in 2019, worked three separate work terms within the program: one with the New Brunswick department of justice and public safety, one with AV Group Inc. and one with J.D. Irving in Saint John.
"Even though these positions were student roles, all companies treated me as a full-time employee and I was exposed to the full experience," she said. "These positions made me feel fulfilled and important. They also helped me realize which subgroups of HR I enjoyed most, as all positions varied in roles and work culture."
"Co-op gives business students a leading edge in career development," says Valerie Whyte, co-op coordinator at the faculty of business administration. "Co-op jobs offer students incredible work experiences, often training them in a firm's software or allowing them to learn how to create social media content. Students grow in confidence from the experiences, which often results in an improvement in their academic standing and in greater understanding of potential career paths."
Media contact: Angie Deveau
Photo credits: Dominique Soffee – NBIF; Rachael Gauthier – Maria's Portrait Studio