Thirty days until UNB hosts the Canada-Wide Science Fair
Author: UNB Newsroom
Posted on Apr 11, 2019
Category: myUNB , UNB Fredericton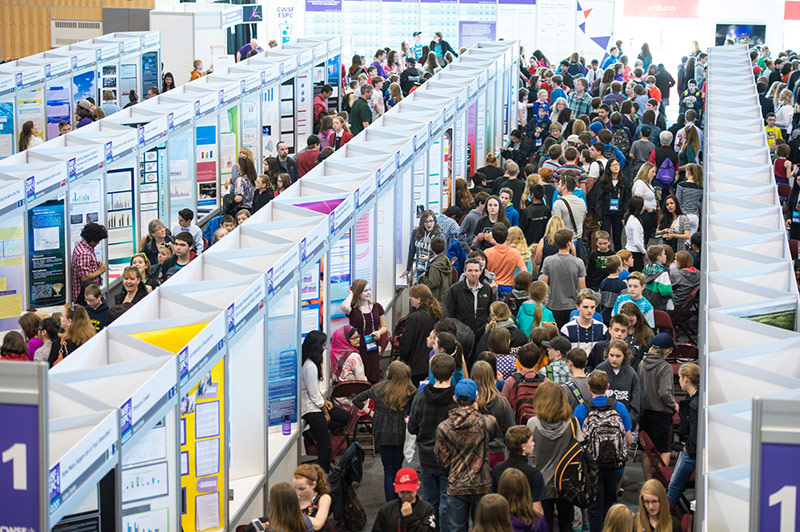 In 30 days, 500 regional science fair finalists from across Canada between the ages of 12 and 17 will descend on UNB's Fredericton campus to compete for nearly $1 million in cash awards and university scholarships at the Canada-Wide Science Fair (CWSF).
The University of New Brunswick and Science East are partnering with Youth Science Canada to bring CWSF 2019 to Fredericton from May 11-17.
The 2019 fair will mark the second time New Brunswick is holding the CWSF in its 58-year history. The CWSF provides New Brunswick the opportunity to showcase its rich history and culture, and introduce Canada's brightest youth to post-secondary education and career opportunities in New Brunswick. It is estimated that CWSF will inject more than $2.5 million to the provincial economy and will host up to 10,000 visitors from May 11-17 including students, delegates, parents and judges.
CWSF offers many ways to experience this premier STEM competition first-hand. By volunteering, judging, bringing a class to visit the expo, or stopping by to view the projects on display, CWSF provides everyone a unique opportunity to interact with some of the brightest young scientific minds in our country.
Volunteers
Volunteers are crucial to make CWSF 2019 an unforgettable week for everyone. CWSF requires 200 volunteers to assist in the day-to-day tasks and events. There is something for everyone - volunteer for a few hours or a few days! Contact Annette Wetmore at awetmore@unb.ca to learn more about volunteering at CWSF.
Judges
Judging is the heart of the competition. CWSF is recruiting 350 English, French, or bilingual judges to volunteer their expertise, experience and time to be part of this celebration. If you have a science background and are interested in volunteering as a judge, contact Ben Newling at ben.newling@youthscience.ca.
School visits
The CWSF provides an excellent learning opportunity for regional schools and students to interact with more than 400 STEM projects in both official languages and explore 60 fun and interactive STEM-related exhibits. Not only are transportation costs for school visits provided, each class will receive resource materials to help make the most of your CWSF visit and inspire students to explore their own potential. To schedule your school visit, contact Katie Skead at katie.skead@youthscience.ca.
Public viewing
The CWSF will be open to the public from May 15 to May 17 in the Richard J. CURRIE CENTER located at 15 Peter Kelly Dr., UNB Fredericton.
Wed. May 15: Public viewing and school visits from 9 a.m. until 1:30 p.m., and 5 to 7 p.m.
Thurs. May 16: Public viewing and school visits from 9 a.m. until 2:30 p.m.
Fri. May 17: Public viewing and school visits from 9 a.m. until 3 p.m.
To learn about how you can contribute or for more information on CWSF 2019, see cwsf.youthscience.ca.
Media contact: Paisley Sibbald
Photo credit: Rob Blanchard/UNB