High school students compete in annual neuroscience competition
Author: UNB Newsroom
Posted on Apr 8, 2019
Category: myUNB , UNB Fredericton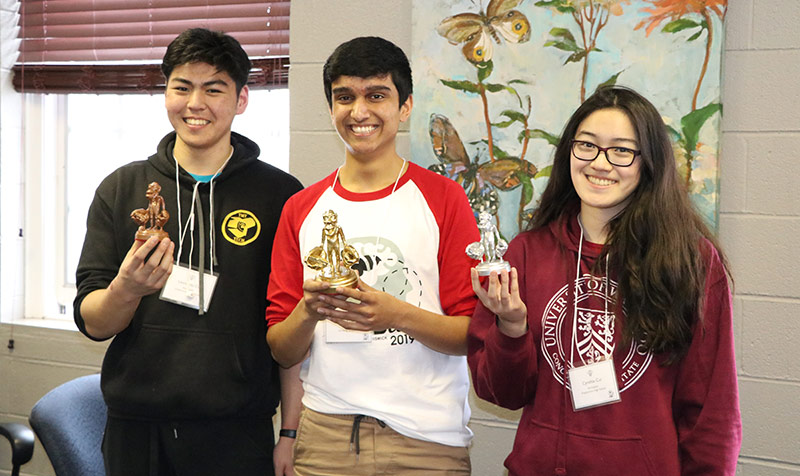 The University of New Brunswick's department of psychology in Fredericton recently hosted the annual Regional Brain Bee competition.
The competition, which tests participants' understanding of neuroscience, is open to high school students from New Brunswick and surrounding areas.
Similar to a spelling bee, the Regional Brain Bee competition tests students' knowledge by way of timed quizzing and diagnostic challenges. Throughout the day, competitors also toured research labs in the department of psychology and engaged in educational neuroscience-related activities.
The first-place winner, Niket Sampalli of Armbrae Academy in Halifax, will compete at the Canadian Institutes of Health Research (CIHR) National Brain Bee in Hamilton in May. Round-trip flights for Mr. Sampalli and a guardian will be provided by Air Canada and accommodations will be provided by CIHR. The winner of the National Brain Bee will represent Canada at the International Brain Bee in Daegu, South Korea, in September 2019.
Second place went to Cynthia Cui of Fredericton High School. Third place went to Leonardo Cui, also of Fredericton High School.
This year, the Regional Brain Bee received financial donations from Anglophone East School District and the Government of New Brunswick's Ministry of Education, as well as UNB's Office of the President, the Vice-President Academic, the faculty of arts, and the department of psychology. Prizes were donated by Muse and the UNB bookstore.
The Regional Brain Bee was run by faculty organizer Dr. Troy Harker, student organizer Perry Dykens, and a handful of graduate and undergraduate psychology students who volunteered their time and efforts.
"The Brain Bee provides a stimulating experience for high school students at all levels of knowledge and interest in psychology and neuroscience," says Dr. Harker, who has overseen the UNB Regional Brain Bee for the last three years. "This year's event was particularly exciting, with students attending from across the Maritimes. A big thanks to the event sponsors, and to the volunteer university students who were willing to share their interest and passion for the field of psychology and neuroscience."
Media contact: Angie Deveau
Photo: Leonardo Cui, Niket Sampalli and Cynthia Cui, winners of the Regional Brain Bee competition at UNB. Photo credit: Dr. Troy Harker.