UNB's 5th Powwow celebrates Indigenous languages
Author: UNB Newsroom
Posted on Mar 29, 2019
Category: myUNB , UNB Fredericton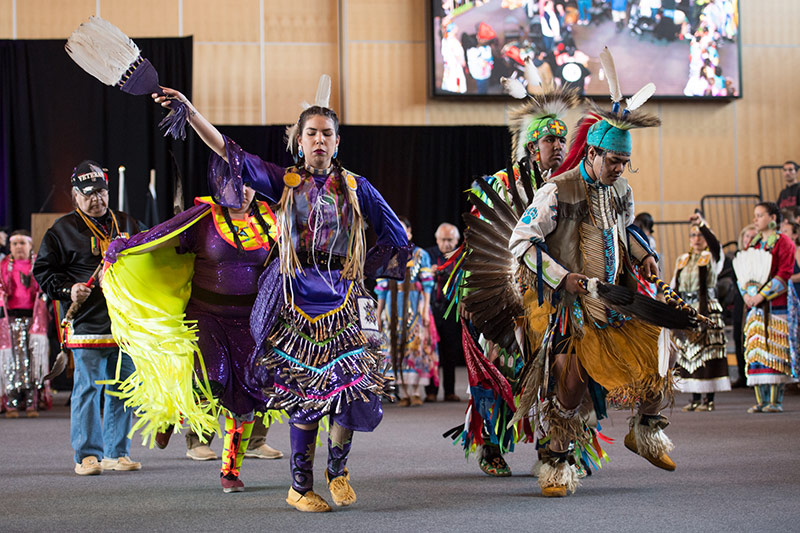 The Mi'kmaq-Wolastoqey Centre at the University of New Brunswick will host the 5th UNB Powwow on Thursday, April 4. This year's theme is Nikana'tunej (carrying language forward) / Namkomihptune 'Ciw Weckuwapasihtit (carrying language forward for the ones not yet born).
The UNB Powwow celebrates the language revival of Mi'kmaq, Wolastoqey and Passamquoddy languages. It is through traditional songs and dances at the powwow that one can honour ancestors and the language that they have passed on to succeeding generations.
"We must do everything we can to continue to use and share our Indigenous languages," says Starlit Simon, UNB Powwow coordinator. "Our languages are so sacred and so intertwined with every aspect of the way we lived and our world view.
"Our languages connect us to who we were, where we come from and to our ancestors who fought and struggled so bravely through the history of this country. It's our time now to carry that torch, see that it stays lit, and guide our young people to use our languages as often as possible. As a result, pride, strength and self-esteem will be restored."
The Muskrat singers will serve as the host drum group, along with Wabanaki Confederacy as the cohost drum group. This year's guest drum groups are Spirit Bear and Hey Cuzzins. Head male and female dancers will be Logen Lewis and Tiffany Plain, with junior head dancers Wambli Martinez and Stevie Polchies.
All are welcome to attend this free public event to celebrate traditional Mi'kmaq, Wolastoqey and Passamaquoddy culture. The event begins at 10:30 a.m. at the Richard J. CURRIE CENTER, UNB Fredericton.
At 11 a.m., the grand entry will commence, where traditional Indigenous drumming, chanting, and dancing in full ceremonial regalia will take place. The grand exit will bring a close to the powwow at 3 p.m. First Nation vendors will be selling traditional art, crafts and food during the powwow.
The event will also be livestreamed on April 4.
Media contact: Kelsey Pye
Photo credit: Rob Blanchard