UNB launches FutureNB to support student job training and employer recruitment
Author: UNB Newsroom
Posted on Jan 24, 2019
Category: UNB Saint John , myUNB , UNB Fredericton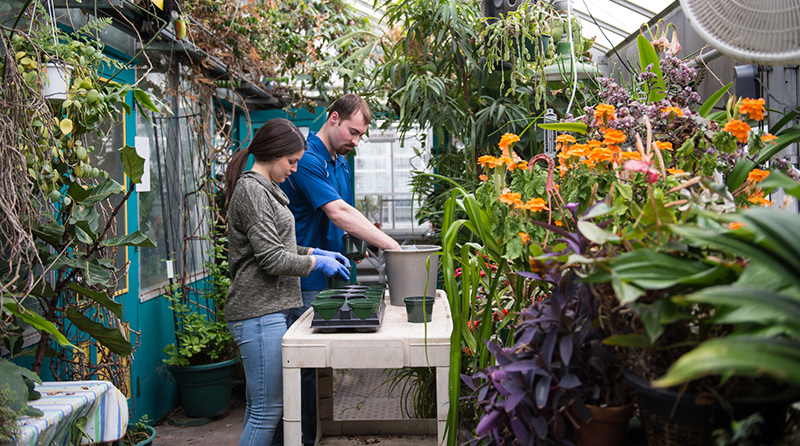 UNB has partnered with the Government of New Brunswick to launch a new initiative designed to strengthen and grow UNB's commitment to experiential education and help strengthen New Brunswick's economy and workforce.
FutureNB helps students from the province's four publicly funded universities find valuable experiences in partnership with New Brunswick's diverse public and private sectors, while supporting local employers in finding and recruiting qualified staff. The initiative provides experiential learning opportunities with New Brunswick employers that help support students' academic learning, strengthen students' skill and competency development, and supports growth, recruitment and retention with New Brunswick employers.
"This initiative is important to the future of New Brunswick because it connects our students to opportunities right here in our province," says Dr. Eddy Campbell, president and vice-chancellor of UNB. "UNB is building on our rich networks of employers and community partners to help students build meaningful, valuable lives and careers in New Brunswick."
Through the program, undergraduate students at New Brunswick universities have the opportunity to receive funding and coordination support to apply the skills they're gaining through their degrees and explore opportunities they need to prosper in New Brunswick's workforce. Through FutureNB, local partners can nurture and strengthen connections with the university and recruit and retain future employees.
The FutureNB program aims to provide every undergraduate student with an experiential learning opportunity before graduation. The learning experiences must be with New Brunswick-based partners and coordinated through faculty-based experiential learning programs. Funding is managed through UNB's Office of Experiential Education.
"Participating in experiential learning opportunities simply wasn't a possibility for many students because of financial barriers," says Dr. Sarah King, director of the Office of Experiential Education at UNB. "We know that experiential learning helps students strengthen their academic learning with hands-on experiences in their communities. FutureNB will help underrepresented groups like Indigenous students, low-income students and first-generation students find experiential education opportunities and help with funding for all undergraduate students along the way. This initiative is a huge leap forward for experiential education in higher education and we're thrilled to partner with FutureNB as leaders in the experiential learning field in Canada."
FutureNB was created in response to a task force report that called for expanded experiential learning capacity and work opportunities for students studying at the province's four publicly funded universities. The initiative is a partnership between private and public sector employers, public universities and government, and provides funding and coordination support for students to pursue off-campus experiential learning opportunities. The initiative will also help employers recognize the exceptional talent of New Brunswick students while providing students with New Brunswick-based experiences before they graduate.
"Giving New Brunswick students the skills and opportunities they need to thrive is a team effort," said Post-Secondary Education, Training and Labour Minister Trevor Holder. "We are thrilled to work with private sector and non-profit leaders, along with New Brunswick's outstanding publicly funded universities, to create a collaborative initiative that will help students, businesses and not-for-profit organizations."
Photo: UNB is partnering with GNB on the FutureNB initiative, which aims to provide every undergraduate student with an experiential learning opportunity before graduation. Credit: Rob Blanchard/Photo UNB.
Media contact: Hilary Creamer Robinson