Student fundraiser connects with alumni amid COVID-19
Author: Development and Donor Relations
Posted on Oct 28, 2020
Category: Creating Opportunities for Students , Scholarships and Bursaries , News and Events , Alumni Annual Giving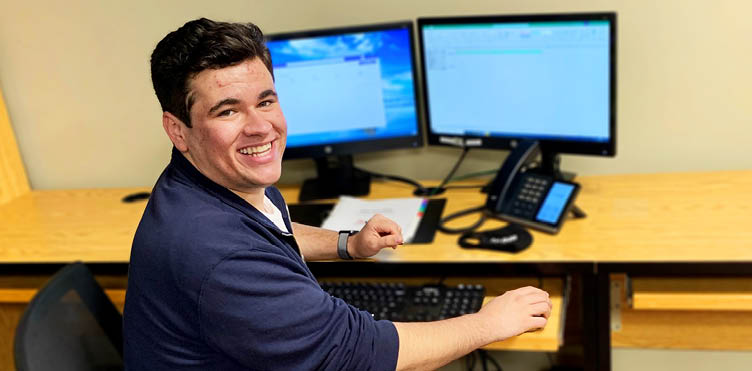 ---
Brennan Marks is a student of Interdisciplinary Leadership Studies at UNB's Renaissance College in Fredericton. As a former recipient of the Associated Alumni Scholarship, Brennan has experienced first-hand the impact of giving on student success. He loves talking to alumni and others about his experiences at UNB, and his passion and gratitude have led him to work as Student Fundraiser for the past two years.
Brennan is an active member of the UNB community, and his interest in people and forging connections have motivated him to pursue leadership roles, both on and off campus. He is currently the President of the Renaissance College Society, a Faculty Peer Mentor, a volunteer with the UNB SPRING program, and a crisis intervention volunteer, in addition to pursuing his studies.  
Student life during a pandemic has presented new challenges, Brennan said, but he is pleased with how faculty and staff have managed the transition to online learning. "There is really no replacement for in-person interaction," he said, "but one major positive of the online learning model is having more flexibility in scheduling of some of my asynchronous classes. I'll admit it is nice to be able to sleep in every once in a while!"
This adaptability and his broad experience of university life make Brennan an excellent fundraiser.
"I really am a people person and I thrive off connections with people," he said. "With all of the leadership roles I take on I hope to have a positive impact, and while it may not always be life changing, even a small impact is important if it makes someone feel less isolated."
COVID-19 has had a significant impact on the lives of every UNB student this year and has given new meaning to Brennan's ambition to connect and bring people together. While he sees challenges in the new reality brought about by the global pandemic, he also sees opportunities. The pandemic has become a frequent topic in his discussions with prospective donors.
"Now when I'm talking to alumni, COVID is something else that we have to bond over," he said. "They ask how I'm handling it, and I ask how they're handling it. It is a common challenge for everyone right now."
As Brennan connects with UNB alumni over shared experiences and favourite places, he enjoys bringing them back to their time at UNB and how impactful their university experiences have been on the rest of their lives. For Brennan, this offers a reminder that his experiences at UNB will stay with him for a long time.
Brennan often shares his personal experience as scholarship recipient with alumni during his calls. "If I didn't have that support, I wouldn't be able to have the same university experience," he said.  "The time I have to put toward my volunteer and leadership activities would not be possible without the scholarship."
As he pursues his academic goals and participates in student life, it is not lost on Brennan how important alumni support is for all students at UNB. He is passionate about raising funds for scholarships that will enable future students to enjoy the opportunities and experiences that he has had.
Learn how you can make a difference to the UNB community.